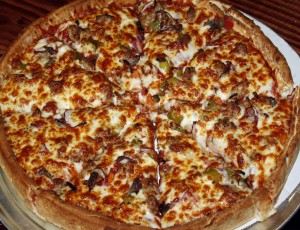 By Christopher Trela & Catherine Del Casale | NB Indy
FRESH BROTHERS
Newport Beach loves pizza.
A handful of restaurants specializing in pizza have opened in the city over the last couple of months, and we're on a mission to try them all (look for our special pizza-lovers column next month).
We're particularly excited about Fresh Brothers, which opened last month in the Harbor View shopping center near Gelson's. It's the first Fresh Brother's restaurant in OC (they have a dozen in L.A.), but certainly not the last.
There are indeed three brothers involved in Fresh Brothers (Adam, Michael and Scott Goldberg), all of whom grew up in Chicago, where pizza is king. They came to California in 2008 and opened the first Fresh Brothers in Manhattan Beach, followed by another, and another.
Their secret to success involves fresh ingredients, friendly service, and a commitment to give back to the community by hosting fundraisers and hiring local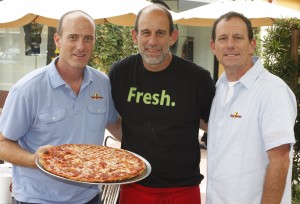 kids to work in their store.
Fresh Brothers offers a fresh California twist on pizza. They offer thin crust, skinny crust and deep dish pizza, along with buffalo chicken wings and other appetizers that are baked, not fried. They also offers salads with 45 ingredient options and 15 dressings.
Fresh Brothers has the largest gluten-free and vegan menu of any pizza place we've visited (and we've been to a lot). Among the many vegan options are vegan cheese, vegan "chicken" bites and even vegan ranch and blue cheese dressings.
We've been to Fresh Brothers four times since they opened and plan to go back again. Catherine has been on a gluten-free vegan diet in August and really liked the special dietary options, while Christopher has chowed down on various thick crust pizza concoctions (including one loaded with anchovies), their meatball sliders served on King's Hawaiian sweet rolls, the fresh knots (garlic bread tied in knots), the buffalo wings, and the vegan tenders, which Christopher orders every time he goes to Fresh Brothers.
In our opinion, Fresh Brothers is the perfect neighborhood pizza joint that serves great pizza at a great price.
For more information call (949) 759-1212 or visit FreshBrothers.com.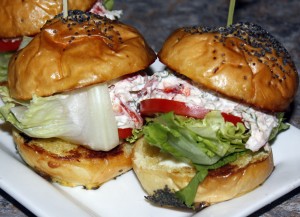 TAVERN+BOWL
We're not avid bowlers (Christopher once bowled 200 and then retired), but we might be getting hooked on bowling thanks to the new Tavern+Bowl at The Triangle in Costa Mesa—although it's the food that scores a strike.
Tavern+Bowl has 10 bowling lanes and an advanced scoring system that lets you post your score on social media sites (assuming you are that proud of your score).
The venue has some two dozen large, flat-screen TVs placed throughout the large dining room and bar adjacent to the bowling lanes.
But back to the menu. This is not your typical bowling alley food, and for good reason: the chef is Scott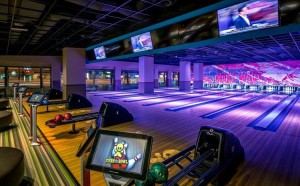 Raczek, formerly with the renowned Mr. Stox restaurant. Raczek has taken bowling alley dining to new heights. Sure, you can still get traditional items such as spinach artichoke dip and chicken wings, but when was the last time you saw lobster rolls, grilled oyster Kilpatrick with grilled honey bourbon garlic butter, BBQ pulled pork sliders, filet mignon tacos, bacon-wrapped kobe meatloaf, or cedar-plank salmon on a bowling alley menu?
There are also vegetarian, vegan, gluten free and Paleolithic options on the menu—try getting those at an ordinary bowling alley.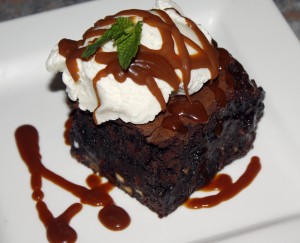 So far we've sampled about a dozen menu items. Our favorites include the BBQ pulled pork mac and cheese, cedar plank salmon, drunken goat cheese salad, flatbread pizza, and the insanely delicious and decadent triple threat chocolate brownie with vanilla bean ice cream and bourbon caramel sauce.
Tavern+Bowl also has a lengthy list of specialty cocktails and draft beers, and happy hour specials (3 to 6 p.m. Monday through Friday and 10 p.m. to close Sunday through Wednesday). Tuesday is taco night, Wednesday is trivia night, and Thursday is martini madness ($5 martinis).
Come for the food, stay for the bowling, it's a fun and tasty experience any way you look at it.
Visit Tavernbowl.com or call (949) 438-2320.
FIG & OLIVE
Christopher recently attended a media tasting of Fig & Olive's cocktails and appetizers/tasting plates. As always, the Fashion Island restaurant has an impressive and creative cocktail list, starting with the sensational Fig & Olive (cucumber-infused vodka, blood orange olive oil, egg white, simple syrup, celery, lime juice and blood orange puree) and the Arugula Smash (rum with muddled celery and arugula).
To pair with the cocktails, you can create your own tasting plate from a variety of French, Spanish and Italian options.
Christopher also tried several appetizers, including the melone and burrata, and the sea scallops, both beautiful presentations that tasted as good as they looked.
For more information, visit FigandOlive.com.