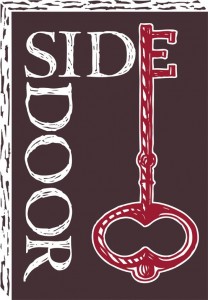 By Christopher Trela and Catherine Del Casale | NB Indy
Everyone's getting creative with cocktails, but Sidedoor (adjacent to Five Crowns in Corona del Mar) has developed a new cocktail menu for the holidays that's guaranteed to please anyone's taste buds.
Selections include "Smokin' Barrels" with mezcal, port, chipotle-honey, lime, and flamed orange zest; "Apple Sauced" with apple brandy, lemon, allspice dram, and poached apple; "Southern Monk Toddy" with bourbon, green chartreuse, sage, citrus, and bitters; "Silent Night" with gin, aperol, pinot noir, cinnamon, and rosemary sugar; and "Mole' Fashioned" with rye, creme de cacao, mole' bitters, and luxardo cherry.
The cocktails come with SideDoor's hand-cut ice, with unique ice shapes including an ice sphere.
For more information, call (949) 717-4322 or visit sidedoorcdm.com.
 GREENLEAF
We don't normally think of Greenleaf Gourmet Chopshop as a place to go for cocktails, but Catherine recently went to the restaurant's OC Mix location and sampled the new cocktail menu. She came away impressed, and offered this overview of the menu:
"Greenleaf's new cocktail menu lists eight new drinks, each made with a blend of fresh, house-made ingredients and wine-based liquors and wines. Before visiting Greenleaf I had never heard of wine-based liquors so I was interested to see if they really taste the same as their authentic counterpart. I was pleasantly surprised that they did.
I sampled three of their new cocktails including the Strawberry Fresca, Ginger Sparkler and Cranberry Noir. Each one was unique and I could see myself choosing a different one to go with my mood.
The Cranberry Noir is the perfect cocktail for the holiday season, made with Leese Fitch pinot noir, cranberry juice, vanilla extract, lemon zest, sea salt and sparkling soda. The flavor of the vanilla mixed with the pinot noir was a brilliant idea.
On the lighter side you have the Strawberry Fresca make with Petrov reserve (a wine-based vodka), triple sec, lemon juice, muddled strawberry and orange pomegranate juice and a prosecco float.  It was light and refreshing and went well with their baked Parmesan Crisps, which are a must-have when you go to Greenleaf. The last drink, the Ginger Sparkler, was made with Petrov reserve, triple sec, lemon juice, cubed sugar, muddled ginger zest and a prosecco float. This drink reminded me of a fizzy lemonade with a twist. The ginger added an interesting layer to the cocktail without it being overwhelming.
I always leave Greenleaf feeling healthy and satisfied. Now with the new cocktail list I can enjoy a drink or two and leave with the exact same feeling."
EVITA
Leatherby's Café Rouge restaurant at Segerstrom Center for the Arts usually offers themed menus for the musicals that come to town, which they've done again for the Broadway touring production of "Evita" that runs through December 22 at Segerstrom Center.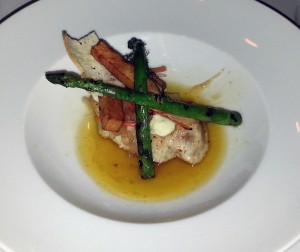 Executive Chef Ross Pangilinan has created a clever "Evita" menu ($45 per person, although can be ordered a la carte) with dishes named after some of the songs and themes in the show. For example, a mollejas appetizer is called "The Gypsy In Me" and has sweetbreads, chestnut soubise, agrodolce,
And pomegranate seeds. The two entrée choices are "A New Argentina" peppercorn crusted flat iron steak with chimichurri, potato purée, tomato confît, and zucchini, and "You Must Love Me" seared albacore with carrots, onion, bell peppers, fennel, and potato confit.
For dessert, there's "Don't Cry for me Argentina" dulce de leche flan served in a mason jar with toasted coconut cake.
We sampled the menu before walking next door to watch "Evita" (an advantage of dining at Café Rouge—you can leave the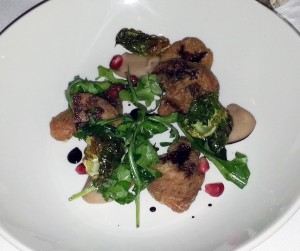 restaurant 10 minutes before curtain and make it to your seat with time to spare).
"Having the Evita-themed meal before the show made the entire experience more memorable," said Catherine. "
I agree, but it also helped that the production of "Evita" was excellent, with phenomenal singing. Those who have seen previous incarnations of Evita" will notice differences in this grittier staging, but the overall effect is still dazzling, and the story of Eva Peron still holds fascination.
For information on Leatherby's Café Rouge, call (714) 429-7640 or visit PatinaGroup.com.
For tickets to "Evita," visit SCFTA.org or call (714) 556-2787.
A PIZZA CHRISTMAS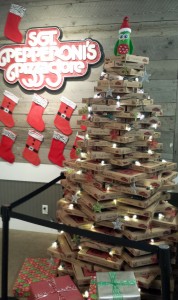 Pizza for Christmas? That's what Sgt. Pepperoni's Pizza suggests, and their menu is so good (we're there at least once a week) that it's tempting to replace the turkey with a sausage and pepperoni pizza.
The restaurant also created what may be the most unusual Christmas tree in town. It's not as tall as the Fashion Island tree, but just as noteworthy. The 8-foot version inside Sgt. Pepperoni's is made of stacked pizza boxes adorned with lights, plus stockings hung by the logo sign with care.
Nothing says pizza, or Christmas, like Sgt. Pepperoni's. Visit facebook.com/originalsgtpepperonis for more information.