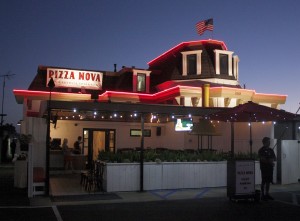 By Christopher Trela & Catherine Del Casale | NB Indy
Catherine loves pizza ("I could eat it every day—and often do," she said), so when she heard that Pizza Nova was going into the space on Coast Highway once occupied by the short-lived DivBar, she naturally got excited.
We looked up the website, and learned that Pizza Nova has been serving wood-fired pizzas, plus an assortment of pastas, salads and other goodies, at three locations in San Diego for more than 20 years.
The restaurant specializes in gourmet pizzas that are hand stretched, then baked in a wood-burning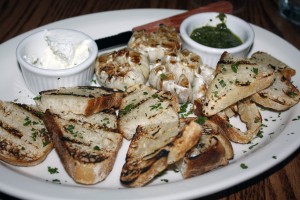 oven. The pastas are made fresh daily and all the sauces and recipes are made onsite.
So we waited and waited, glancing at the building every time we drove past to see if it was open.
The wait is over—Pizza Nova is officially open. Charlie Muirhead, who started the company 24 years ago, invited us in to try some of the menu items, so naturally we said yes.
From the moment we walked into Pizza Nova, we knew it was a different restaurant. Gone is the cluttered cornucopia of "stuff" that had adorned the walls and ceiling of DivBar.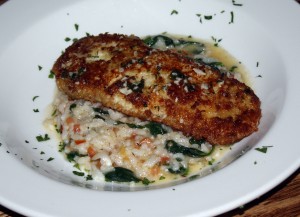 Pizza Nova has a clean, spacious feel, and still caters to boaters who can tie up their electric boats at the bay front dock and walk up to the restaurant.
The menu is lengthy, and enticing.
We started with cocktails. Christopher ordered the Sunshine Cooler (Gordon's Vodka, strawberry puree, fresh basil and lemon) while Catherine had the Bubbles Down Under (sparkling wine, Saint Germain elderflower liqueur and kiwi).
"Yum! This is light and crisp with a twist," said Catherine after one sip. "The addition of the kiwi flavor gave it some flair, and it's not something I often find on a drink menu."
After perusing the appetizer list, we settled on Baked Garlic with pesto, goat cheese and grilled sourdough.
"This is a great appetizer if you are a fan of garlic and goat cheese," stated Catherine. "The freshly roasted garlic is served with small slices of grilled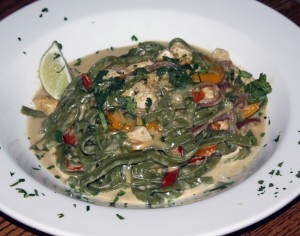 sourdough and a side of goat cheese and pesto. It's perfect for sharing between two or three people."
Muirhead had suggested we try the Parmesan Panko Crusted Alaskan Halibut (glazed with a white wine lemon butter sauce on a bed of sautéed spinach served with risotto) and Chicken Tequila Fettuccine (fresh spinach fettuccine, chicken breast, peppers, caramelized onions and cilantro in a jalapeño cream sauce). We added a small 10 inch pizza (Portobello mushrooms and pancetta with caramelized onions, fontina and parmesan, topped with black truffle oil).
"The fish is delicious!" exclaimed Catherine. "It's moist on the inside with a great panko crusted outside, with just a hint of butter and lemon. The risotto is a little watered down and could use a little more Parmesan or a cream base to help with the consistency."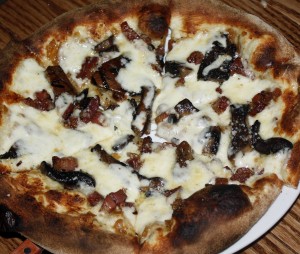 "I agree, but it doesn't detract from the fish, which is excellent," said Christopher. "I really like the fettuccine, and the portions here are very generous—you're going to have to take the rest of it home."
When the pizza came out, we knew Catherine had found pizza nirvana.
"The pizza isn't your everyday slice that you would find anywhere," she said. "The blend of cheeses that they use and the quality of dough elevates the taste and texture of the pizza. The thin crust that puffs up around the edges gives it a nice light crunch without an excess of bread for your last bite. This one has large slices of Portobello mushrooms a light drizzle of black truffle oil, crispy pieces of pancetta, thinly sliced caramelized onions and Fontina and Parmesan cheese. The sweetness from the caramelized onions with the saltiness from the pancetta worked well together."
We left full and happy, pledging to return soon to try more menu items.
For more information, visit PizzaNova.net.