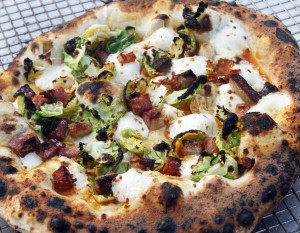 By Christopher Trela & Catherine Del Casale | NB Indy
They don't have a tasting room and technically are not open to the public, but Newport Beach Vineyards and Winery has become known as the "hidden gem" place to go for fun charity events as well as wine education seminars and unique culinary classes.
One of those unique classes is being held this Sunday, Oct. 12 from 4 to 6 p.m. It's dubbed "Pizza Making Experience," hosted by Urban Pie, a mobile wood burning oven pizzeria and Cal-Italian catering company.
We've attended several of their pizza-making classes at Newport Beach Vineyards, and found the experience both fun and tasty.
Urban Pie owner and Chef Jason Winters (whose culinary credits include Studio at the Montage and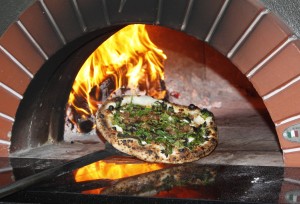 Lucques) has mounted a 3,000 pound Valoriani brick oven from Italy on the back of a custom trailer, which he tows to events. The pizza is thin-crust and cooks at 900 degrees, which means it takes about 90 seconds to go from raw to baked. The flour, tomatoes, and mozzarella are imported from Italy, while the toppings are mainly seasonal ingredients from local farms and artisans.
Winters walks participants through the process of making their own pizza, from kneading the dough (and tossing it in the air) to applying sauce and toppings to placing the pizza in the oven and then eating the fruits (or the pepperoni) of your labors.
Of course, the experience would not be complete without wine. The event includes a vertical tasting of the Estate blends from 2010 to 2012. Those that have tried the Estate blends know what a treat that is!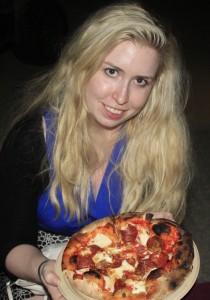 Guests can stroll the vineyards, tour the grounds and the wine cave, and relish in the feeling of being in paradise for an afternoon.
The cost of pizza and paradise is $65, and includes wine, pizza, salad and assorted goodies.
For more information, visit NBWine.com or call (949) 630-8662.
Newport Beach Vineyards does indeed have several acres of vineyards on its property near the Back Bay. Growing in well-kept rows are cabernet sauvignon, merlot, cabernet franc, petit verdot, and malbec. They are picked together, crushed together, and barreled as a "field blend."
Last month, Christopher – along with more than a hundred other amateur pickers – paid $30 for the privilege of helping Newport Beach Vineyards harvest their grapes.
The annual harvest event and grape stomping (yes, there was a grape stomping competition) is a fundraiser for local nonprofits.
This year, the funds went to The Raise Foundation, which works to stop the cycle of child abuse in Orange County.
We picked grapes for several hours, then enjoyed a traditional Santa Maria BBQ with wine.
The barbecue was prepared by Chef Rick Boufford and his wife, Diana, with Just Good Fun, although longtime foodies know Rick and Diana from their popular Tustin restaurant, Black Sheep Bistro.
Rick, who like Diana is a native of Newport Beach, worked at Good Earth Restaurant in Fashion Island, The Hobbit in Orange, and Golden Truffle with legendary Chef Alan Greeley.
They took over Black Sheep in 1989, and ran it until recently, when the duo decided to change directions and start their own company doing catering, wine education, and more.
Visit their website at JustGoodFun.net to see what they're up to these days. And if you ever hear about an event where Chef Rick is serving his amazing paella, go!
 Bluewater Grill
When we're in the mood for seafood, one of our favorite spots is Bluewater Grill in Cannery Village. If we can get a seat on the deck overlooking the harbor, so much the better.
This weekend, Bluewater Grill kicks off its expanded weekend brunch featuring a Bloody Mary bar. The brunch menu includes starters and entrees that range from $1.95 to $14.95, and include a crabcake benedict, scrambled eggs with salmon, and Cinnamon and Chocolate French Toast. A variety of more traditional breakfast items are also available. The Bloody Mary bar features some three dozen garnishes, mixes and sauces.
, giving customers the chance to pair their brunch selections with their own unique Bloody Mary creation or a bartender-prepared Bluewater "Peppar" Bloody Mary or Bloody Caesar with Clamato. Starting with Bluewater's secret-recipe mix made on the premises with gluten-free Blue Ice Premium Vodka from Idaho potatoes, cocktail fans can add more than 35 fresh vegetables, garnishes, mixes and hot sauces from around the world.
And on Tuesday, Oct. 14, oyster fans will want to attend the Roasted Oyster Roundup. For $24.95, you get a dozen fire-roasted Mendocino oysters served in three styles: Pacific Rim-style, with Thai green curry, coconut milk and lemongrass; Provencale-style, with bread crumb, Parmesan cheese, butter, garlic and fresh herbs; and Mendocino-style, with spicy-sweet barbecue sauce. Accompanying the meal is a Firestone Pale Ale IPA or a glass of Firestone wine.
We attended the oyster event last year, and liked the variety of oysters. But if you can't make it on Tuesday, you can still order a Mendocino oyster plate off the menu throughout the month, and pair it with beer and wines on the bar menu.
For more info, visit bluewatergrill.com.