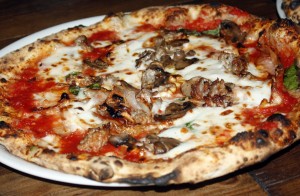 By Christopher Trela & Catherine Del Casale | NB Indy
Newport is turning Italian.
We've noticed a number of restaurants have opened over the past several months that focus on Italian cuisine, and/or pizza.
That certainly makes Catherine happy—she spent a semester in Italy while attending Chapman University and admits to being a pizza junkie.
We've written about several pizza palaces recently, including Pirozzi in Corona del Mar, Fresh Brothers, and Pizza Nova on Coast Highway, and we've been out sampling more new ones including our latest discovery, Cruisers in Balboa Village (the best Chicago-style pizza this side of Chicago!), which we'll write about soon.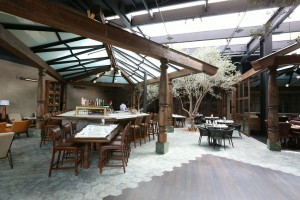 This week, we visited two upscale Italian bistros to sample several menu items, including – of course – pizza.
Settebello
Settebello is the most valuable and sought-after card in the popular Italian card game called Scopa.
Settebello is also a valuable and sought-after Napoletana-style pizzeria that has locations throughout Las Vegas and Southern California, including its newest restaurant in the Crystal Cove Shopping Center.
We learned that Settebello adheres to the traditional restrictions set by the Associazione Vera Pizza Napoletana, which may explain why we were so impressed with the pizza that's baked in a traditional wood-fired oven.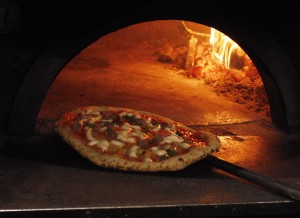 We were also impressed with the casually-classy décor, which includes a semi-covered patio with a row of olive trees growing in the middle of the dining room. A lounge area includes couches and classic Italian black-and-white films projected on the wall.
Settebello has a small but notable menu that's focused around pizza.
"The crispy polenta bites ($10) made with mushroom ricotta, asparagus and pecorino had a nice crisp outer edge and a warm creamy center," said Catherine. "The ratio of cheese to polenta was perfect as it didn't overwhelm the lighter flavors."
"Since we were in Newport Coast I decided to try the Newport Coast cocktail ($12), a light and fruity drink consisting of raspberries, Flor de Cana Rum, Campari, St. Elizabeth All Spice Dram, lime juice and demerara," she added. "The drink brought back memories of summer days and the orange and red popsicles that I used to get from the ice cream truck."
Naturally, we had to try the pizza.
"The Settebello pizza ($16) had crushed tomatoes, pancetta, sausage, roasted mushrooms, toasted pine nuts, mozzarella, basil and extra virgin olive oil. I loved how the pine nuts created another texture on the pizza. The pizza was authentic Napoleon style with the thin crust center and bubbling crisp outer edges," said Catherine, obviously pleased with her experience.
Settebello is open daily for dinner and Monday – Friday for lunch. For more information, visit settebello.net.
CUCINA enoteca
We've been driving past CUCINA enoteca in Fashion Island all summer waiting for restaurateur Tracy Borkum's latest creation to open.
We dined at her flagship restaurant in San Diego, CUCINA urbana, several months ago, but even that delightful experience did not prepare us for the upbeat ambiance and superb cuisine we encountered when we visited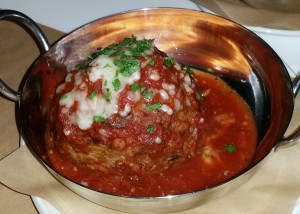 the just-opened CUCINA enoteca last week.
We showed up on a Saturday night with no reservation, expecting to take a look at the interior and if we were lucky find a spot at the bar.
The place was packed, from the interior dining room to the patio to the bar/lounge area.
As luck would have it, we spotted two seats in the lounge that faced an open-style kitchen area where a pastry chef was busy making desserts.
We perused the menu and settled on several items we felt would give us a good sampling of CUCINA enoteca's menu, including truffle parmesan fries ($8), creamy polenta ($8), and a giant meatball ($8.50). We also ordered a smoked prosciutto and pineapple pizza ($15.50).
We told the CUCINA enoteca sommelier what we had ordered, and he recommended a reasonably priced ($50) bottle of Italian wine that turned out to be a superb choice.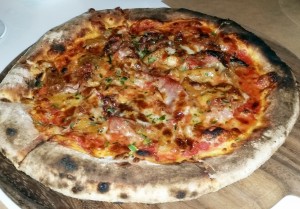 "The giant meatball was my favorite appetizer," said Catherine. "It lives up to its name and could easily be shared between three people. It is not overly stuffed with ingredients so you can taste all the flavors of the different spices in each bite."
"And I'm not usually a fruit-on-my-pizza type of girl, but the prosciutto and pineapple looked interesting and bolder than the normal "Hawaiian" style pizza. The smoky flavor of the prosciutto was the perfect complement to the sweetness from the pineapple. The pizza also had serrano chiles and tarragon, which added a little spice but was not overly done since the acidity of the pineapple as well as the mozzarella cheese cut through it."
We're looking forward to returning soon to try more menu items.
For more information, visit CUCINAenoteca.com.
NB Wine & Food Fest
It's finally here: the Newport Beach Wine & Food Festival makes its inaugural appearance this weekend, Sept. 20 and 21, and it's shaping up to be a truly impressive event.
Held at the Civic Center Green from 11 a.m. to 5 p.m. each day, the event includes cooking demos, sommelier panels, mixology courses, book signings, live music, and of course plenty of food from numerous local restaurants and wine tasting from noted vintners.
Celebrity chefs include Bravo's "Top Chef All-Stars" winner Richard Blais, Bravo's "Top Chef Masters" alumni Rick Moonen, this season's "Top Chef Duels" contestant Shirley Chung, "Top Chef Masters" alumni and James Beard Award winner Sue Zemanick, Food Network's "Cutthroat Kitchen" winner Jamie Gwen, and many more.
The Grand Tasting Pavilion includes cuisine from two dozen of Orange County's best restaurants and chefs, including Montage Laguna Beach, Tamarind of London's, Five Crowns, Selanne Steak Tavern, and many more.
Tickets will be available at the door for $195 per day or $350 for both days. Based on the extensive menus, wineries, chef demos and live entertainment, that's a pretty good deal.
Visit newportwineandfood.com for details.