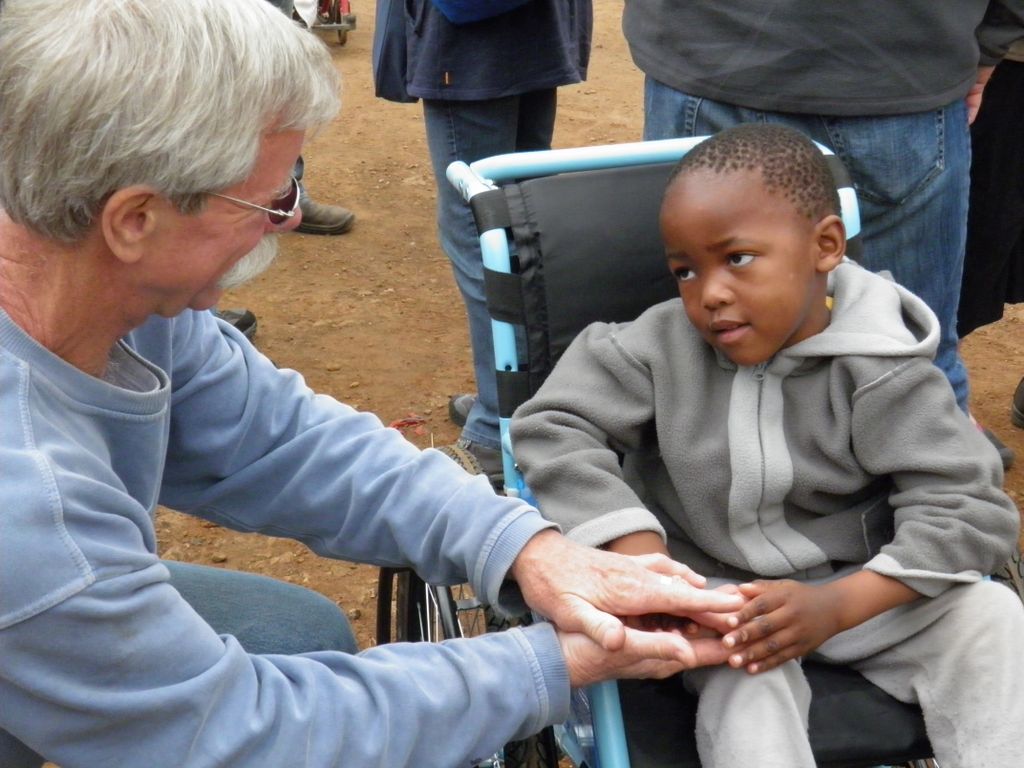 "It was getting dark outside, but we weren't done, so we actually finished assembling a wheelchair at night with candles and a flashlight," said Meryl Resnick about the recent trip she and her husband Barry took to Lesotho in Southern Africa with Free Wheelchair Mission to deliver wheelchairs. "It was for a young man who had been stabbed, and the wheelchair was going to make a huge difference for him. Many villages don't have electricity, so when it gets dark, they start pulling out the candles."
Meryl and Barry, former Newport Beach residents, were grateful for, and changed by the experience, of helping distribute wheelchairs to disabled men, women and children.
"Going on these trips enriches the soul," Meryl said. "In some ways, we feel as if we gained more than the recipients, but of course that's not the case. These are people who could easily think God hasn't done enough for them because they lack so many things we take for granted, such as clean water or electricity, yet their faith is amazingly strong and powerful, as is their sense of community. Their faith is what keeps them going. There's a lot of praising of God when we go to those places and give people wheelchairs. It was an amazing trip, and they were such friendly people."
"My husband and I have been involved with Free Wheelchair Mission almost since its inception," Meryl continued.  "We got involved because of what they do, and how little money it takes to completely change people's lives. Each wheelchair recipient has to be properly fitted in the chair to insure they are safe and comfortable. Don works tirelessly checking each chair and following up to be sure the chair remains in good working condition. Barry and I have tremendous respect for Don and Laurie Schoendorfer."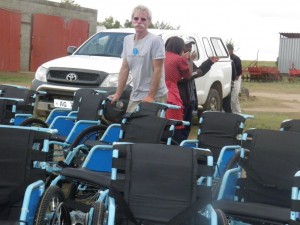 Don Schoendorfer, founder and president of Free Wheelchair Mission (FWM), started the organization in 2001. FWM is a nonprofit, humanitarian, faith-based organization dedicated to providing wheelchairs, free of charge, for people with disabilities living in developing nations. Based in Irvine, its mission is "to provide the transforming gift of mobility to the physically disabled poor in developing countries, as motivated by Jesus Christ."
FWM partners with a wide network of humanitarian, government and faith-based groups to distribute wheelchairs to 80 different countries. Each wheelchair costs only $71.88 to manufacture, deliver and distribute around the world, at no cost to the recipient. To date there have been over 680,000 chairs distributed.
"We delivered wheelchairs to different districts in Lesotho, which is a beautiful mountainous country completely surrounded by South Africa," Meryl said. "At each stop we set up an assembly line, assembled and distributed the chairs, sometimes in the dark.  People came early and waited patiently for hours. When people hear there will be free wheelchairs, everybody who needs one gets there however they can. Sometimes that means crawling."
"There was an 85 year-old woman who lost her leg to a snake bite when she was 17 years old, and she got around using hand-made crutches. At 85, you shouldn't have to drag your body around like that," Meryl added. "Other people are so disabled they are house-bound. Many tell us they are so happy because now they can go to church or get out in the sun, thanks to the gift of the wheelchair. Every person who gets one has their own story, but the outcome is the same; someone in need is lifted off the ground and can get some mobility, dignity and happiness."
Andrew Young, FWM Communications Specialist, was excited to announce that Free Wheelchair Mission recently won the 2012 Classy Award in the category of Health and Well Being.
"It's a wonderful affirmation of the work we are doing, and more than that, an affirmation of all the people that stand behind us and support us," Andrew said.
The Classy Awards is the largest philanthropic awards ceremony in the United States. Sixty-four philanthropic organizations were invited as finalists to the awards, selected from a pool of more than 2,400 nominees. The combined efforts of the nominated groups are estimated to have impacted the lives of 346 million people in 134 countries.
"We are humbled to be honored in this way; there are so many organizations out there doing incredible work, especially in the field of health and well being," said Don. "This award is a testament to all of our staff and supporters for their dedication to our mission."
"Once you see how a wheelchair can change someone's life, you want to be involved," Meryl said.
To learn more, visit  freewheelchairmission.org.
Cindy can be reached at [email protected]