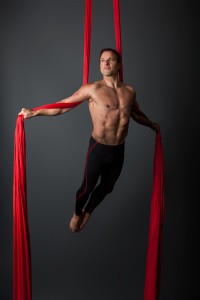 Aerialists make beautiful art.
They climb silk ropes and their graceful bodies defy the thought only birds with wings can hold court way up high.
Yet it is not true. Silken threads woven tightly together grab a foot, a leg, a torso 20 feet up in open space as the aerialist performs a dance in the air.
It is not only a magic anyone can do, but one of the fastest ways to build fitness, tone muscles, and set one's core ablaze in balance.
You too can be an aerialist, swinging high and engaging every inch of the body to master gravity.
Aerial arts fitness started when Cirque du Soleil first appeared more than two decades ago, and has been gaining in popularity ever since.
Dough Schulein, owner of Aerial Arts Orange County and Back Bay Fitness, created a program under the pretense to merge fitness with Cirque events and make for more interesting workouts.
Yet he found his clients focused more on the tricks, so the program morphed into classes where the student works under a consistent progression of learning aerial art until ready to put on a performance.
Doug himself is an aerialist, and started twirling in the air when he was 20 for vacationers from around the world as a flying trapeze artist for Club Med. Doug not only performed but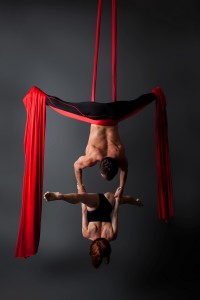 instructed the guests to have fun high above the ground.
In his new facility in Costa Mesa, his professional staff of aerial artists teaches others how to perform elegant dances in the air. Anyone can learn this art, male or female, young or old, big or small.
The whole intent in creating this program, Doug explained, was to create a fun fitness program that brought people back to their childhood.
He asks, "When was the last time you hung by your legs upside down on a bar?"
People who come to try a swing or two in the air say it reminds them of being a kid again. It is truly addictive—he calls it a "happy regression" back into childhood. Learning the art starts just two feet off the ground. Once the fear of falling subsides and you understand which muscles to engage and how to balance through the core, the instruction goes up higher and you become, in time, an aerialist.
It seems almost surreal to bring in this form of fitness when the popularity of extreme sports roughens the fitness field. Aerial arts goes a step further to include grace and beauty while utilizing the very most of what the body can give. It brings in the element of yin to a predominately male world of grunting and snorting the way to a better body. It allows access to both forms of energy, soft movements supported by enduring strength. Having witnessed trapeze artists twirling their way about so easily, their sensuous bodies performing feats one can only imagine doing, the time has come where everyone can share in that sensation, being air borne in the name of fitness and fun.
Doug himself still dances in the air on occasion, and at times shares performances with his aerial troupes for audiences throughout southern California to inspire and amaze all with this beautiful form of art anyone with the heart and soul of a child and the goal for increased fitness can do.
Find more information at aerialartsnewportbeach.com, or email [email protected] or call (949) 631-5587.
Contact Gina at [email protected].