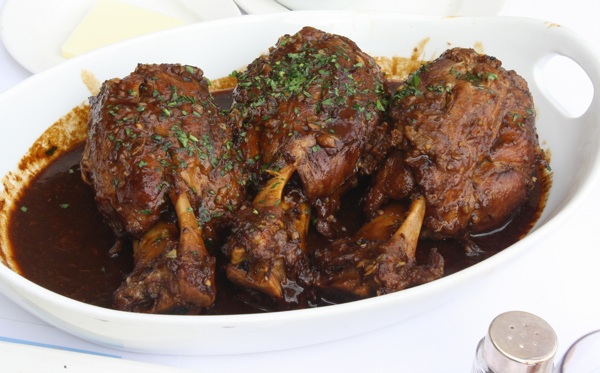 Brush up your German and prepare your palate – it's time for Oktoberfest, and a handful of Newport Beach restaurants are unveiling special menus to celebrate the occasion.
In America, Oktoberfest is a month-long salute to hearty German food, but revelers in Munich are already starting to say "Auf Wiedersehen" to Oktoberfest, which began there in mid-September and will end in early October.
However, the early Oktoberfests did in fact take place in October. The tradition started in 1810 to celebrate the October 12th marriage of Bavarian Crown Prince Ludwig to the Saxon-Hildburghausen Princess Therese. The citizens of Munich were invited to join in the festivities, which were held over five days on the fields in front of the city gates.
Anniversary celebrations were held annually, eventually becoming larger and more elaborate. When the city began allowing beer on the fairgrounds, makeshift beer stands began cropping up. They were eventually replaced by beer halls in 1896. The beer halls, like the beer tents of today, were sponsored by the local breweries.
And speaking of beer, tradition dictates that only six brands of beer are allowed to be served during Oktoberfest: Augustiner, Hacker-Pschorr, Hofbräu, Löwenbräu, Paulaner, and Spaten.
Oktoberfest was eventually moved to September to allow for better weather conditions. Today, the last day of the festival is the first Sunday in October. However, since Americans tend to take things literally, we celebrate Oktoberfest throughout the entire month.
Locals can enjoy special Oktoberfest menus at Balboa Bay Club, Bayside, Basilic, and Orange Coast Winery.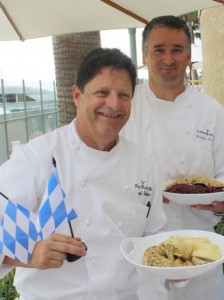 Balboa Bay Club
When it comes to German food, you can't get much more authentic than Balboa Bay Club–Executive Chef Josef Lageder grew up in Austria, and uses many of the recipes that were handed down from his family.
"This is a very classic, very traditional menu," explained Chef Lageder. "People come here for Oktoberfest because they know they can order these items. It's comfort food—very rustic."
Chef is right–I dine here every October so I can get my fill of Chef Lageder fabulous German cuisine, which includes such items as Linsen Suppe (Lentil Soup with apple wood smoked bacon and sliced Wurstchen), Wiener Schnitzel (Center Cut Pork Loin breaded and pan fried, with potato and cucumber salad), and my favorite: Paprika Goulash with slow braised pork and homemade Spatzle, plus sour cream and red cabbage.
Other items include Gebratene Schweinshaxen (slow roasted pork shank with mashed potatoes), Bavarian Bratwurst (boiled in milk instead of cooked on the grill or sautéed), and warm apple strudel with vanilla bean ice cream.
Oktoberfest dishes range from $9.50 to $24.50, and are available in both the First Cabin restaurant and Duke's Place. Call 949-630-4145, or visit BalboaBayClub.com.
Bayside
Bayside is not known for German food, but Executive Chef Paul Gstrein has created a three-course prix fixe menu that's inspired by classic Bavarian cuisine and features traditional ingredients of the region.
First course choices include a smoked trout salad with horseradish, celery, Granny Smith apples and petit greens or a Weinberg salad with organic greens, Anjou pears, grapes, blue cheese, shaved red onion and pistachios. Main course options are lightly breaded pork loin (Schweinerucken "Cordon Bleu") stuffed with black forest ham and Appenzeller cheese; Vienna-style braised beef short-rib (Wiener Saftgulash) served with potato puree, green onion, charred mini peppers and Brussels sprouts; and a traditional Bavarian veal sausage (Bayrishe Weisswurst) served with house-made sauerkraut, roast potatoes and old world mustard. For dessert guests will enjoy a chocolate hazelnut bread pudding (Mohr im Hemd).
The prix-fixe menu is available for $39.95 per person. Call 949-721-1222, or visit BaysideRestaurant.com.
Basilic
Basilic, a French-Swiss restaurant on Balboa Island, is getting into the Oktoberfest spirit with  Choucroute Garnie – Sauerkraut served with assorted sausages, smoked pork shank and pork belly.
Call  949-673-0570 or visit BasilicRestaurant.com.
Orange Coast Winery
How can a winery go German? Easy–by adding beer to your menu.
During Orange Coast Winery's Oktoberfest celebration October 12-14, the winery will donate a portion of sales to the International Princess Project, a Costa Mesa nonprofit organization.
The festivities culminate on Sunday, October 14, with German food, beer & wine, music, and raffles.
The tasting room is open Friday through Sunday, noon to 8 p.m. Orange Coast Winery is at 869 W. 16th Street in Newport Beach. Call 949-645-0400, or visit OrangeCoastWinery.com.