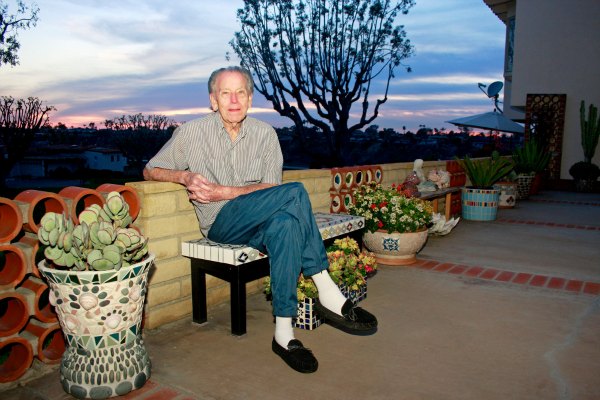 Richard Stott has collected and placed thousands of stones and intricate pieces of tile in mosaic designs for more than 100 beautiful pieces of art.
And this is just his hobby.
It's relaxing and a creative outlet for Stott, a retired doctor of clinical psychology. And being a mosaic craftsman is work, but it's fun work, he said.
"It's the creative process I enjoy," Stott said, "making things, creating things, designing things."
Stott, 86, of Newport Beach, has been creating mosaics for more than 60 years. He has collected rocks from his travels around of the world. Some of his greatest finds are on the beaches in Mexico.
He does all of the masonry himself, as well. He's created murals, planting pots, stepping stones, and more.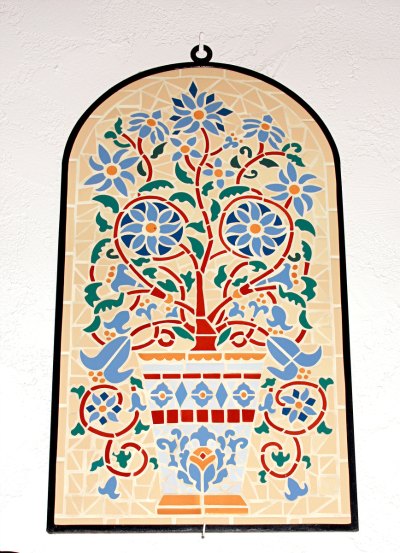 One of the first pieces he made was a simple cross, now hanging in his back patio just a few feet from ornate mosaic table tops, expertly designed planter pots and an entire bench depicting the Roman chain.
A favorite piece of his is a depiction of the Tree of Life. It sits almost five feet high and took roughly 200 hours to create. It uses colorful tiles, large and small, placed in an refined pattern showing a flowery tree emerging from a pot and branching out.
A few of his other pieces include a mural depicting 10 state flowers, including the California poppy, a "shell" fish, an abstract concept of the Aztec calendar, bird baths, murals of the sun, flowers, symbols and other designs, a large colorful sphere, and many more.
"You want to create something," Stott said, "and so you've got to let your imagination lead you somewhere."
His interest in anthropology and archaeology has also provided inspiration: One of his larger pieces depicts the Aztec eagle, created out of the base of an old air conditioning unit.
"I did this as a salute to Mexico," Stott said.
His 111th piece, a cement Aztec god, was finished earlier this week. He gave the figure a colorful mosaic headdress and jewelry.
He also built an elaborate stone planter out of what used to be a plain hillside. He started working on it probably the week after they moved in about 25 years ago, Stott said, and it continues to be built upon.
"Let's see if there's room for another stepping stone," he joked.
The walkway and steps leading down and around the planter to the back patio and garden are also stone mosaic, lined by other rocks that hold in about 40-50 different types of succulent plants and cactus. All of the rocks were hand collected by Stott, and sometimes his wife as well, locally and on trips around the world.
"Every one of them have some personal significance," he said.
He became interested in ceramics in the 1940s, after he got out of the service and went off to college. While attending the University of Mexico he discovered the art of mosaics.
"They have fantastic mosaics and tiles there," Stott said.
He earned his doctorate in 1957 and started creating mosaics that same year.
His interest grew as he traveled through Spain, particularly in Barcelona, home of the great Antonio Gaudi, he added.
His mosaics may not be for everybody, but that's fine by Stott.
"I do this for my pleasure, not for others," he said, but most people do enjoy viewing his art and garden. And friends and family are the only recipients of his artwork, he doesn't sell any of them, and that's also fine by Stott, it's the process he enjoys.
The creative, design and drafting process takes time. He decides what to make first, then chooses the size, color and texture of what stones would best work.
Ceramic tiles have to be carefully cut and shaped by hand, he said.
It's becoming harder to find a variety of color tiles, he said. The mode of building has changed, he said, so there are fewer pieces available.
"I scrounge around and find them," Stott said.
He uses sandstone, Venetian glass, ceramic, and other kinds of tile. Along with all his hand collected stones.
He'll forever be collecting stones and as long as he has "extra" pieces to work with, he'll be an artist, in his own way.
"I found every one, I brought every one home and I've placed every one," Stott said about his collection of stones.
The process takes a anywhere from 20 to 200 hours. Working for a few hours every day, a large project can take up to four months.
"That's part of the fun for me," Stott said. "Other people would go crazy doing that, but I enjoy it."