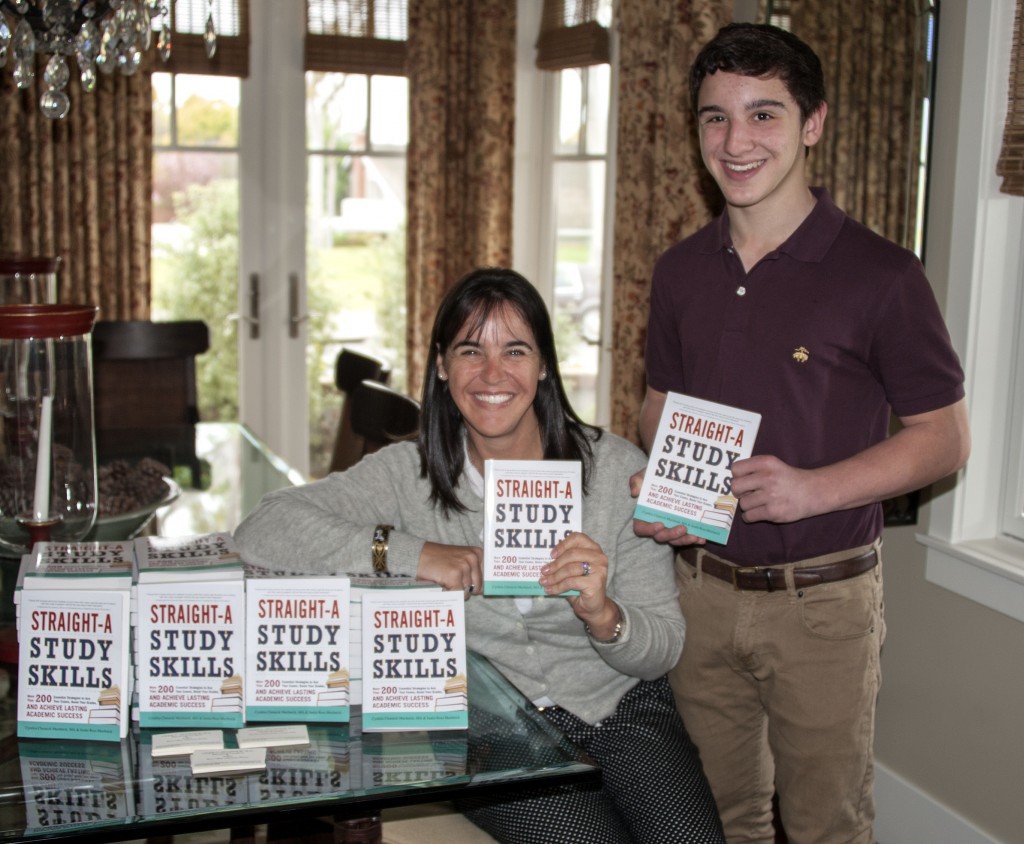 A local mother and son have put their heads together and co-authored a new book about study skills.
Cindy Muchnick, Stanford University graduate and former college admission counselor and educational consultant, and her 14-year-old son, Justin, a Harbor Day School graduate who now attends Phillips Academy Andover boarding school in Boston, released their first book together in January.
The book, "Straight-A Study Skills," details more than 200 essential strategies to help students ace exams and boost their grades.
The tips are aimed at helping every level of student, from middle school to college. Parents can get a lot from it as well, the duo explained.
"We wanted to give our perspective," said the younger Muchnick, who wanted to share study tips that have worked for him.
"Ultimately, this book is about… achieving success," his mother added, "and being the best that you can be."
Although this is her seventh book, her son was very involved and took the lead during some of their writing process.
"He had eyes on every page," she said "So much of the tone, voice, insight is his."
This project allowed them to have a different relationship and see each other in a different light, they both agreed. It's added another level to their mother/son relationship.
"I loved being able to work with my mom," he said.
It all started when Cindy Muchnick was approached by her publisher to write a study skills book, she explained. She was only a few weeks in when her son started looking over her shoulder and giving input.
He was actually pretty critical, she joked.
She invited him to help and the publishers loved the idea, so they got to work.
It took up pretty much the entire 2012 summer, which included some late nights, re-writes and a lot of hard work.
They had some disagreements and weren't always on the same page, but in the end they worked it all out. It was a great shared experience, they both agreed.
The more experienced Muchnick author wanted her son to experience the whole process from start to finish, she said, from writing the chapters to speaking at book signing events.
He even got advance praise from the head of school at Andover, John Palfrey.
"The life of a student in our increasingly technological and global world is growing more complex with every passing year," Palfrey wrote. "This book is a helpful how-to guide for young people and their parents wishing to cut through the clutter. The Muchnicks offer hundreds of specific tips and general good sense, which should prove useful to a generation of learners seeking to make the most of their education."
Having the experience of applying for boarding school under his belt by the time they wrote the book last summer helped him in a variety of ways, Justin Muchnick said.
"Applying to boarding school, opening up that whole new world, has been a fun obstacle that I've overcome," as well as convincing his parents to let him go, he said.
He approached his parents with the idea after having an inspirational teacher in seventh grade, Brian Rogers, who was a writer in residence at a boarding school on the east coast.
"I wanted a very immersive academic experience," he said.
It's been a challenge for his mother as well.
"It's been emotional," she said about sending her eldest child off to boarding school. "I think it's harder on us than it is on him."
Ultimately, they allowed him to go and have concluded that he made a great decision for himself.
So far he has found the boarding school experience to be challenging and enriching.
Justin, who shines as a student at Andover, has two very high and very different aspirations for himself: either attorney general or a Disney "Imagineer."
This book also gave the young writer the confidence to work on his own project. He is currently working on a new book and is in talks with publishers.
When he gets an interest, he completely dives in, his proud mother said.
"He learns everything there is to learn about that particular passion," she said. "That's such a theme of who he is as a person."
"Straight-A Study Skills" hit stores in January and can be purchased at Barnes and Noble, Amazon.com, and other retailers. It is also available for Kindles and Nooks.
They also have an upcoming event at noon on March 30 at the Barnes and Noble in Metro Pointe (click here for more information). The author event will include a study skills discussion and book signing.
For more information or to buy the book, visit cynthiamuchnick.com. The authors can be contacted at [email protected].