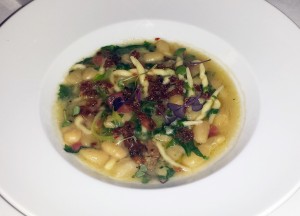 By Christopher Trela and Catherine Del Casale | NB Indy
Nobody wants to go to Chicago this time of year, so Segerstrom Center brought Chicago here in the form of "Chicago," the Broadway musical sensation that runs through February 2.
We love musicals, so naturally we were excited to see "Chicago. We were also excited to dine at Leatherby's Café Rouge adjacent to Segerstrom Concert Hall, because they always feature a fun themed menu that perfectly matches the musical.
We enjoyed Executive Chef Ross Pangilinan's South American menu for "Evita" last December and his inventive and delightful French-style menu for "Beauty and the Beast" earlier this month.
Now, Chef Ross has concocted a creative "Chicago" menu that once again is a perfect fit. He invited us to sample the items prior to our seeing "Chicago" on opening night.
For those unfamiliar with "Chicago," the show is set in the Roaring 20s and tells the story of Roxie Hart, a housewife and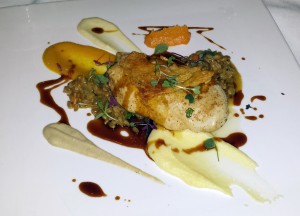 nightclub dancer who murders her lover after he threatens to leave her. To help get her out of prison and into the limelight, she hires a slick Chicago lawyer, who parlays her case into national headlines.
The three-course, prix fixe "Chicago" menu (with each course named after a "Chicago" song or theme) is $45 per person, or $64 with wine pairings.
First course features a choice of Funny Honey (honey poached pears, baby kale, Maytag blue cheese, pecans, pomegranate seeds, and honey peppercorn dressing) or When You're Good to Mama (zuppa di fagioli, cannellini bean soup, trofie pasta, escarole, and prosciutto crumble).
"You know we're not blue cheese fans, but I'm surprised how mild it tastes in this salad," noted Christopher. "It blends well with the stronger flavor of kale and the sweet fruit flavors from the pears and pomegranates."
"The fragioli soup is one of the favorite soups made by mothers in Italy," said Catherine as she happily consumed the dish. "This one is extremely flavorful—the saltiness of the prosciutto crumble really made this dish."
Entrees featured a choice of Me and My Baby (buttermilk poached chicken breast with chicken crackling, farro grain ragout, a tasting of vegetable purées, and chicken jus), or Chicago After Midnight (steamed great lake white fish, baby bok choy, potato-apple-celery purée, and crab vinaigrette).
"You're going to have to pry this away from me to get a bite," joked Catherine about the chicken dish. "Not only is it a beautiful presentation, but I love the vegetable purees, which Chef Ross told me were inspired by his young daughters' pureed vegetables at home."
"This white fish is really delicate and mild, but the bok choy seasoning has a bit of a kick that perfectly complements the fish," said Christopher.
The desserts were pure perfection: Roxie (tiramisu with Savoiardi biscuits, mascarpone mousse, espresso, and cocoa nib truffle) and Razzle Dazzle (raspberry and lemon sorbet, pop rocks, blueberry thyme coulis, and a sable cookie).
"The Razzle Dazzle is by far one of the most interesting desserts I've had to date," stated Catherine. The light sorbet combined with the crackling of the pop rocks creates a fabulous combination of taste sensations."
"I'd call it a party in my mouth," smiled Christopher. "But I also love the tiramisu—it's thick and decadent. I'd come back just for this."
Before we left, Chef Ross gave us a preview of his "Wizard of Oz" menu, which will have such items as Hamachi roll with ponzo gelee and yuzu air, cedar smoked duck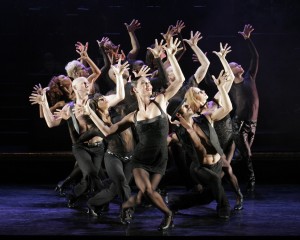 breast with bacon and forest mushrooms, and caramel pretzel bread pudding with stewed apples and ice cream. We'll be back for that one too.
We left Leatherby's five minutes before curtain, but the restaurant is a one minute walk to the theater so we were in our seats with time to spare.
We've seen the show before, but this production seemed to us better than any we'd previously experienced. Jaw-dropping dancing (with Fosse-inspired choreography), terrific vocals and a fabulous on-stage band (not to mention the always-charming John O'Hurley as Billy Flynn) really made the show shine. It was indeed a razzle-dazzle evening that ended with an enthusiastic standing ovation.
One more note: Segerstrom Center always creates themed cocktails for the musicals. At intermission, we tried the All That Jazz cocktail with Bombay sapphire, Passoa passion fruit and sparkling wine, and the Hot Honey Rag with Patron silver, Bacardi 8, grapefruit and pineapple juice. They're a bit pricy at $14 each, but fun and tasty.
For tickets to "Chicago," visit www.SCFTA.org or call (714) 556-2787.
For info on Leatherby's Café Rouge, visit http://www.patinagroup.com/restaurant.php?restaurants_id=20.