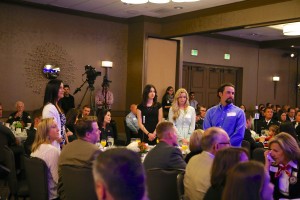 "Your son is a hero in all of our eyes…"
Seemingly trying to hold his own emotions in check, Newport Beach Police Department Chief Jay Johnson directed that powerful sentiment to the mother of slain police officer Bob Henry at the 44th Annual Police Appreciation Breakfast on Thursday, March 12, at the Hyatt Regency Hotel, upon completion of a video celebrating the life, service and passing of Henry exactly two decades earlier.
Johnson admitted that when he previewed the memorial video the week prior to the awards breakfast, he fought hard not to tear up, because "…chiefs just aren't supposed to do that."
However, to look at the eyes of the 500 guests at the breakfast — police officers, as well as the department's civilian employees, police and fire officials from other cities, politicians, businesspeople and more — most in the audience freely let the tears well up in deep salute.
In anticipation of the emotion, table settings included packages of tissues. They were well used.
Henry's wife and their now-grown children, along with other members of his family, received a lengthy standing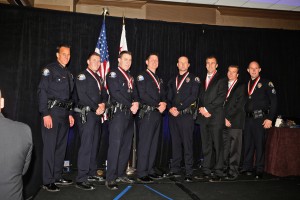 ovation after Johnson introduced them all.
The breakfast followed a 4 a.m. memorial service at Bob Henry Park (900 Dover Drive), the site where Henry was shot in 1995. Henry succumbed 33 days later without having regained consciousness.
Two hundred sworn officers and others attended. To honor the man and the day, an honor guard stood vigil until sundown, March 12.
Newport Beach Mayor Pro-Tem Diane Dixon summed up the reason why so many were in attendance: "To show pride and appreciation" in our police department.
"Johnson responded, "It's so great to come to a city like this and to be appreciated. We appreciate that!"
Awards were given out in a variety of categories. Selecting the awards recipients is a lengthy process. Nominations are received from committees specifically formed for each award. Recommendations then are submitted to the chief for consideration.
Officer Randall Parker, Jr. was named Officer of the Year, while Supervisor of the Year was Sergeant David Miner. Community Services Officer Emily Bledstein was Civilian of the Year, while Dennis Hoo was named Reserve Officer of the Year. Volunteer of the Year was Martin Flink.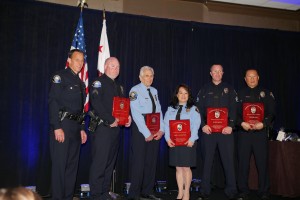 Awards of Merit went to Detectives Joshua Comte, Elijah Hayward and Jeffrey Perkins. This trio conducted complex investigations involving cross-country drug smuggling that resulted in multiple arrests, and confiscation of 540 pounds of marijuana worth an estimated street value of $1.3 million. his case also transitioned into a successful investigation of human trafficking.
Lifesaving Award went to Officers Robert Hufford and Dallas Lopez. These officers extracted an attempted suicide victim from his carbon-monoxide filled car by smashing a window and resuscitated him, at which time the subject was transported to the hospital for medical and psychological care.
A Lifesaving Award went to Officer David Sarega. Called to the home of a non-breathing infant, Officer Sarega swiftly administered back slaps and chest compressions, which resuscitated the infant, who recovered completely at the hospital.
Another Lifesaving Award went to Sergeant Eric Little, Officers Dallas Lopez and David Mock.             These three tracked down a suicidal teenage boy in a brushy area of the Back Bay, successfully finding him, calmly communicating with him, and ultimately dissuading him from slashing his own throat.
The Annual Police Appreciation Breakfast was hosted by the Newport Beach Chamber of Commerce and the Commodores' Club, and sponsored by the Maseeh Family, Hoag Memorial Hospital Presbyterian and Newport Beach & Company.