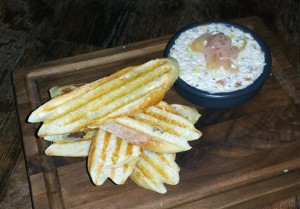 By Christopher Trela & Catherine Del Casale
Five Crowns
It's not easy to sustain a restaurant through the ups and downs of the economy and changing tastes, but Five Crowns in Corona del Mar has managed to do just that for five decades.
Yes, hard to believe, but Five Crowns is celebrating 50 years of fine dining. A host of local and national celebrities have visited Five Crowns over the years, including cartoonist Chuck Jones, who lived nearby and was a regular diner.
The restaurant made its well-deserved reputation with a menu of hearty English-style cuisine that featured the signature prime rib, served by wait staff dressed in period English garb.
The attire slowly changed over the years, but the menu – and décor – generally stuck to tradition.
To mark the first 50 years while looking forward to the next 50, the Lawry's family and Executive Chef Steve Kling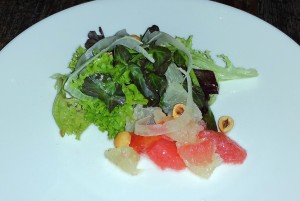 have unveiled a new menu and beverage program that is a marked departure from the old menu yet still retains signature items.
Now, the menu has tripled in size, and lists an array of starters, main dishes, new family style options and seafood selections.
We were invited to sample some of the new menu items, and were surprised and pleased by the creativity and quality of the new dishes.
We started with a smoked trout dip with huge crostini ($13), crab cake ($15) and crispy artichoke hearts with garlic aioli ($12), followed by several salads ($12) and the chicken and kale soup ($8).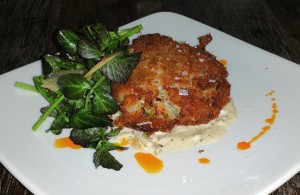 "The Crispy artichoke hearts were amazing!" exclaimed Catherine. "Not too greasy and the garlic aioli has the perfect consistency, not too thick or thin. I could easily finish this dish off myself and not share with anyone else. I would recommend pairing it with a white wine that is light but can still cut through anything fried so all of the flavors shine through."
"And I could easily devour the smoked trout without any help," said Christopher.
We both enjoyed the winter citrus salad with grapefruit, fennel, tomato and watercress. Among the other dishes we tried was the seared Scottish salmon with asparagus, lentils and dill butter ($30), which ranked among the best salmon we've tasted.
We paired our dishes with several wines—we recommend letting the staff selected wines for your courses, you won't be disappointed.
For more information, visit lawrysonline.com/five-crowns.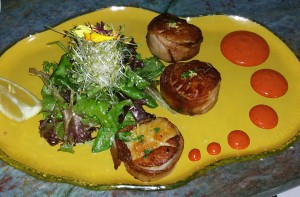 Fly 'N' Fish Oyster Bar & Grill
We usually are on top of new restaurants in Newport Beach, but admit we dropped the ball – or the dish – on Fly 'N' Fish, which has been serving its creative take on coastal seafood for more than two years.
We finally made it in for dinner recently, and were blown away by the food. This is terrific seafood served in an upbeat, classy-casual environment that makes you want to come back as often as possible.
Executive chef Julio Hawkins has a passion for seafood that is on full display via his menu, which focuses on seafood, from oysters and mussels to salmon, swordfish and scallops.
Among the dishes we tried: pan seared diver scallops wrapped in triple smoked apple wood bacon served with achiote aioli ($23), the grilled lobster tacos ($15), and the saffron bacon risotto with scallops and Mexican shrimp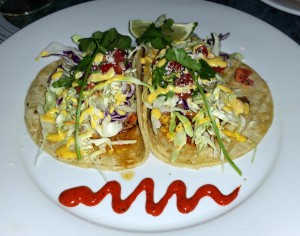 ($34). Oh–and the clam chowder, a signature dish.
"Bacon wrapped scallops. That is all you need to know," stated Catherine. "Once you have these you will be coming back for more. The triple smoked Applewood bacon is easily cut into, not like fatty bacon that you're trying to rip apart. The scallops are cooked to perfection and the special achiote aioli I can't even describe, you just need to go in there and have it yourself."
For more information, visit flynfishoysterbar.com.
Social
Orange County restaurateur Andrew Dorsey, in partnership with former Playground Chef Jeffrey Boullt, Chronic Tacos co-founder Dan Biello, and Orange County entrepreneur Mac Carlson, recently teamed up on a new restaurant venture called Social in Costa Mesa.
Located in a nondescript strip mall on 19th street, the concept behind Social is simple: a thoughtfully curated dinner menu, craft cocktails, late-night bites, and seasonal menus with locally-sourced produce and meats.
We've dined here twice, and Christopher watched a cooking demo with Chef Boullt, and after sampling a variety of menu items, are thoroughly charmed with Social.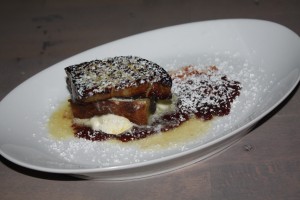 "The Hudson Valley Foie Gras ($26) is amazing," said Catherine. "It's a foie gras with pain perdu, quince, hazelnuts, white chocolate and foie ganache. I was tentative at first since I don't usually associate have foie with sweet accompaniments but I thought, why not? I'm so glad I tried it because it blew me away. The savory and sweet was perfect together. I've never had anything quite like it."
We had similar responses to the other menu items—they were familiar, yet we've never had anything quite like them.
The same goes for the cocktail menu, which takes creativity to another level.
We love the ambiance, which is casual with lots of wood and warm colors, yet still gives off an upscale and cool vibe. The restaurant also has a late night menu, great for those of us looking for a bite later in the evening.
For more information, visit SocialCostaMesa.com.