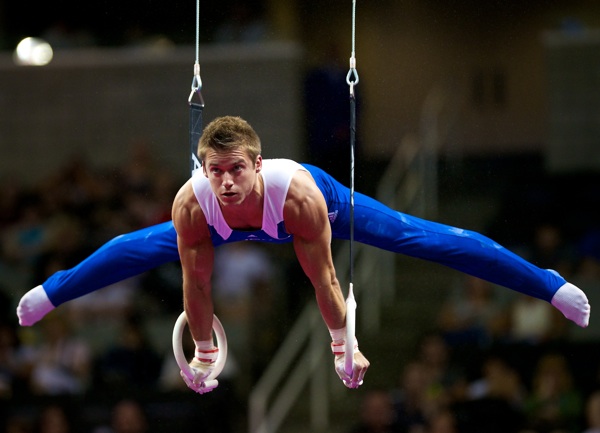 In London yesterday 19-year old Newport Coast resident Sam Mikulak was making the final preparations for his first ever shot at Olympic gold.
A year ago that opportunity must have seemed little more than a distant dream when Mikulak broke both his ankles in a competition in Puerto Rico. But Mikulak is a competitor that wouldn't let a two broken ankles stop him and he didn't.
At the U.S. Olympic trials earlier this month in San Jose after impressing the judges on the first night of competition and seemingly a shoe-in to make the American men's Olympic gymnastic team, one of Mikulak's ankles failed him again.
_____________________________________________________________
Sam Mikulak isn't the only Newporter who will be competing in London. The others, previously profiled by the Newport Beach Indy and newportindy.com, are: 
________________________________________________________________
This time it was a severely sprained left ankle and his chances were dropping as fast as his ankle was swelling.  Mikulak told the San Jose Mercury News at the time he wasn't about to give up.
"I told myself, 'Just grit your teeth and let's get through it,'" he said. "But the trainers, coaches and my dad just told me, 'Sam, be smart. If you do make the team, you need to be healthy as soon as possible.' But I was really pushing to compete. I kept telling them: 'Guys, you're killing me here.'"
Although Mikulak could only compete in one event, the pommel horse, at the Olympic trails, he was later selected to the U.S. team on the basis of his overall results leading up to the trials and a third-place finish at the U.S. nationals only weeks before.
The special advice Mikulak got that night in San Jose from his dad, Steve, was more than just fatherly. Steve Mikulak is a longtime Newport Beach-based orthopedic surgeon and Sam's mom, Tina, is a former top U.S. gymnast.
Both of his parents competed for Cal-Berkeley and the U.S. some two decades ago.
Mikulak grew up in Newport and graduated from Corona del Mar High School in 2010 before heading off to the University of Michigan. He is now the first-ever American gymnast from the University of Michigan to make the U.S. Olympic gymnastics team.
Mikulak's rise in the sport has been steady. He was crowned runner-up in the 2012 NCAA All-Around and was the 2011 NCAA All-Around Champion.
An even longer list of gymnastic victories and accomplishments in the sport have made him one of countries top male gymnasts.
Mikulak got his start in the sport at early age, learning gymnastics at the SCATS gym in Huntington Beach. Mikulak also enjoyed other sports as a kid, growing up playing soccer and baseball.
"My parents were gymnasts, so from the time I could walk, they were teaching me skills. I started my first class at SCATS at the age of 2."
Gymnastics is not an "official" sport at CdM High, but Mikulak trained and competed in through the SCATS program.
Like his dad and mom before him Mikulak earned a full-ride athletic scholarship to attend college and compete in gymnastics.
When he left for London a week ago, he told his friends on Facebook, "London Bound and couldn't be more pumped. I want to thank every single person for their support, couldn't be where I stand right now with out you all. #TeamMikulak is truly everyone!"
Mikulak may be vaulting, spinning, jumping and twisting as a top U.S. gymnast in London now, but his Newport roots can be seen in what Mikulak says are some of his favorite things. Like a punk bank named Rise Against and his favorite food: crab legs.  Mikulak also showed off some his beach-based dance moves and his gymnastic prowess as one of Corona del Mar High's dancers at the 2010 U.S. Open of Surfing in Huntington Beach competition called Hurley's Walk the Walk.
Mikulak seems to be having the time of his life in London and has been posting pictures and tweeting since he arrived earlier this week.  In a post just yesterday he was trading pins with tennis star Serena Williams in London and anticipating his first step onto the Olympic stage this weekend.
"Had an awesome podium training day, the O2 arena is insane!" he wrote. "I can't wait to do work in a few days."
His dedication to social media clearly showed through when he reported he had lost his phone "but London can't stop me from tweeting because my iPad is to the rescue."
The gymnastic competition begins Saturday.