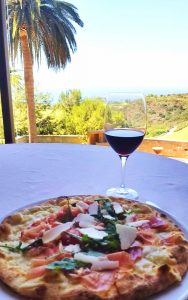 Local restaurants are adding seasonal dishes to their menus as a reminder that fall is indeed here and winter is on its way. Two of our favorites, Andrea Ristorante and Coliseum Pool & Grill (both at the Pelican Hill Resort), not only have new items, they have new chefs.
Last month we were invited to dine at Andrea and Coliseum for a moveable lunch and meet both chefs while sampling their menu.
We started at Andrea, which is always on our list of top Orange County restaurants for both the ambiance and the cuisine.
Chef Troy Mendoza, who has been with the resort for nearly a year but was recently promoted to Chef de Cuisine at Andrea, was preparing a classic prosciutto and arugula thin-crust pizza for us, along with two seasonal specials: duck ravioli and scallops.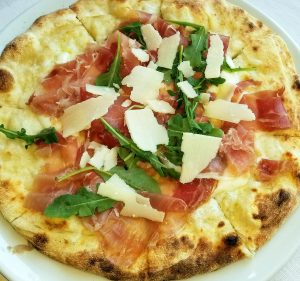 Chef Troy grew up on the Hawaiian Island of Oahu. After studying culinary arts in college, he started his career focusing on Hawaiian regional cuisine at the flagship restaurant Roy's Hawaii Kai and then at Alan Wong's Honolulu.
He came to Southern California and landed a job as sous chef of Scarpetta at the Montage Beverly Hills, where Chef Troy mastered the art of handmade pasta. He joined the team at Andrea Ristorante in 2016.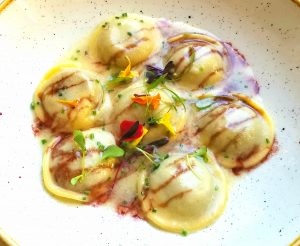 "The duck ravioli is my own recipe," Chef Troy told us. "The scallops are a daily special. The dish is a showcase for fall, with squash, kale, root vegetables, all that good stuff. I get to bring my style to the menu and the kitchen, I'm excited about it. I also get to teach the cooks here different techniques."
Chef Troy said he's adding more seasonal items including dishes with saffron, tagliatelle, squid ink, braised osso buco, more seasonal vegetables., and Italian-influenced pickling, braising, and ragus.
"It's an older Italian style cooking with a newer take on it," explained Chef Troy.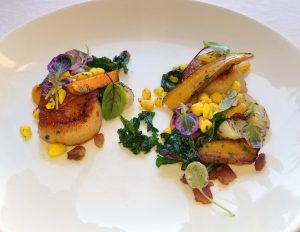 "Whatever you want to call it, this is sensational cuisine," said Christopher enthusiastically. "The pizza is as perfect as you can get—the flavor combination is insanely good. We'd order this every time. And the duck ravioli is superb, lighter than it looks yet still hearty for fall. Same with the scallops—delicate yet hearty, and the flavors and textures in that dish, not to mention the colors, offer a perfect epicurean ode to fall."
Then we were off to Coliseum Pool & Grill to experience the dishes of Chef Diego Bernal, who has been with Pelican Hill Resort for about two months. He comes to Coliseum from tenures as chef de cuisine at Montage Beverly Hills, sous chef at the Michelin-starred Gordon Ramsay at The London West Hollywood, and chef de cuisine at Hotel Indigo in Downtown Los Angeles.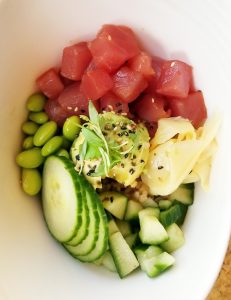 At Coliseum Pool & Grill, Chef Diego sources Southern California ingredients for his seasonally inspired menus that can best be described as elevated American cuisine with international influences.
We started with chicken lettuce wraps, a holdover from the summer menu but a welcome treat as Chef Diego transitions to his fall menu.
He told us the chicken is marinated with soy, garlic and lemon grass, and served with rice, soy sauce, and cilantro—essentially a healthy chicken taco.
We also had a beautiful poke bowl with brown rice, cucumber, avocado, edamame, and scallions.
Chef Diego has introduced a new breakfast menu, and is looking forward to the Resort's Thanksgiving and Christmas menus.
"I'm getting to know our clientele," noted Chef Diego. "Some come here daily. It's not about the chef, it's about the guest, serving what they like and what they want. That's my goal, to have what they like."
Coliseum and Andrea have both exceeded that goal.
For more information, visit AndreaNB.com and ColiseumNB.com.