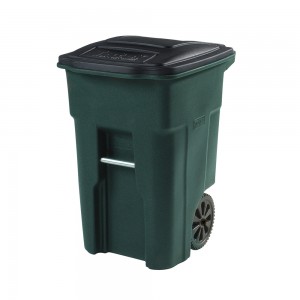 The transition to the new residential trash collection service will begin March 31, the city announced last week.
Newport Beach residents that currently have their trash collected by the city will need to order their new carts by Jan. 20, city spokeswoman Tara Finnigan wrote in a statement released on Jan. 2.
CR&R Environmental Services will provide automated or semi-automated service that requires the use of trash "carts" instead of cans.
"They can order as many new, free trash carts and recycling carts as their household needs and can choose any of three cart sizes (35-, 64- or 96-gallons)," she explained. "CR&R will collect and recycle the old, unwanted trash cans the week following the delivery of the new carts."
Separating recyclables in a separate cart is an option, not a requirement. All trash will continue to be sorted at a materials recovery facility where recyclables are removed.
The city and CR&R are asking customers to consider how many carts their household really needs before placing orders.
They are asking residents to think about how many 32-gallon cans the household currently uses and will need, where the carts will be stored, and possibly using a larger size, if needed.
Information about the new carts was mailed to every city residential trash service customer last week, according to Finnigan.
Customers should have also received a separate mailing from CR&R sometime this week that provides more information on how to order the carts.
Details about the carts, including their dimensions and capacity and list of locations where the carts are on display, can be found at newportbeachca.gov/residentialrefuse.
Additionally, City staff will be out in the community with cart samples during the next two weekends. Check the website for details.