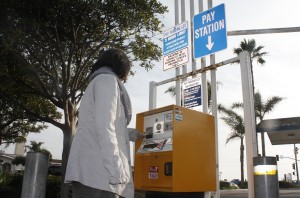 State officials approved a permit this week for electronic parking pay stations at a beachside public parking lot in Newport Beach, with a few special conditions.
On Wednesday, the California Coastal Commission unanimously approved installing 11 automatic payment machines and associated signage at the Balboa Pier parking lot.
The number of parking spaces will remain the same. Each unit is wireless and solar powered.
Special condition number one from CCC staff lowers the city's suggested (and current) rate of $25 daily for the busy summer holidays (Memorial Day, Fourth of July and Labor Day) down to $20 and adds an hourly option (not to exceed $2 per hour). This is the same rate that Orange County state parks and beaches offer, according to Coastal staff.
Rates for the rest of the year would remain at $1.50 an hour with a $15 cap.
The other special conditions include requiring the city to apply for a permit for any future parking rate changes/increases, rules for storing construction materials or equipment and submit a final sign program.
Several city officials voiced their opinions during the meeting, taking issue with the first special condition.
It's premature, said the city's deputy finance director and treasurer, Dan Matusiewicz.
"The city has expended, and continues to expend, city resources to prepare a comprehensive parking management plan that is reflective of the needs of visitors and existing land uses in the coastal zone. This effort is ongoing today," he explained. "This process will culminate with recommended parking rates and all appropriate coastal approvals will be obtained."
It would also be insensitive to the city's local fiscal responsibilities, Matusiewicz added. It would have "significant financial impacts to the city's budget," he said.
There was also some debate over whether or not the city even required a Coastal permit to place the pay stations.
City officials argued that none of the past city fee increases required a coastal development permit and that the Coastal Commission's staff report is based off of "inaccurate information."
"You have raised your fees in the past and changed your structure without a coastal permit," said commissioner Mary Shallenberger. "It seems to me, that potentially there's an enforcement issue in that."
Commissioners firmly stated that it was within their authority because it affects access.
The city's proposed rate plan did not facilitate access for low-income people or people who don't want to or aren't able to spend the entire day, Shallenberger said.
"Coastal access is not just a local issue," she continued. "It's also for people coming [from] out of your jurisdiction… Coastal access is for everybody."
Commissioner Carole Groom said she understands that the city does not want somebody else coming in to set rates.
"[But] this is an access issue and that's our job," Groom said.
The lower $20 holiday rate is acceptable, she added.
"The higher the rates get the more you actually keep people out of your parking lot and then you've got cars in the neighborhood and cars probably where they don't belong," she said.
Installation of the machines constitute development under Coastal Act section 30106 because "it involves installation of a structure and a change in intensity of use and of access to water," explained Liliana Roman, analyst for the project. Based on the city's proposal, the machines could be "reprogrammed at any time to increase or decrease fees, provide an hourly rate option and/or flat rate only."
"Such flexibility in the fee payment structure potentially affects the affordability and convenience to the public to access the coast and, therefore, represents a change in intensity of use and of access to coastal waters," she continued.
Rates should not be driven solely by increased demand, like on holidays and during the peak season, the staff report states. That could cause some people to be "priced out of recreational opportunities at the coast." It's important to keep lower-cost options for beach access, the report explains.
"I think the staff have absolutely gotten it right," Shallenberger said. "It is clear… The commission definitely has authority over setting parking fees."
Although the vote was unanimous, not all the commissioners were completely on board.
"I don't think this is about an access issue because they're not actually increasing the rates," said commissioner Wendy Mitchell.
She's been to the beach on a holiday, she said, and most people get there before 10 a.m. and stay there all day. And many of them are low-income families, she added.
"I think this is a bit of an overreach on our part," Mitchell said.
The current fees and holiday flat rate were established in 2010, according to staff. At that time, the rates increased from $8 to $15 daily and the holiday flat rate was set at $25 with no hourly option.
Patrick Alford, planning manager for the city, gave a brief history of the project.
In early 2013, the city began considering installing the pay stations. In February, council approved $440,000 for parking lot automation infrastructure at both CdM and Balboa Pier.
They were hoping to have them installed by summer 2013.
In March, the city was contacted by CCC and informed that they needed a coastal development permit to install the pay stations.
Upon further examination, city officials found that there would be no change to the parking lot, no sensitive habitat or sandy beaches would be involved, and no impact on public access or the visual resources of the area, Alford said.
"Above all," Alford continued, "we are not proposing any rate changes."
There didn't seem to be any significant coastal act issues, he added, so they questioned whether a permit was necessary. The CCC staff maintained that the city needed the permit.
In July, the city submitted an application for the permit. In August, it was deemed incomplete and had to provide information on the rates.
"We were assured that this information was only to place the fees in context of our application and so we provided information going back to 1992 and the complete history of our rate increases and the supporting information," Alford said.
The city has already embarked in a public participation process regarding possible changes and a comprehensive look at rates, Alford said, "but we're not prepared to commit to changes at this point."
"To go with the (CCC staff) recommendation, that would circumvent the public outreach process that we're undergoing," Alford said.
Matusiewicz asked the commission not to "overreach" into the city's fiscal affairs.
The city requested the commission delete the first special condition be deleted.
Assistant city attorney Leonie Mulvihill also spoke, reiterating Matusiewicz and Alford comments.
When the city completes this process, if they have a viable alternative rate structure, they can bring it to the commission and the permit may be amended accordingly.
The second application for 12 electronic pay stations and signage at Corona del Mar State Beach was postponed.