By Christopher Trela and Catherine Del Casale | NB Indy
We made it to two of Newport's newest hotspots this week, went to another spot so hot it's melting, and even hit a tropical island.
Red O
Chef Rick Bayless opened his Mexican-influenced Red O in Fashion Island at the end of November, and it's been one of the hottest spots in town ever since. The large U-shaped bar is popular and usually crowded, and if you don't have dinner reservations, expect a long wait.
We've had drinks at the bar and love the ambiance (and the fact that our favorite bartender, Sean, has moved from the now-closed Brasserie Pascal to Red O), so we decided to return for lunch last weekend and get the full dining experience.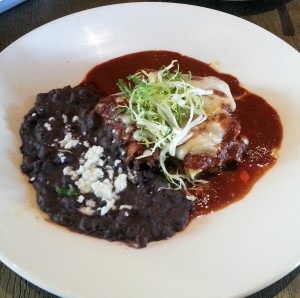 The interior is what we'd call relaxed yet upscale—casual clothes suffice by day, but a bit dressy is more appropriate for evening.
We began our lunch escapade with a tasting of guacamole ($14): a sampling of four well-blended guacamoles including pomegranate-walnut, classic, macha and yuzu.
"They all have unique flavors and it's hard to choose my favorite," said Catherine after sampling all four. "I thought the most interesting one was the pomegranate-walnut, which had a blende of toasted walnuts, pomegranate seeds and sun dried tomatoes. I especially liked dipping the sweet plantains that come with the tasting in the sweet and salty guacamole."
We decided to split an entrée: the braised short rib enchiladas ($24), which consisted of two enchiladas with red guajillo chile sauce, melted Sonoma Jack cheese, black beans, frisee and watercress. To say we loved every bite is an understatement.
We'll be back to sample more of the menu soon.
For more information, call (949) 718-0300 or visit RedORestaurant.com.
Fig & Olive
Opened just before Christmas, Fig & Olive is the newest Newport restaurant, and possibly the trendiest—in a good way.
Fig & Olive is inspired by the flavors of the French Riviera, with a menu created by Executive Chef Pascal Lorange.
Translation: pricy and exotic, but well worth it.
"This is a great place to enjoy tastes of multiple dishes, since they follow the European style of smaller portion sizes so you can have multiple courses," noted Catherine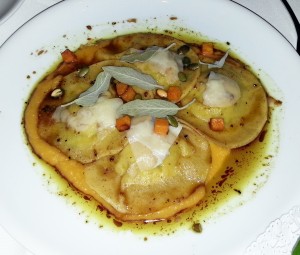 when we had dinner here earlier this week.
Our server, Anna, walked us through the impressive menu. Thanks to her, we started with a trio of crostinis ($12). Our favorite was the one with shrimp, avocado, cilantro and tomato. We also ordered the truffle mushroom croquette appetizer ($14).
"This is my new must-have," stated Catherine after we devoured the decadent dish. "The croquettes were crisp with a creamy filling and a pronounced truffle flavor."
For entrees, we ordered pumpkin sage ravioli ($26) and truffle risotto ($26).
The ravioli dish featured four large ravioli stuffed with braised chicken, ricotta cheese and charmoula, with a pumpkin olive oil emulsion, toasted pumpkin seeds Parmesan and aged balsamic with Frantoio Olive Oil. The truffle risotto had two different mushrooms and truffle olive oil. Simple dishes, yet packed with flavor and beautifully presented on the plate.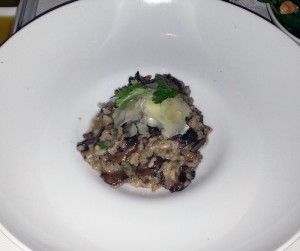 We also had two sides: sautéed spinach with figs, garlic and marcona almonds, and roasted beets with caramelized onions and almonds ($9 each). Again, full of flavor, perfectly prepared.
Were we impressed? Yes. Will we be back? Oh, yes!
For more information, call (949)718-0300 or visit FigandOlive.com.
The Melting Pot
Although it's been on Jamboree Road near John Wayne Airport for many years, we had never been to The Melting Pot. Until now. It was worth the wait, but we also wondered why we waited so long.
Fondue is the name of the game at Melting Pot, which means you work for your meal—in a good way.
Catherine spotted the bourbon bacon cheddar cheese fondue on the menu, and had to order it.
"It's made with beer and a splash of Jim Beam devil's cut bourbon, along with garlic, mustard powder, Worcestershire, cheddar-Swiss cheese blend, and chopped bacon pieces," said Catherine with a smile. We dipped various items in the fondue until there was nothing left.
We made our way through beef and lobster meat options, which we cooked in a hot bowl of coq au vin broth.
We also sampled several cocktails, including the yin & yang martini: Godiva white chocolate liqueur and Stoli vanilla vodka blended with ice cream and topped with chocolate shavings. Yum!
"This was fun—we need to do this more often," said Christopher as we left the Melting Pot.
For more information, call (949) 955-3242 or visit MeltingPot.com.
Islands
The NFL Playoffs are upon us, and Island Restaurants has a great deal for those who want to enjoy a burger and beer while watching a game.
On playoff game days (January 12 and 19), you can order a Big Wave Burger and a tap beer such as the Kona Longboard Lager for just $10—that's like getting a free beer with your burger.
We went to the Islands Restaurant at the corner of Bison and MacArthur in Newport Beach to watch a playoff game and check out the deal. We learned this $10 special is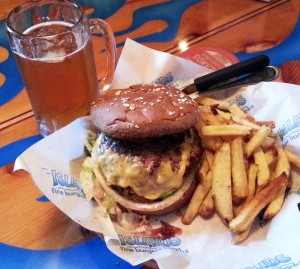 good only in the bar area, which has three giant TV screens so you can't miss the action.
We ordered a 16 oz. beer, which came ice-cold in a frosted mug. The burger arrived shortly after, simple but tasty: a generous beef patty grilled medium on a wheat bun, with American cheese, lettuce, tomato, onion, pickles, and mustard (not ketchup!), accompanied by thick cut fries, which reminded Catherine of the fries she makes at home, except without the hot oil disasters.
Catherine skipped the beer and had her favorite Islands cocktail: Lava Flow, with Don Q rum, pineapple juice, strawberry and coconut cream.
If you choose not to sit at the bar, the Newport Islands has 15 TV screens throughout the restaurant, including the patio, so you can still watch the game while you dine.
Visit IslandsRestaurants.com.