A new year brings with it endless opportunities to try new restaurants. Newport Beach has its share of culinary newbies (with more on the way for 2013), but one just over the border in Costa Mesa already has a flock of fans.
WILD GOOSE TAVERN
Opened in November at 436 East 17th Street in Costa Mesa and just a burger's throw from Newport, Wild Goose Tavern has quickly made a name for itself thanks to its novel "elevated pub grub" cuisine and outstanding whiskey and bourbon list.
The intimate bar, owned by Mario Marovic and Andrew Gabriel, is open daily from 10 a.m. to 2 p.m. and offers guests exceptional cocktails, seasonal beers and fun food in a cozy and casual environment with an outdoor patio, large screen TVs, a curved bar, cozy booths, and vintage décor reminiscent of a hunting lodge saloon.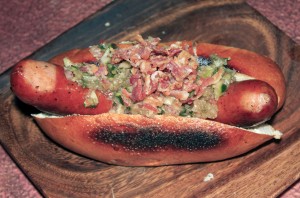 "We wanted to create a place with laid back atmosphere, where guests can enjoy quality libations and artisanal fare without being stuffy and overly pretentious," said Marovic. "It's the type of place where you can relax and unwind among friends in a quaint and comfortable setting.
The artisanal fare includes craft burgers, exotic sausages, and seasonal salads.
I've been to Wild Goose several times, and truly love their food. Last time there, I had the elk sausage with a corn and black bean salsa on top, the Ahi burger with pineapple, and sweet potato and goat cheese tots. The time before, I tried the wild boar sausage and truffle herb fries, while a friend had the smoked cheddar bratwurst topped with bacon. Each item disappeared from my plate in record time. Amazingly, every item on the menu is under $10!
For more information, call 949.722.9453 or visit goosebar.com
RENDEZ-VOUS
Rendez-Vous restaurant at 3330 East Coast Highway in Corona del Mar opened in November with little fanfare but almost immediately became popular with locals.
The small bistro/bakery sells house-made croissants and baguettes as well as coffee drinks, sandwiches, omelets, quiche and more.
Owners Olivier and Nathalie Bocchino recently moved to the area from Colorado, where they owned a French cafe. Of course, they are transplants from Provence, France, so the French cafe concept comes natural for them.
Rendez-Vous restaurant replaces Le Petit Bateau, which closed in September.
COFFEE BEAN & TEA LEAF
The popular Coffee Bean & Tea Leaf chain, which is celebrating 50 years of serving specialty coffees and teas to caffeine junkies in 10 states, recently opened a store at 1128 Irvine Ave. at Westcliff Drive. Visit Coffeebean.com for details.
RED O
Red O, the Los Angeles restaurant concept from Chicago celebrity chef Rick Bayless, will be launching a second location in Fashion Island some time in 2013 (no specific date has been set). Like the L.A. counterpart, the Orange County version will feature Bayless' takes on classic Mexican cuisine, including special seasonally influenced fare.
SIDECAR DOUGHNUTS
If you're a gourmet doughnut fan, you MUST go to Sidecar Doughnuts in Costa Mesa–once the store opens on 17th Street in early 2013.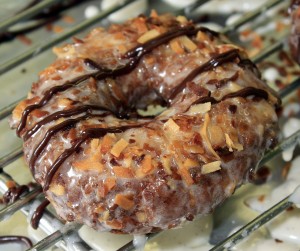 I sampled their fresh gourmet doughnuts at their test kitchen several weeks in a row, and can honestly say they are the best doughnuts I've ever had–and I've had a lot! Consider them the Sprinkles of the donut world.
Their exotic doughnut concoctions include Maple Bacon (a perfect combo), Huckleberry, Cinnamon Crumb, and Samoa (yes, they look and taste like the classic Girl Scout cookies).
Visit the website at SidecarDoughnuts.com to learn more.
NEWPORT BEACH RESTAURANT WEEK
A new year brings a new Newport Beach Restaurant Week, held January 18-27. More than 70 of Newport Beach's finest eateries are participating in this citywide culinary celebration by serving up special three-course prix-fixe menus.
I'll be writing more about Restaurant Week as it draws closer, but for now visit NewportBeachDining.com for a list of participating restaurants.