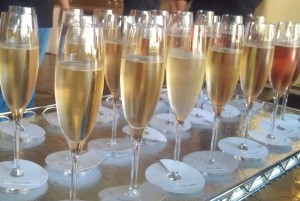 What are you doing New Year's Eve?
You could stay home and sing Auld Lang Syne while watching TV, or you can ring in the New Year in style at one of these Newport Beach restaurants or events:
BALBOA BAY CLUB
The Balboa Bay Club's First Cabin Restaurant is serving New Year's Eve dinner from 5 to 10 p.m. The five course prix-fixe meal ($95 per person) created by Chef Josef Lageder includes an array of seafood and filets, along with dessert. In the Balboa Bay Club's Grand Ballroom is a Black Tie Gala ($195 per person) that starts at 8 pm with passed hors d'oeuvres, champagne, and a martini bar. A wine-pairing dinner follows at 9 pm. After dinner, dance to the sounds of the 14-piece band, Rembrandt. And on New Year's Day, First Cabin Restaurant serves brunch ($44.50) from 9 a.m. to 1 p.m. Brunch includes pastries, breakfast favorites, and brunch specials such as eggs Benedict and a carving station. For reservations, call (949) 630-4245 or visit www.BalboaBayClub.com.
BRASSERIE PASCAL
Chef Pascal Olhats has a $65 per person, five course prix fixe New Year's Eve menu at his Brasserie Pascal in Fashion Island. Menu options include an amuse bouche, salad, Lobster Bisque, Wild Boar pate, Escargot, Surf and Turf with Lobster and Filet Mignon, Duck Two Ways, and other delicious delicacies. Call (949) 640-2700 or visit BrasseriePascal.net.
BUNGALOW RESTAURANT
Bungalow Restaurant has a an a la carte menu for New Year's Eve that includes a complimentary glass of Champagne and menu selections such as Wild Mushroom Ravioli, Filet Mignon, Grilled Swordfish, and Australian Lobster Tail. Call (949) 673-6585 or visit TheBungalowRestaurant.com.
GREENLEAF
After a night of celebrating, come to Greenleaf Gourmet Chopshop on 17th Street in Costa Mesa for a special New Year's Day Brunch from 8 a.m. to 4 p.m. Guests can enjoy a bottle of prosecco and a choice of two house-squeezed juice blends for $15, as well as seasonal drink specials like Greenleaf's Holiday Sangria and Hot Apple Soju Cider. Greenleaf's brunch menu offers Eggs Benedict on Pretzel Bread, Huevos Rancheros, Breakfast Pizza, and more. Visit GreenleafChopshop.com or call (949) 200-3950.
ISLAND HOTEL
Say hello to 2013 at Island Hotel's Palm Terrace Restaurant with an elegant prix fixe dinner. First seating (5:30 p.m.) is $95 per person, second seating 8 p.m.) is $$145 and includes a bottle of champagne. The Palm Terrace Lounge offers small bites, live entertainment, dancing, and a champagne toast. On New Year's Day, a breakfast buffet ($39) is served 10 a.m. – 2 p.m. Reservations: (949) 759-0808 or www.IslandHotel.com.
LANDMARK
Brilliant new Executive Chef Travis Flood is concocting exciting and exotic creations in the Landmark kitchen. His New Year's Eve menu is a six-course affair that includes snacks (crab, beef, citrus), Spiny Lobster Tail with Pumpkin and Charred Radish, Celery Cappuccino with Salmon Roe, Arctic Cod with Bacon Syrup and Toasted Barley, Tenderloin with Potato Confit and Truffle Beef Jus, and desserts. Cost is $125.  Call (949) 675-5556 or visit LandmarkNewport.com.
NEWPORT DUNES
Newport Dunes Waterfront Resort hosts what may be the most extravagant New Year's Eve party in Newport Beach. Held in a massive 14,000-square-foot waterfront tent, this "Black, Gold and Bold" party incorporates Cirque du Soleil-style performers from Aerial Fitness Orange County who will perform throughout the evening (including an aerial act set 20 feet in the air). Guests may come in casual/dressy attire, or go bold and dress to the theme. A $75 ticket includes dancing to music by Desi DJ Productions, Go-Go dancers, dining at seafood, charcuterie and dessert stations, party favors, and a complimentary Champagne toast. A VIP access ticket ($125) adds valet parking, free-flowing Champagne, private lounge seating, hand-passed hors d'oeuvres, private butler service and 2 drink tickets. For tickets visit http://blackgoldandbold.eventbrite.com/ or call (949) 729-3863.
PELICAN HILL RESORT
A variety of New Year's Eve and New Year's Day dining options are available at Pelican Hill, starting with a four- course menu at Andrea Restaurant featuring multiple course choices with two seating options: 5 – 7 p.m. ($130 per adult) and 8:30 p.m. – 1 a.m. ($170 per adult). At Coliseum Pool & Grill, enjoy California Classic cuisine with a three-course prix-fixe menu 5 – 10 p.m., or an à la carte menu 10 p.m.- midnight. The evening includes live entertainment plus a glass of Prosecco for a midnight toast. Pelican Grill has a four-course menu ($125) plus dancing to a five-piece band and a midnight balloon drop. And, if that's not enough, this year there's also an option to have your own private Cabana Party with a la carte menu. Cabana rental is $150 for up to eight guests. The New Year's Day options include varies from an à la carte brunch in AndreaRestaurant to a Football Bowl-Games menu in Pelican Grill to a traditional breakfast buffet at the Coliseum Pool & Grill. Prices vary. Call (800) 820-6800 or visit www.PelicanHill.com.
RITZ RESTAURANT
The Ritz Restaurant in Fashion Island serves a four course prix-fixe ($90) New Year's Eve starting at 5 p.m. that includes a famous Ritz Egg with Caviar and Vodka, choice of soup or salad (including Lobster Bisque laced with Armagnac), entrées such as the signature Roast Goose with Lingonberry Sauce or Main Lobster Tails, and a Chocolate Dessert Melody. Call (949) 720-1800 or visit RitzRestaurant.com.
WILD GOOSE
The new Wild Goose Tavern at 436 East 17th Street in Costa Mesa is not quite in Newport, but they have one of OC's best whisky and bourbon list, perfect for sipping as you celebrate the New Year. The full menu is available, including their signature sausages, truffle herb fries, and sweet potato and goat cheese tots. Visit Goosebar.com or call (949) 722-WILD.