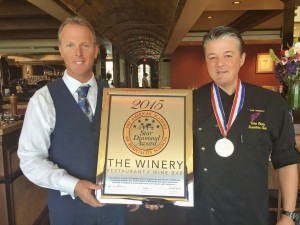 At a ceremony held on Tuesday at the Balboa Bay Resort & Club, The City of Newport Beach, Balboa Bay Resort, and The Winery Restaurant & Wine Bar all received the Five Star Diamond Award from The American Academy of Hospitality Sciences.
Newport Beach is the first city on the West Coast to receive this honor for excellence in tourism.
According to the American Academy's press information, the honor is typically awarded to five-star resorts and hotels, spas, restaurants, airlines and cruise lines, although exceptional destinations are also recognized. Previous destination winners include Baden-Baden (Germany), Japan, New York City, Lucerne, Turks & Caicos, and Rhode Island.
The awards were presented by Joseph Cinque, president of the American Academy of Hospitality Sciences.
Mayor Ed Selich and Council Member Keith Curry accepted the Award on behalf of the City's tourism industry.
Accepting the award on behalf of The Winery were founding partners JC Clow and Chef Yvon Goetz, who was also presented with a special medal.
"The Star Diamond Award is bestowed exclusively on five and six star establishments, and is the ultimate seal of approval in the hospitality industry," commented Clow. "With this award, The Winery joins the ranks of some of the best restaurants in the world. I'm proud of every team member!"
The American Academy of Hospitality Sciences bestows its star diamond award exclusively on five and six star quality Hotels, Spas, Destinations, Restaurants, Chefs, Airlines, Cruise Lines, Golf Courses, Private Clubs and High-End Products. All recipients are deemed to be of pinnacle quality and global recognition.
For more information visit stardiamondaward.com.