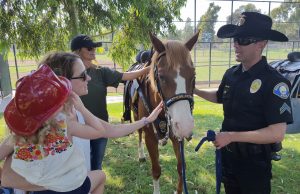 By Katie Malin | NB Indy
 Dozens of police officers, two mounted units, a K9 unit and a SWAT vehicle were clustered at the Bonita Canyon Sports Park on August 2, but they weren't there to fight crime—they were interacting with the public, teaching safety lessons, and strengthening their bonds with the community as part of National Night Out, a crime and drug prevention event hosted in hundreds of cities throughout the United States.
About 600 people gathered for the Newport Beach Police Department's 15th annual National Night Out event and learned how to correctly secure their homes and cars. Ninety-seven percent of crimes in Newport Beach are property crimes, including petty theft of valuables left in cars according to Crime Prevention Specialist Andi Querry. 
"About 75 percent of these crimes are preventable by locking doors and taking valuables out of cars," said Querry.
The event was tailored for families and children, and included hamburgers catered by TK Burgers and a live band.
The night out introduced citizens to the many departments of the Newport Beach police force, including the department's K-9 unit, represented by Officer Shawn Preasmyer and his dog Hondo. They showed families how the officer and his dog worked together on patrol. K-9 units specialize as "location tools" to find evidence and people, such as hidden drugs or apprehending suspects.
According to Officer Preasmyer, two-year-old Hondo joined the force in January after training in Germany. He is a Belgian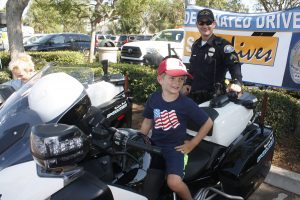 Mallnois, a small and fast breed compared to the German Shepherds that were used in the past. German Shepherds are no longer the breed of choice anymore due to hip dysplasia complications caused by overbreeding, said Preasmyer.
"They want to go out and work," said Preasmyer. "Dogs don't have an incentive to save the community but they want to please us and Hondo's breed does a good job of that."
In addition to dogs, the police use mounted patrol units during special events for crowd control that patrol cars or motorcycles would not be able to otherwise access efficiently.
The Newport Beach mounted unit most noticeably worked at the Trump rally in Anaheim on May 25 by patrolling the crowd and keeping protesters civil. They also hoofed it around town over July 4 weekend.
"The presence of mounted units helps to deter crime," said Officer Shaun Dugan, a mounted unit enforcement officer who was at National Night Out with his horse, Levi.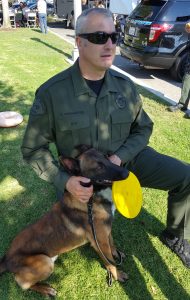 Horses used by the police force can be any breed and are selected for their mellow temperament in the face of stressful situations that would make other horses panic, said Duncan. Officers of the Mounted Enforcement Unit are made up of the standard force who change hats when the ancillary position is needed.
Another ancillary position is Newport Beach's SWAT division, which made an appearance with an armored car and a 40 mm multi-launcher, a gun that shoots both non-lethal and lethal projectiles.
"We don't want people to be fearful of the police, we are here to help you," said SWAT officer Adame.
Newport Beach resident Erin Vukojevic felt the event was a success.
"It was an opportunity to see how we're all after the same thing, which is a safe community," said Vukojevic.