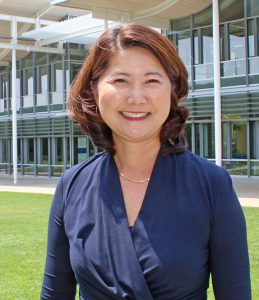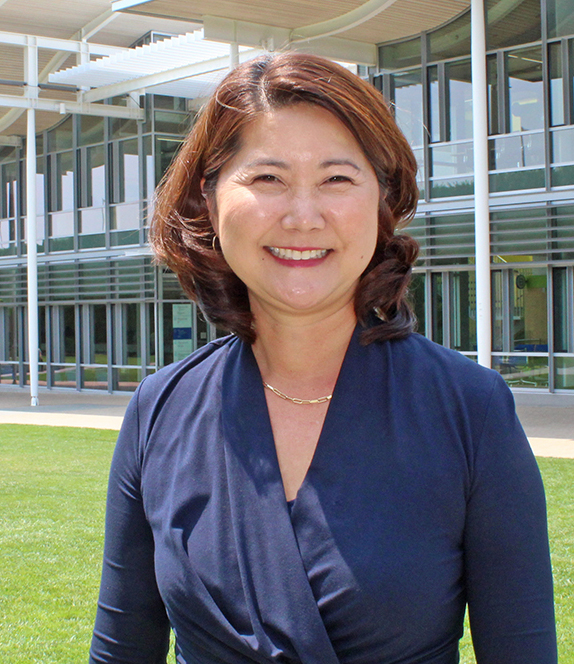 By Grace Leung, Newport Beach City Manager
I encourage you to support a unique and touching Newport Beach tribute to our fallen servicemen and women this Memorial Day, the Field of Honor at Castaways Park.
The Field of Honor, now in its 14th year, has become something of a tradition for our city. It is presented by the Exchange Club of Newport Harbor in recognition of Armed Forces Day and Memorial Day and in honor of our country's servicemembers and first responders.
The public is invited and encouraged to dedicate one or more of the Field of Honor flags to a service member and/or to a first responder. Each dedicated flag carries a ribbon with the name of the individual to whom the flag is dedicated. There are also photos of those individuals along with narratives on many of the dedicated flags.
Field of Honor runs through Memorial Day at Castaways Park, 700 Dover Dr. It is open to the public at no cost from 9 a.m. to 5 p.m. daily.
The event benefits the 1/1 (First Battalion, First Marines) Foundation, to assist Camp Pendleton Marines and their families. For more information or to donate, visit https://exchangeclubofnewportharbor.com/field-of-honor/.
As a reminder, City Hall and most City facilities will be closed in observance of the Memorial Day Holiday. There will be no street sweeping on May 29. For the remainder of the week, street sweeping will be on its regular schedule. Also, there will be no trash collection on May 29 and for the remainder of the week, residential trash will be delayed by one day.
I hope you enjoy the holiday, and — at the Field of Honor or another setting — take a few moments to remember the men and women of our armed forces who made the ultimate sacrifice for our country.
Free Balboa Peninsula Trolley Returns This Weekend for Summer Run
The Balboa Peninsula Trolley will resume operations on Memorial Day weekend, with free service continuing throughout the summer on weekends and holidays.
Beginning on Saturday, May 27, the trolley service will be available from 10 a.m. to 9:30 p.m. on Saturdays and Sundays as well as Memorial Day (May 29), July 3, Independence Day (July 4), and Labor Day (September 4). The trolley is a fun and free way to explore the peninsula.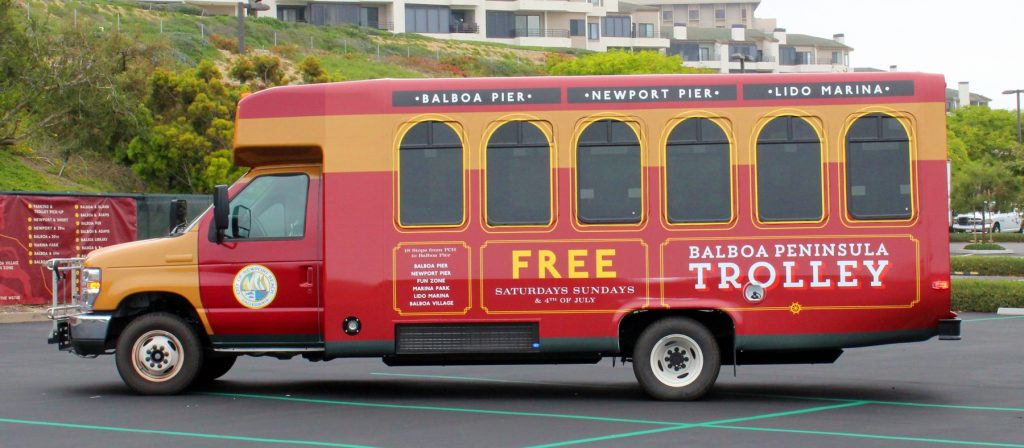 There are 22 designated stops along the trolley route. Trolleys are scheduled to arrive in 15-minutes intervals, which may vary slightly depending on traffic conditions. Riders are invited to climb aboard or exit the trolley at any of the stops along the way to and from the Balboa Pier and Fun Zone area.
For those planning a day at the beach, the trolley can accommodate bicycles, surfboards under six feet long, and beach gear. Trolley riders traveling from outside the area can utilize free parking at the City's Avon Street municipal parking lot located near the Tustin Avenue and Avon Street intersection within Mariners' Mile along Coast Highway.
This service is provided by the City of Newport Beach and funded through grants from the Orange County Transportation Authority (Measure M2 funds). For more information visit www.newportbeachca.gov/trolley.
View, Track Code Enforcement Cases With New Interactive Dashboard
The City has introduced a new Code Enforcement Interactive Dashboard, which allows users to track all the active code enforcement cases in Newport Beach.
Cases are color coded by status: investigation, notice, citation, and closed. The data can be filtered by status, enforcement types, City Council district, or neighborhood. The dashboard is a valuable tool for residents to track a specific case or get an overall picture of activity in their community.
Please visit https://newportbeachca.gov/codeenforcement to access the application. For more data dashboards, please visit https://www.newportbeachca.gov/dashboards.
City Partners With Marriott Employees on Arroyo Park Trail Improvements
Staff from the City's Public Works Department joined with Marriott employee volunteers on May 10 to perform a variety of improvement activities along the nature trail at Arroyo Park. Volunteers and staff picked up trash and removed weeds along the trail, installed mulch on trail-side planters, and planted native plants. An impromptu trash pickup at Corona Del Mar State Beach closed the day for the group.
This event was part of a Marriott initiative called Spirit to Serve, where staff members volunteer to assist with projects that improve the conditions of our environment.
Annual 'Touch A Truck' Event Draws Big Crowds to Balboa Pier Parking Lot
To kick off a celebration of National Public Works Week, the City of Newport Beach hosted the 2nd annual "Touch A Truck" event on Saturday, May 20, at the Balboa Pier parking lot.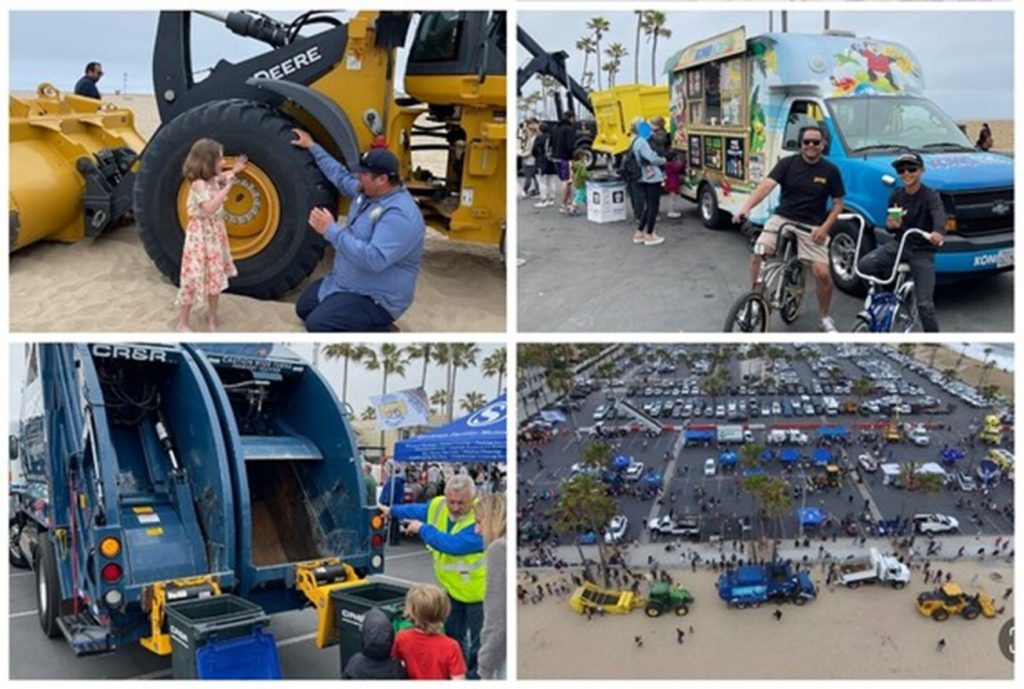 Residents and visitors were able to meet our public works professionals and get an up-close look at vehicles and equipment, view live demonstrations, and enjoy food, fun and games. The event was very popular, drawing thousands of visitors. We would like to thank the community and our partners for their support in making this another successful event!
New Palms Installed at Gateway Park
On May 24, 11 Medjool Date Palms were installed at Gateway Park as part of a park improvement project. A City contractor used a crane to move the palms into place. The trees are between 11- and 18-feet tall, and were selected and arborist-certified from a nursery in Thermal. These palms complement the existing palms that are being kept at the site. The project continues to progress on schedule, with an expected completion in late June.
Corona del Mar Clock Tower to be Repainted
City crews built a three-story scaffolding enclosure around the Corona del Mar clock tower this week in preparation for paint restoration work. The clock tower, installed 18 years ago at the corner of Marguerite and Coast Highway to commemorate CdM's Centennial Anniversary, was showing signs of wear after nearly two decades.
The scaffolding enclosure will protect the area from paint overspray and give the painting crew a controlled working environment. The project will be completed next week, just in time for summer events.
Be Well Mobile Crisis Response Update
The Be Well mobile crisis response team operates in Newport Beach 12 hours a day, seven days a week to respond to mental and behavioral health crises. The mobile unit is staffed with mental health specialists and EMTs, and works closely with the City's police and fire departments.
This week, the Be Well team:
Attended the OASIS Senior Center Community Resource Expo event to engage with the community and discuss services.
Conducted a welfare check for an older adult.
Assisted two families whose loved ones experienced a mental health crisis. The team provided resources for treatment.
Provided mental health and wellness resources to businesses and residents during community outreach.
Assisted a person in the Police Department lobby experiencing a mental health crisis. The client liaison built rapport to encourage the person to return home in another county.
The client liaison collaborated with a probation officer to find court-mandated substance use treatment facilities.
TO REACH BE WELL: The mobile crisis team is dispatched through the Newport Beach Police Department. To request service, dial 911 or call the Police Department's non-emergency line at (949) 644-3717.
Homelessness Update
This week the City's homeless outreach and response teams:
Collaborated with a hospital social worker to place a person into an assisted living facility.
Transported a client to retrieve his birth certificate for his housing paperwork and ordered a birth certificate for another client.
Enrolled a new client into services.
Provided a client with the Trellis International Community Impact Team job information.
Continued to shelter people. Twenty people who had been experiencing homelessness in Newport Beach are sheltered in the Costa Mesa Bridge Shelter.
Click here to view the latest homeless dashboard, which includes key monthly and yearly data on the City's homeless response: https://www.newportbeachca.gov/trending/community-issues/homelessness/monthly-homeless-count.