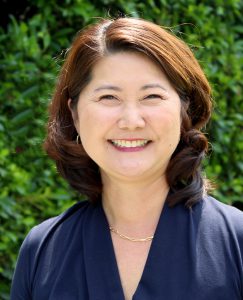 By Grace Leung, Newport Beach City Manager
Based on early registration numbers, this summer is shaping up to be the busiest ever for the City's youth camps. Camp Newport, the City's collection of weeklong, full- and half-day summer camps, typically draws nearly 7,500 participants. Last month, more than 2,900 signed up on the first day of Camp Newport registration, with some of our most popular camps selling out in under an hour.
However, there is still plenty of time and spots available in more than 400 summer camp offerings, which take place over 12 weeks in Newport Beach's parks, beaches and community centers.
Early bird registration, which includes a 10 percent discount, continues through May 4, so I encourage parents to sign up right away. There are many outdoor options at the beaches, bay, parks and sports fields, and indoor camps such as science, music, technology, and art.
Thank you to our residents for your continued support of Camp Newport, and to the staff of the City's Recreation and Senior Services Department for creating and facilitating such fun, enriching experiences each summer.
Visit www.campnewport.com to view and filter camps by week, location and specialty, or flip through our digital camp brochure to click and register: https://trendmag2.trendoffset.com/publication/?i=785140&m=2900&p=1&pre=1&utm_medium=email&utm_source=govdelivery&ver=html5.
Join us April 20 for Homeless Services Community Forum
Residents are invited to attend a free community forum on homeless services on Thursday, April 20 at 6 p.m. in the Civic Center Community Room, 100 Civic Center Drive. The forum will showcase the Orange County Office of Coordination, which works closely with the City of Newport Beach to prevent and address homelessness.
Zulima Lundy with the County Office of Care Coordination will discuss how the County works with cities and community-based organizations to expand shelter capacity, integrate services, and coordinate public and private resources to meet the needs of the homeless population in Orange County.
The forum is part of an ongoing series of workshops on the City's comprehensive response to addressing homelessness in our community.
Construction Underway on Superior Avenue Pedestrian Bridge
Construction work is well underway on the new pedestrian and bicycle bridge that will span Superior Avenue at West Coast Highway. The project also includes a new, larger parking lot and improvements to Sunset View Park.
Despite the rains, construction activity kicked off last month. The City's contractor, Reyes Construction, removed existing walls, parking lot pavement and vegetation in advance of grading and other preparation activities. The next major step will be construction of the bridge pile foundations.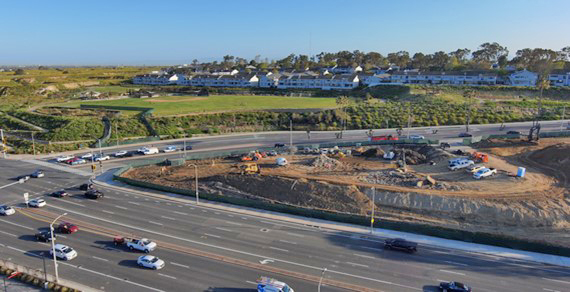 Temporary lane closures and modified traffic striping on Superior Avenue will be in place starting in late April. If possible please consider using alternate routes, such as Newport Boulevard, to help minimize traffic congestion and delays on Superior Avenue.
The project will increase parking, create safer access and enhance the use of Sunset View Park. Construction is scheduled to be completed by spring 2024.
Balboa Blvd. Repaving Project Enters Final Phase
City contractors will begin installing asphalt on Balboa Boulevard from Medina Way to G Street next week, following the completion of concrete work.
The contractor, All American Asphalt, is scheduled to start the asphalt paving phase on Monday, April 17. Motorists can expect to see lane closures and parking restrictions along Balboa Boulevard from Medina Way to G Street. Working hours will be 7 a.m. to 4:30 p.m., Monday through Friday.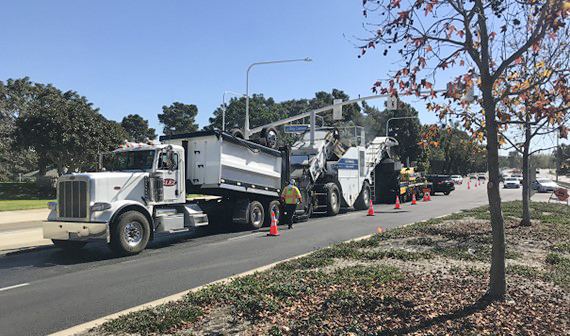 Thank you for your continued patience throughout construction. The project is scheduled to be completed by the end of May, in advance of the busy summer season. For questions or concerns, please contact project manager Ben Davis at (949) 644-3317.
Free Document Shredding, E-Waste Disposal and Compost Distribution April 22
Join us on April 22 from 8 a.m. to noon at the Newport Beach Corporation Yard, 592 Superior Ave., for an Earth Day event brought to you by the City of Newport Beach and CR&R.
The event will feature free document shredding, e-waste disposal, and a compost giveaway. Residents can bring up to 10 standard file boxes of documents for shredding and can receive up to five, 30-lb. bags of compost while supplies last. Please note that residency will be verified, so don't forget to bring identification.
Our shredder can accommodate most materials including bank and financial statements, credit card statements or pre-approved credit card offers, old IRS tax forms, checks or bills, old credit cards and plastic/paper membership cards, junk mail, and documents bound with staples or paper clips. Please note that x-rays or larger plastic items such as binders cannot be accepted.
Acceptable items for e-waste disposal include computers, computer monitors, keyboards, televisions, flat panels, other monitors, printers, DVD players, cell phones, and other small electronic devices. Medical waste, batteries and other household hazardous waste will not be accepted.
For more information, please contact our Public Works Department at (949) 644-3055.
Apply Now! Scholarship Applications Due May 1
The City is accepting scholarship applications from college-bound seniors and transfer students by Monday, May 1, at 5 p.m. to earn up to $700 for educational expenses.
The City of Newport Beach Ackerman Scholarship Program was established to assist qualified students in obtaining a higher education. Funds for the program are provided through an endowment from the Ackerman Trust. Scholarships may be used for tuition, books, laboratory and/or academic fees.
This year there will be seven, $700 scholarships awarded.
Eligibility: You must meet both criteria (A) and (B) to apply:
Be a child residing in Newport Beach OR be a child of a regular, full-time Newport Beach City Employee.
Graduate from a high school in 2023 and accepted to attend an accredited two-year community college or four-year college or university OR transferring from a two-year community college to an accredited four-year college or university in Fall 2023; AND have maintained a cumulative G.P.A. of 3.0 or better.
The criteria used for selection includes financial need, scholastic standing, school or community leadership, school and/or extracurricular activities, and career and life plans.
The deadline to submit your application is Monday, May 1, 2023, by 5 p.m. Apply here:
https://www.newportbeachca.gov/government/departments/human-resources/2023-scholarship-program.
Serve Your Community! Apply Now for Vacant Seats on Boards, Commissions
The City of Newport Beach is currently accepting applications to fill the following unscheduled vacancy and upcoming scheduled vacancies (all terms are for four years, expiring June 30, 2027, except for one unscheduled City Arts Commission seat expiring June 30, 2025):
Board of Library Trustees (two seats)
Building and Fire Board of Appeals (one seat)
City Arts Commission (two seats – one term is for four years, expiring June 30, 2027; and one unscheduled term expiring June 30, 2025)
Civil Service Board (one seat)
Harbor Commission (one seat)
Parks, Beaches & Recreation Commission (two seats)
Planning Commission (two seats)
All scheduled vacancies will become vacant when the existing terms expire on June 30, 2023, or until the seat is filled.
All applicants must be qualified electors of the City, none of whom shall hold any paid office or employment in City government (Section 702 of the City Charter).
The deadline for filing applications is noon on Wednesday, May 10, or until the vacancies are filled. The application and additional information about the Boards and Commissions can be found at http://www.newportbeachca.gov/vacancy or by calling (949) 644-3005.
The application and information about the Boards and Commissions can also be accessed through the City's website at http://www.newportbeachca.gov/bcc .
Teens Ages 13-16 Encouraged to Apply for Summer Leadership Program
The City of Newport Beach is offering a Teen Leader Program for teens ages 13-16. The program allows teens the opportunity to work side by side with Recreation Leaders in the City's two youth summer camps, three ACTIVE Kids after-school programs, and for City special events.
Teens can earn community service credits, get involved in the community, develop and enhance life and work skills, and gain valuable job experience.
For more information or to apply, click here: https://www.newportbeachca.gov/government/departments/recreation-senior-services/youth-teen-programs.
Be Well Mobile Crisis Response Update
The Be Well mobile crisis response team operates in Newport Beach 12 hours a day, 7 days a week to respond to mental and behavioral health crises. The mobile unit is staffed with mental health specialists and EMTs, and works closely with the City's police and fire departments.
This week the Be Well team:
Collaborated with Orange County agencies to provide an in-home mental health nurse for a client.
Responded to two domestic disturbances. The team safely calmed the people and provided mental health referrals to the families.
Attended the Corona del Mar Farmer's Market to engage with the community and discuss services.
Transported eight people to services and appointments.
Provided mental health and wellness resources to residents during community outreach.
TO REACH BE WELL: The mobile crisis team is dispatched through the Newport Beach Police Department. To request service, dial 911 or call the Police Department's non-emergency line at (949) 644-3717.
Homelessness Update
This week the City's homeless outreach and response teams:
Enrolled a new client and added him to the shelter wait list.
Ordered a new debit card for a client.
Conducted outreach with a nurse from the Orange County Health Care Agency to offer medical services.
Collaborated with an assisted living facility treating an older adult client to ensure the client was safe and stable. The client is matched to an Emergency Housing Voucher.
Click here to view the latest homeless dashboard, which includes key monthly and yearly data on the City's homeless response: https://www.newportbeachca.gov/trending/community-issues/homelessness/monthly-homeless-count.