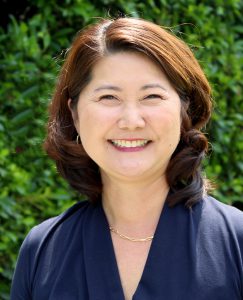 By Grace Leung, Newport Beach City Manager
E-bikes, propelled by electric motors, have emerged as an increasingly popular and eco-friendly mode of transportation. However, with their growing popularity, ensuring e-bike safety has become paramount.
As part of the City's ongoing commitment to the safety and well-being of our community, we invite residents to attend one of two upcoming free workshops on e-bike safety hosted by the Newport Beach Police Department.
The public workshops will be on Monday, October 2 from 6 to 8 p.m. at Mariners Elementary School, 2100 Mariners Dr., and on Tuesday, October 3 from 5:30 to 6:30 p.m. at Ensign Intermediate School, 2000 Cliff Dr.
The public workshops are in addition to several student-only workshops being conducted at Ensign, Mariners and Corona del Mar High School.
The e-bike safety workshops will cover essential topics such as:
Safe riding practices. Learn how to navigate traffic, intersections and pedestrian areas safely to reduce the risk of collisions.
Maintenance and inspection. Understand the importance of maintaining e-bikes in good working order to prevent accidents caused by mechanical failures.
Helmets and protective gear. Learn why helmets and other protective gear are of critical importance in reducing the severity of injuries in case of an accident.
Local regulations. Get informed about e-bike regulations in our community to ensure that riders stay in compliance.
Law enforcement. Learn how the Newport Beach Police Department is enforcing laws and regulations related to e-bikes.
By attending a workshop, you not only enhance your own safety but contribute to a safer environment for everyone. We especially encourage parents, teachers and community leaders to bring young people and students, to help equip younger riders with the knowledge and skills needed to navigate the roads safely. Together, we can ensure that e-bike rides in our community are more enjoyable, efficient and safe.
City's Interactive Dashboards Provide Data on Construction Projects, Police Calls
The City's online dashboards offer residents a convenient way to stay updated on many City-related activities in their neighborhoods.
The dashboards provide real-time information on development projects, active building permits (shown in screen capture), planning applications, short-term lodging rentals, code enforcement cases, recent police and fire service calls (up to 30 days), the public tree maintenance schedule, and more. The John Wayne Airport dashboard provides detailed data on flight paths, aircraft noise and aircraft weight.
Residents can filter the information by categories, specific neighborhoods, or City Council districts. The dashboards can be accessed at any time through desktop, laptop or mobile devices.
View the dashboards at https://www.newportbeachca.gov/government/departments/city-manager/information-technology/dashboards.
Superior Ave. Pedestrian Bridge, Parking Lot Construction Update
Construction of the new pedestrian bridge spanning Superior Avenue at Pacific Coast Highway continues to progress on schedule.
Concrete is already in place for several sections of the bridge. A concrete pour is scheduled next week for the bottom, middle support, and sides of the structure.
Construction of a reinforced concrete bridge is complicated, requiring an intricate network of steel reinforcing bars, tensioning strands, and lighting conduits embedded into the concrete structure. There is a significant amount of concrete curing time needed in between each phase of construction.
The City's contractor is simultaneously working on grading and retaining walls for the parking lot. The temporary mound of soil shown in the upper left side of the photo below will be used as backfill material for the retaining walls.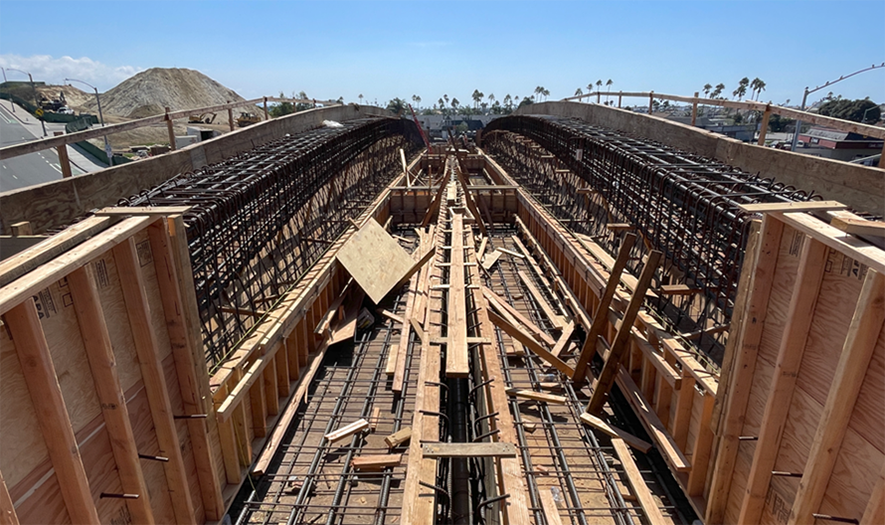 Grading and wall construction activities will continue for the next several months.
Feedback from the community has been very positive. City staff appreciates your continued patience throughout construction.
Disaster Preparedness: Plan for Your Pets
September is National Preparedness Month, serving as a critical reminder that we must be ready year-round to protect our homes, communities, businesses and loved ones from disasters of all types.
For residents with pets, it is critical to include your furry friends in emergency planning. The Newport Beach Ready campaign offers resources and guidance on pet care, including:
Before the emergency, make arrangements to shelter your animals at two different locations far apart from each other.
Be sure all dogs and cats are wearing collars with securely fastened,
current identification, including your telephone phone number and address.
Train both dogs and cats to feel comfortable entering and
remaining in a crate for fast transportation during a disaster.
Outdoor pets. Always bring pets indoors at the first sign or warning of
a storm or disaster. Pets can become disoriented and wander away from
home in a crisis.
Pet kit and storage. Keep emergency pet leashes and other critical pet items clearly labeled in an accessible place and stored in sturdy containers that can be carried easily (duffel bags, covered trash containers, etc.)
For more information please visit the City's Disaster Preparedness Website at https://www.newportbeachca.gov/how-do-i/find/disaster-preparedness-information or contact Emergency Services Coordinator Katie Eing at (949) 644-3670.
Caltrans to Begin Nighttime Construction near Hoag Hospital
Caltrans will soon begin construction near Hoag Hospital, at the intersection of Newport Boulevard and Hospital Road, on a project to upgrade traffic signals, improve curb ramps and medians, and install a traffic counting system.
The project is expected to begin in late September or early October and be completed by March 2024.
To minimize traffic impacts, all construction activity will take place between 7 p.m. and 5 a.m. weekdays. Traffic control measures will be implemented during working hours and will be completed by 5 a.m. Any necessary detours will take place late at night, when traffic volumes are the lowest.
For more information, please contact the Caltrans Public Affairs Office at (657) 328-6000.
Be Well Mobile Crisis Response Update
The Be Well mobile crisis response team operates in Newport Beach 12 hours a day, 7 days a week to respond to mental and behavioral health crises. The mobile unit is staffed with mental health specialists and works closely with the City's police and fire departments.
Last week, the Be Well team:
Transported two people to the sobering station at the Be Well campus.
Transported two people to a crisis stabilization facility to resolve mental health crises.
Transported a person home after resolving a mental health crisis.
Transported a person to a hospital for treatment after resolving a mental health crisis.
To reach Be Well: The mobile crisis team is dispatched through the Newport Beach Police Department. To request service, dial 911 or call the Police Department's non-emergency line at (949) 644-3717.