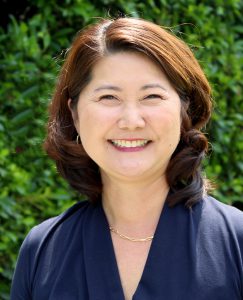 By Grace Leung, Newport Beach City Manager
I am pleased to announce a new appointment in the City of Newport Beach's management team: Seimone Jurjis, who has served as Community Development Director since 2017, will be our newest Assistant City Manager.
He will continue to oversee Community Development Department operations while managing special projects aimed at enhancing efficiencies and streamlining operations.
Seimone has been a tremendous asset to the City's management team for many years. This new role will give him a higher level of management responsibility and oversight to help carry out the City Council's vision and direction for Newport Beach. Seimone is one of two assistant city managers on our leadership team; the other is Tara Finnigan.
Seimone brings more than 30 years of experience in both the private and public sectors to his new role, including 12 years with Newport Beach.
As director of the Community Development Department, he oversees a staff of 60 who administer the City's General Plan as well as the City's zoning, building, subdivision, real property, and environmental regulations, to ensure orderly and safe growth of the community. In recent months he has overseen the development of additional online permit services and a revamped Accessory Dwelling Unit (ADU) program to increase customer service.
Prior to joining the City of Newport Beach, Seimone was the president and chief operating officer for a real estate company focusing on entitlements, land transactions and development. His other government experience includes director of planning and building safety, city engineer and building official for the City of El Segundo.
He holds a Bachelor of Science degree in civil engineering and is a licensed professional civil engineer, licensed real estate broker and certified building official. He is also a licensed pilot.
Please join me in welcoming Seimone to his new role!
Tropical Storm Hilary Brings Debris, Several Downed Trees in Newport Beach
Newport Beach escaped major impacts from last weekend's tropical storm. No injuries or property damage were reported.
However, the strong winds from Tropical Storm Hilary blew considerable amounts of sand on to the Newport Pier parking lot, the Oceanfront Boardwalk, and surrounding areas. City crews are using heavy equipment to remove the sand and debris, which may take several weeks. So far, more than 20 tons of debris has been collected and removed.
With high runoff from the Santa Ana River and San Diego Creek, it is likely that debris will increase on Newport's beaches in the weeks to come.
Additionally, Newport Beach experienced strong ocean currents that brought in a large amount of ocean vegetation. The natural tide cycles will remove much of this debris, and staff will remove what remains above the high tide lines.
Fortunately, the tides remained relatively low throughout the storm and the increased surf did not lead to significant flooding or breach of berms and other shoreline defenses.
More than 6,500 filled sandbags and about 1,000 empty sandbags were distributed to residents to help protect private property.
City trees sustained some damage as strong winds and rains saturated the ground, causing several downed trees, several broken limbs and fallen palm fronds. Crews responded quickly to clear the trees and debris. Staff will work towards replacing the lost trees in the coming months.
Swimmer Dies After Being Reported Missing
A swimmer died in the waters near West Newport Beach on Wednesday, Aug. 23, following a 45-minute search involving 28 lifeguards from Newport Beach and Huntington Beach.
At about 7 p.m. on August 23, Newport Beach lifeguards were dispatched to a confirmed missing swimmer call at Tower 74, near the Santa Ana River in West Newport. Lifeguard dispatch immediately notified the Newport Beach Police and Fire Departments and Huntington Beach Lifeguards to assist. Huntington Beach also provided air support.
Boat and snorkel teams from Newport Beach and Huntington Beach worked for nearly 45 minutes searching the area where the swimmer was last seen. Lifeguards located the patient, and the patient was pulled out of the water immediately into a lifeguard truck. Newport Beach fire/paramedics performed CPR. Unfortunately, the victim, a 57-year-old man, was pronounced dead at the scene.
Public safety personnel on scene "worked hard to try and make a difference," said Lifeguard Captain Gary Conwell, "and acted professional and efficiently" in performing rescue duties.
May Treasury Report Now Available Online
The May 2023 Treasury Report is now available on the City's website.
As of May, the City's investment portfolio totaled $393.8 million when measured at amortized cost. The current market value of the City's portfolio of $384.5 million incorporates price fluctuations due to the changing interest rate environment that are typically irrelevant, since the City typically holds its securities to maturity and receives the full principal value at that time.
The City's Liquidity Portfolio is sized to meet the City's cash flow needs over the next 12 months. Approximately $54.1 million or 14% of the portfolio was invested in liquid investments available for day-to-day operating expenses and the costs associated with ongoing construction projects. An additional $66.2 million, or 17% of the overall portfolio, was invested in a portfolio of securities with targeted short-term maturities, which earns a higher yield than the City's more liquid investments.
View the report at https://www.newportbeachca.gov/government/departments/finance/financial-reporting-division/financial-information/treasury-reports.
City Concludes Successful Summer of Camps, Classes, Programs
The City of Newport Beach completed another successful summer of programming, which included swim lessons, sailing programs and more than 400 different summer camps for children.
Our community was eager to get involved. This year, there was a record-setting opening day of registration leading to nearly 7,000 participants engaged in summer programs over the course of 10 weeks.
This summer:
The City partnered with more than 30 contract instructors to provide a variety of weekly camps for 4,700 participants. Popular camp offerings included surf camps, STEM camps, art camps and sports camps focusing on basketball, volleyball, pickleball and soccer.
The City's day camp program was as popular as ever with 1,100 children taking part in visits to the beach and weekly excursions to off-site attractions like Knott's Berry Farm and Wild Rivers.
Swim lessons returned to the Newport Harbor High School pool in addition to the regular programming at the Marian Bergeson Aquatic Center. Between the two sites, Aquatics staff taught 1,065 participants water safety and swimming techniques over the course of eight weeks.
The Marina Park Sailing Center enjoyed another busy summer with more than 1,000 residents and visitors taking advantage of the convenient on-site kayak and stand up paddleboard rentals. Sailing classes and camps continued to be a local favorite as well with more than 400 participants.
Pint Size Campers, our staff-run preschool program, held nine weeks of camp with a total of 130 campers. Students enjoyed games and activities, special visits from the Newport Beach Fire Department, reptile demonstrations, bubble parties, and more.
Superior Avenue Pedestrian Bridge Construction Update
The Superior Avenue Pedestrian Bridge and Parking Lot project is moving forward on schedule.
To facilitate concrete pouring, temporary bridge falsework is now in place. The City's contractor, Reyes Construction, Inc., has set reinforcing steel bars, known as rebar, for the concrete arches that will span across Superior Avenue. The contractor is also forming the bottom deck and side barriers of the bridge.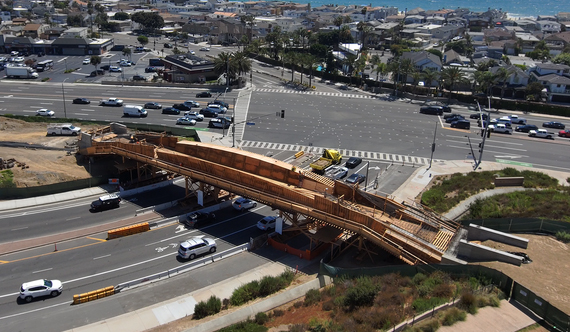 The geometry of this pedestrian bridge is complicated, requiring more than 250,000 pounds of rebar and more than 540 cubic yards of concrete – enough to fill 54 concrete trucks.
In addition to working on the bridge, the contractor is also preparing the area for construction of the parking lot and retaining walls, which will be ongoing for the next few months. The City appreciates the community's continued patience throughout construction.
September 27 Lunch and Learn Event at OASIS to Cover Senior Resources
OASIS Senior Center hosts a Lunch and Learn event on Wednesday,  Sept. 27 from noon to 1:30 p.m. Learn about the Medi-Cal Renewal profess and the CalFresh program. Community resources for basic needs, mental health, food, caregiver resources and more will be available. Free lunch is generously sponsored by Lauren Kleiman, Newport Beach Council Member for District 6, and provided by AgeWell. There will be an opportunity drawing for gift baskets. RSVP by Friday, Sept. 22 by calling (714) 644-3244 or via email at [email protected].
Be Well Mobile Crisis Response Update
The Be Well mobile crisis response team operates in Newport Beach 12 hours a day, 7 days a week to respond to mental and behavioral health crises. The mobile unit is staffed with mental health specialists and works closely with the City's police and fire departments.
This week, the Be Well team:
Transported a person to a hospital for treatment then to a crisis stabilization unit.
Collaborated with the County's Crisis Assessment Team to place a person on a psychiatric hold for treatment.
Collaborated with Newport Beach Animal Control after resolving a mental health crisis related to a surrendered pet.
Resolved a mental health crisis and provided treatment referrals.
To reach Be Well: The mobile crisis team is dispatched through the Newport Beach Police Department. To request service, dial 911 or call the Police Department's non-emergency line at (949) 644-3717.
Homelessness Update
This week the City's homeless outreach and response teams:
Transported a client to an interview appointment for the OC Rescue Mission program.
Transported a person to the Costa Mesa Bridge Shelter for an intake appointment.
Collaborated with the Orange County Healthcare Agency to locate housing for a client with a housing voucher.
Continued to shelter people. Nineteen people who had been experiencing homelessness in Newport Beach are sheltered in the Costa Mesa Bridge Shelter.
Click here to view the latest homeless dashboard, which includes key monthly and yearly data on the City's homeless response: https://www.newportbeachca.gov/trending/community-issues/homelessness/monthly-homeless-count.
Click here for information on the City's Good Giving program: https://www.newportbeachca.gov/trending/community-issues/homelessness/how-you-can-help.