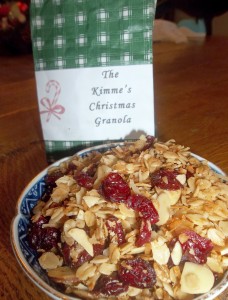 The doorbell rang, the dogs barked, I was still in my pajamas, and the kids were at school. I froze, imagining every scenario in a split second – did I forget a plan and was I expecting someone?  Is it a salesman in which case I should just stay frozen and pretend no one is home? Is it a burglar?
 I tiptoed in my socks over to the front door, silently shoving the dogs out of the way, to get a look through the peephole on our front door. I could make out that it was a woman, but my view was limited to her hair and a bit of her profile as she was looking to the side. Not sure who it was, I opened the door anyway.
Cheryl Kimme!
There are few things that make me happier than my annual deposit of Cheryl's holiday granola at my doorstep. I will always remember that Christmas four years ago when we no longer lived within walking distance of one another. She showed up on my doorstep with the granola anyway.  An enormous gesture of friendship and goodwill–knowing we were still on her list, and she was willing to make the drive to our new neighborhood meant the world to me. She had no idea that that was the single best moment of an extremely stressful holiday season.
She still comes each year. Sometimes I am home, other times she leaves it on our porch. Either way, I am filled with warmth at just the sight of it.
I wonder if that granola would taste the same if I bought it from a store. I'm thinking not. Part of the reason is because I can actually taste the love it is made with. I can picture Cheryl in her kitchen, the large center island filled with all of the ingredients laid out. Her boys coming and going, basketball or boxing gloves, backpacks in tow. Sprinkling a bit of this and a pinch of that. Cinnamon, oats, and craisins fill her home with a delicious scent.
Each year, while I know she is busy, my doorbell rings and Cheryl is there, with a warm hug and a fresh batch of her scrumptious granola just for us. Life is hectic and busy this time of year, and continues to buzz, but she always makes time to bring joy to others.
I am not sure I have accurately expressed my gratitude to Cheryl. All the tried and true adages apply: "Small acts make a big difference," "handmade gifts are the best," "the true spirit of the season," "The road between friends' houses is never far."
I am so grateful for the crunchy sweet treat of the granola and the even sweeter treat of a longtime friend. This one's for you Cheryl. Thank you for sowing our friendship oats.