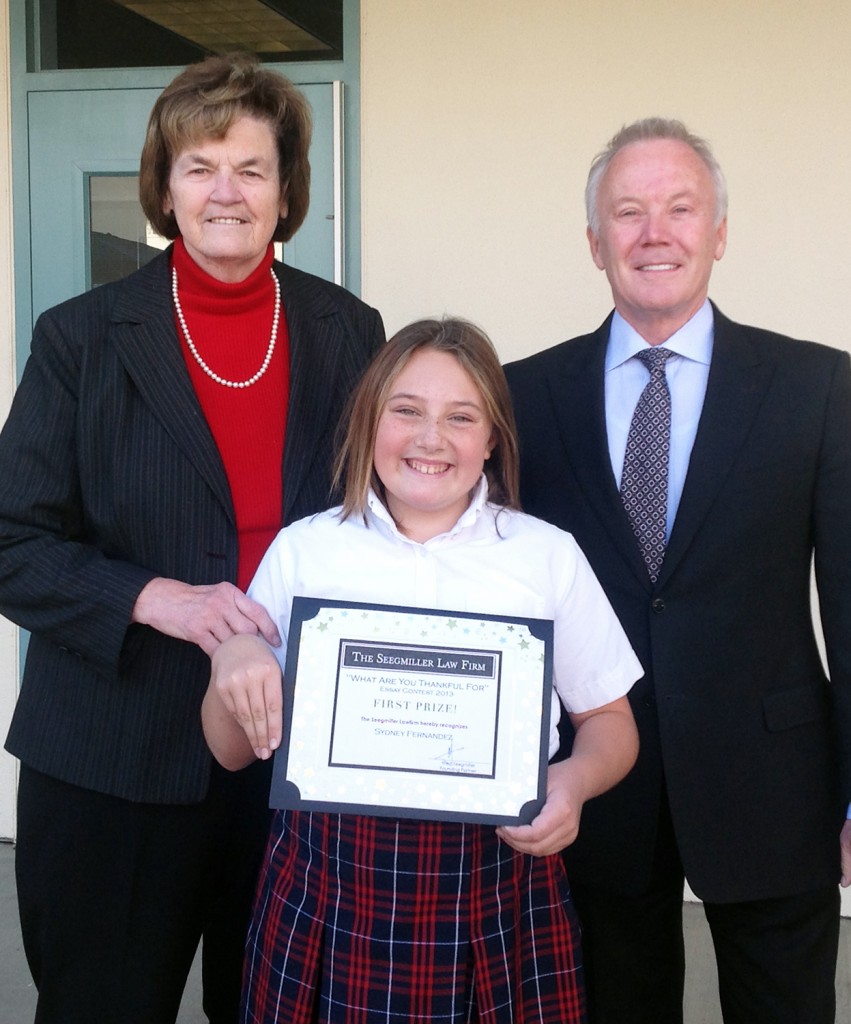 Sydney Fernandez, 12, of Newport Beach has a good reason to be thankful this month—she won the "What Are You Thankful For?" essay contest hosted by Newport Beach-based Seegmiller Law Firm. Her essay garnered Fernandez a $1000 savings bond.
On Friday, Dec. 6, Fernandez received her award from West Seegmiller, and was honored by her principal, Eileen Ryan of Our Lady Queen of Angels, at a school assembly.
Here's her winning essay:
There are number of wonderful things that I am grateful for, like the gift of life, being an American citizen, my family, my friends, access to a good education and much more. But, there is one thing I am the most grateful for. Dogs! Dogs of all types. I know you might be wondering why I am grateful for dogs, so here is the reason.
Ever since I could remember, we've had a number of pets. But when I turned 10 months old we got a dog named Max. When I would have a bad day at school, he would always be there to comfort me. When I was 7 years old my brother Matthew passed away. I would not stop crying for weeks.
I sat down on the couch and Max jumped on my lap. Every day when I came home Max would always be there to comfort me. He followed me around until I felt better.
I used to be a shy kid, and now my shell has been opened up because of my dog Max. He was always there for me no matter what. Through thick and thin, he has always been by my side until the end. He was a true best friend. Not only to me, but to every dog he met. So, when Max passed away this year, in honor of my little buddy, I was motivated to help the dogs at the high kill shelters.
I opened a charity called Puppy Love Charity so the dogs at the animal shelters can have homes just like Max did, and others could have a friend like Max was to me. 9.2 million dogs a year die from not getting adopted. If he were still here today, he would befriend you. Why not give a dog a chance? Why not let the dog open up your world for you, as Max did for me? That is why I am grateful for dogs.