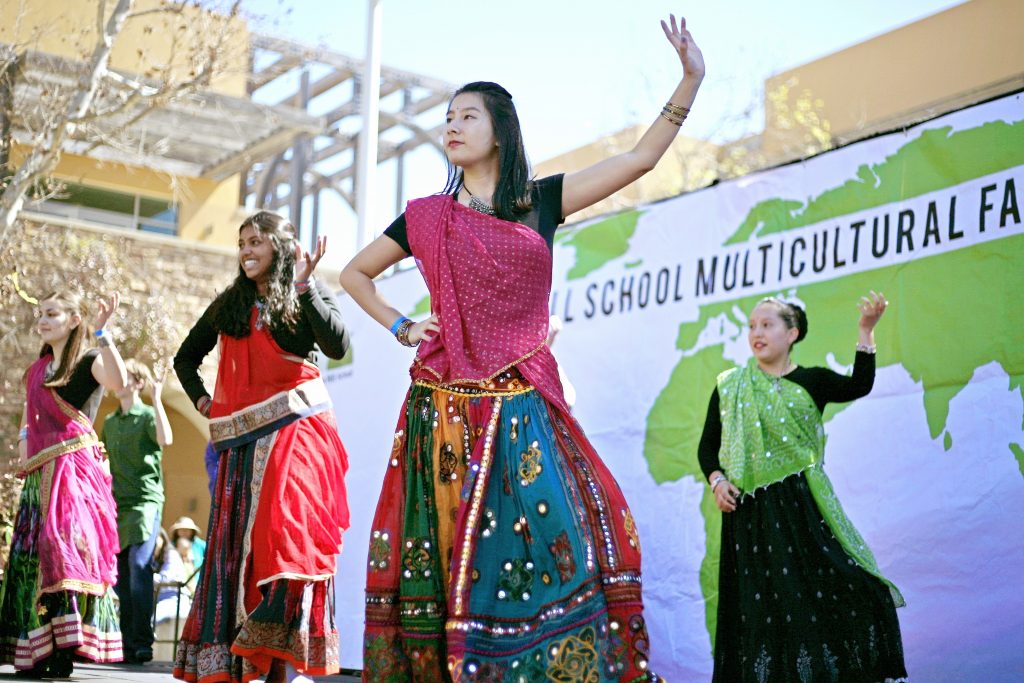 A Newport Coast campus transformed into a global village over the weekend, celebrating diversity with food, entertainment and activities from around the world.
Sage Hill School hosted the 17th Annual Multicultural Fair on Saturday, bringing in hundreds of attendees from across Southern California throughout the day. Guests were treated to flavors from more than 15 international food booths, a lineup of cultural entertainment, craft-making and activities, and a philanthropic ethnic bazaar.
Sage Hill has a very diverse community, explained fair co-chair Niv Pidaparty.
"We want to showcase that and we find the best way to do that is through entertainment and food," she said.
The fair is a tradition for Sage Hill and a way the school can share and interact with the wider Newport Beach and Orange County community, added co-chair Sarah Yang.
The annual event is organized by parents of Sage Hill students. Pidaparty has two sons, a junior and a freshman, and Yang has a sophomore daughter.
About 100 Sage parents volunteered to help make the event come to life this year, including Charae Gabriel, one of the parents in charge of the new African Caribbean food booth.
Sage Hill School helps broaden the students' view past their own neighborhood and encourages them to look at cultures around the globe, Gabriel said.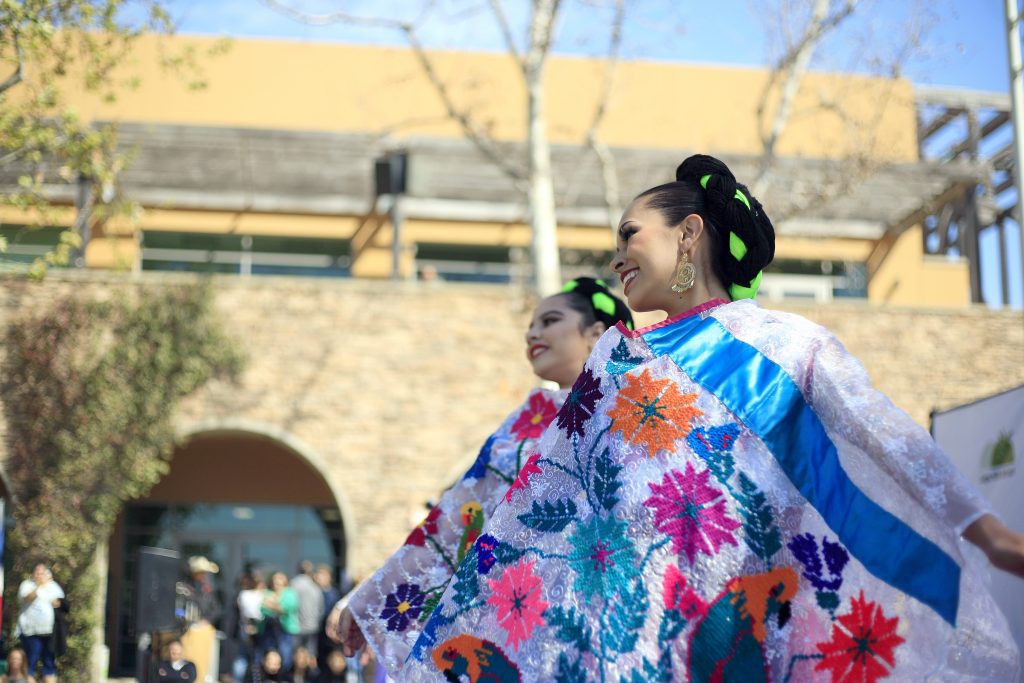 "It opens their eyes to the world," she noted. "(The Multicultural Fair) is part of that ongoing exposure."
The event is also part community outreach, Gabriel pointed out. They invite the public in to experience the Multicultural Fair, while also getting a sense of what Sage is all about, she explained.
The students definitely learn a lesson through the fair, both Pidaparty and Yang agreed. Particularly through the food, Pidaparty added.
"For a lot of the families who haven't traveled abroad, they don't get a chance to taste those kinds of cuisines," Pidaparty said.
The diverse menu at the multicultural fair allows them to experience a wide variety of foods, she continued.
"It's not the same fare they eat at home," Pidaparty said. "It definitely opens up their palates a little bit."
The event included returning dishes from China, France, India, Italy, Japan, Korea, Mexico, Persia, Vietnam, Japan, Poland, Bosnia, and Israel.
Another first for the fair this year was an international dessert and snack booth, which featured desserts from Ecuador, Sweden, Austria, Turkey, Canada, Greece, England, Norway, the Philippines, and more.
Gabriel's African Caribbean booth featured a mix of food: Nigerian suya (meat skewers) with rice and plantains, Jamaican meat patties, Ghanaian banana pudding, and Caribbean punch.
Her husband, Frances, is from Haiti, and they decided to go with a Caribbean theme for their stand, she explained. They had friends from Nigeria who also wanted to host a booth, so they decided to combine the two. They also added the popular Ghanaian banana pudding from another family who had participated in the fair in previous years.
Overall, she has seen a positive reaction from visitors.
"Sometimes people are hesitant to try new things, but a lot of people have jumped in with both feet and tried out the food," Gabriel said.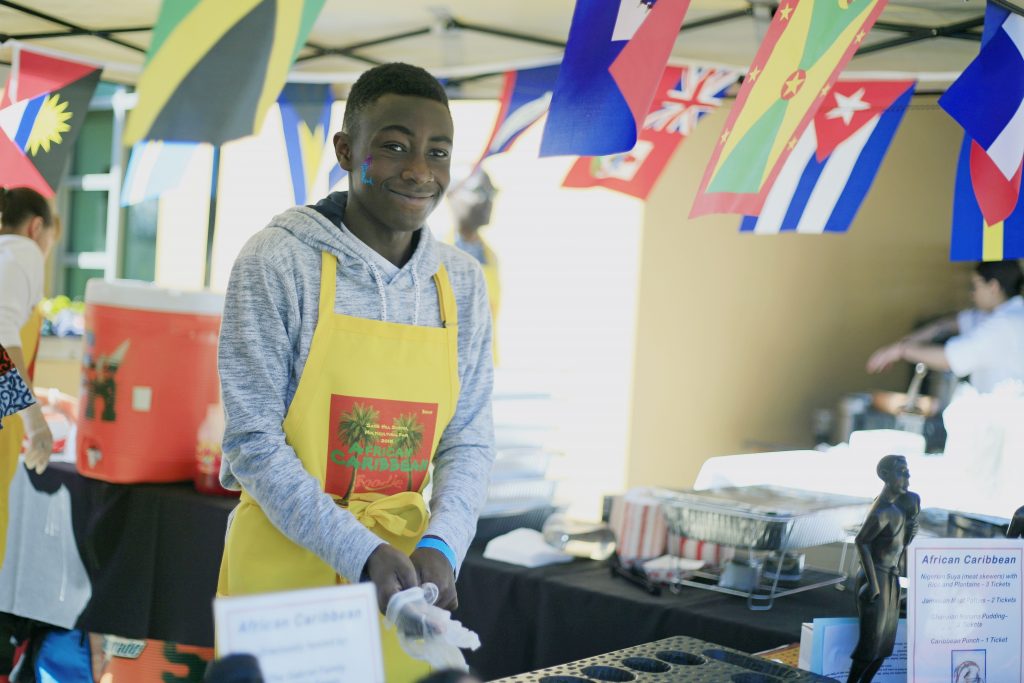 She will "absolutely" return to the fair with a food booth next year, Gabriel said.
"We're really excited about doing this year after year," she said.
It's great exposure to other cultures and other types of food, she noted.
Helping out in the booth was her son, Brian. About a quarter of the way into the event the 15-year-old had already tasted (and loved) the small tacos from Mexico and had plans to hit a few more booths before the day ended.
It's definitely an eye-opening experience, he said.
"Sage is such a diverse community," he noted. "It's good for everyone to experience different cultures."
Entertainment throughout the day celebrated "music and movement" from all over the world, as well as some of America's own cultural heritage.
Performers included students, Sage staff, and a few third party professional artists from Southern California. The lineup included Chinese lion performances, Irish and mariachi dancing, student bands and more.
A dragon dance was added to the entertainment lineup this year, Yang explained. About 10 Sage students hold up a long, continuous dragon perched on poles. They move in tune with the drums, played live by a few other students near the stage. A student in the front holds a lead lantern at the end of a stick, directing the dragon to weave, lean side to side, and bob up and down.
This also encouraged more student participation in the entertainment, Yang said.
The group of Sage kids learned the performance through several practice sessions over the last few weeks.
"Trying to get a group of kids to practice on a regular basis is really difficult," Yang joked.
The more they practiced, the more they appreciated it, she noted.
"They tried to understand, 'What is the dragon dance? What is it about?'" as they got further along in their practices, Yang said. "So they learned the culture along the way."
They felt proud about their heritage and the culture, Yang noted.
"That's something the Multicultural Fair can deliver," in more than one way, she said.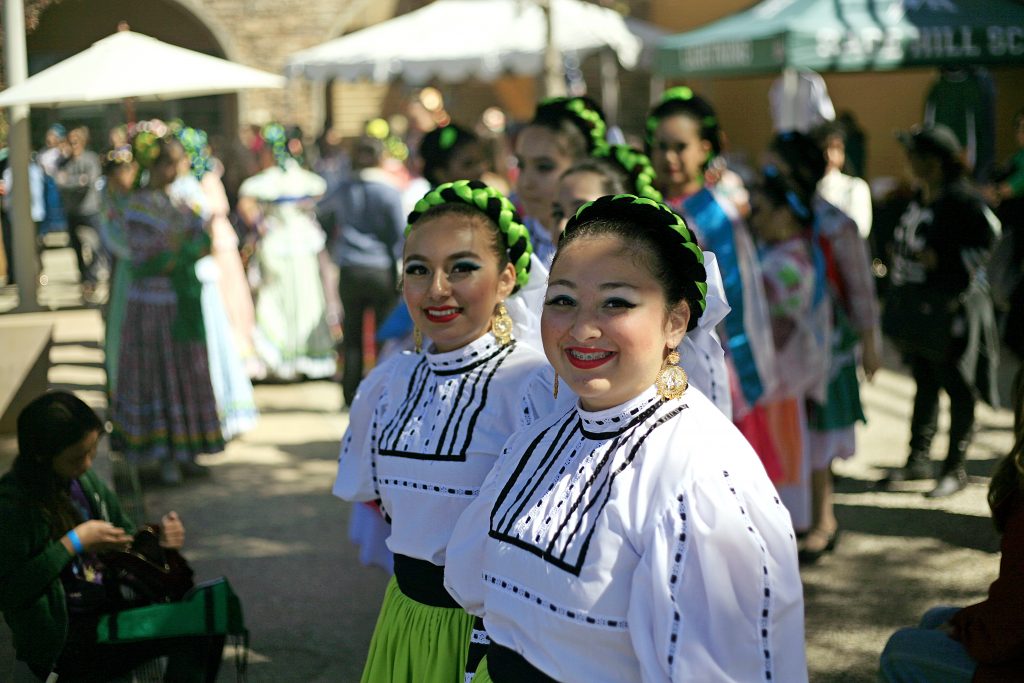 A large group on the stage Saturday was Relámpago del Cielo, a Santa Ana-based folklórico group. Dancers in colorful outfits included Orange County sophomore Kassandra Barraza and eighth grader Natalie Melgoza.
The traditional folk style of dance comes from the Sonora region of Mexico, Barraza explained. It emphasizes the local culture in the story-telling performances.
They practice every Saturday and worked on the routine they performed at the fair for several months beforehand.
"It's fun to be on stage and show people all the hard work we've been doing," Barraza said.
Both girls encouraged anyone interested in dancing to "just go for it." The teachers are "amazing," they agreed.
"We're like a big family," Melgoza said.
At the other end of the campus town square was the World Crafts area, which featured activities, like henna tattoo art and face painting, as well as games and craft-making. The activities were geared toward kids of all ages.
A vibrant marketplace sold colorful jewelry, unique souvenirs and handmade goods from all over the world.
Organizers also added a photo booth this year, complete with props and costumes from different countries.
"We tried to add more to the craft and activities (area), so the whole family can come," Yang said. "So they all can have fun."