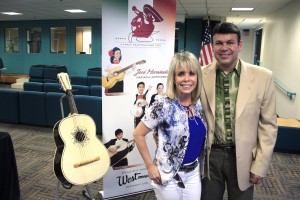 Newport Beach is not exactly a hotbed for mariachi music—or is it?
Teresa and Jose Hernandez spent a week's vacation in a rented home on Lido Isle back in 1997, and loved it so much they moved here permanently soon after and brought mariachi music with them, thanks to Jose.
Jose records and performs around the world with Mariachi Sol de Mexico, the platinum-selling band he founded in 1981 that became the first mariachi ensemble to be nominated twice for a Grammy. The group has performed for five U.S. Presidents, and their music has contributed to such film scores as Sea Biscuit, Old Gringo, American Me, Don Juan de Marco, and many others.
Teresa is executive director of the Mariachi Heritage Foundation, which they formed in 1991 to "educate and build an
identity in children of Mexican heritage the value of mariachi music." She is also vice president of Hernandez Productions and co-produces mariachi shows around the country.
Four years ago the dynamic duo launched the Jose Hernandez Mariachi Nationals and Summer Institute in Orange County to offer budding mariachi performers from low-income families throughout the U.S. and Mexico the chance to study with some of the best mariachi performers and educators in the business.
The top mariachi students from the Institute will perform Sunday, Aug. 9, at the Orange County Fair in the Hangar Theater.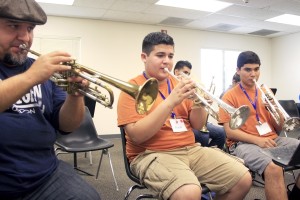 "Jose goes around the country starting mariachi music programs," explained Teresa Hernandez. "In New Mexico he has been doing a summer program for 25 years. He thought that they have mariachi workshops in Arizona and New Mexico, it would be nice to do one along the coast. That's how the Mariachi Nationals started."
Teresa and Jose are stepping up their campus programs via their Mariachi Heritage Society, which has just been awarded a National Endowment for the Arts three-year grant valued at $30,000.
Beginning this September, the Santa Ana United School District will offer a daily after-school program in all 10 of its middle schools to teach mariachi; Mariachi Heritage Society is providing $50,000 worth of violins, trumpets and guitars for the program, plus six full-time teachers for instruction.
The program, called the Jose Hernandez Mariachi Academy, provides instruction for each instrument of the mariachi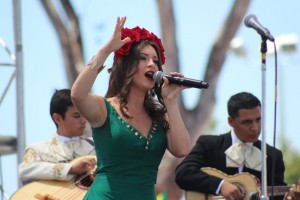 ensemble and in voice. The curriculum aligns with Common Core standards and with the national standards for music education published by the National Music Education Association.
While some participants go on to become professional musicians, the emphasis is on encouraging students to be the best they can be at whatever they do.
According to Jose, music instruction provides youth with a strong sense of accomplishment and self-esteem. One example: after establishing his program in a school in Nashville, the graduation rate has increased from 38 percent to 90 percent.
For more information, visit MariachiNationals.com.