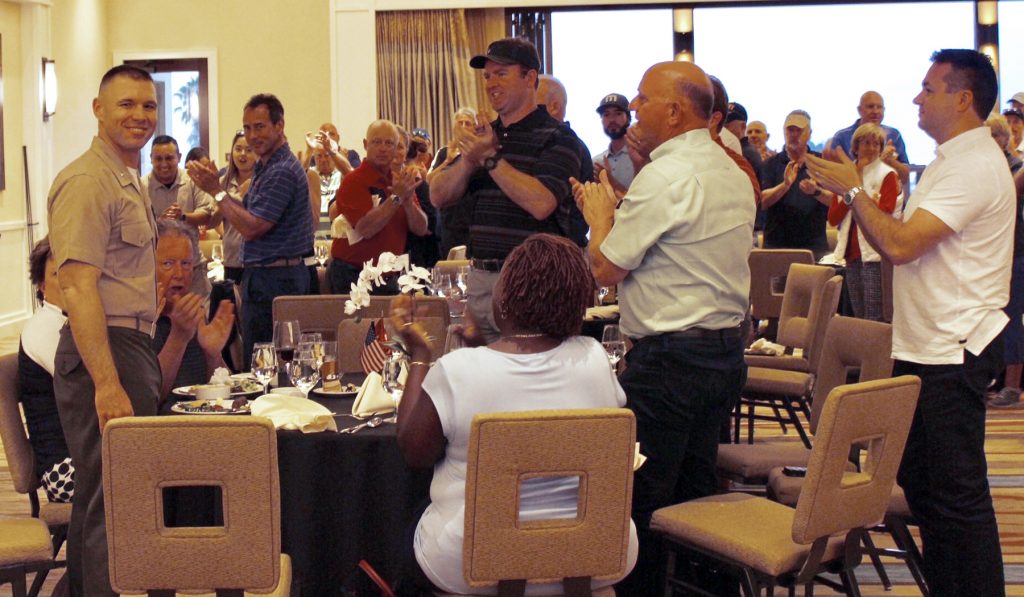 After a tragic incident on Sept. 13 at Camp Pendleton, the annual golf fundraiser for the 1/1 Marines Foundation was more meaningful than ever this week.
The Newport Beach Police Association Charitable Foundation hosted their Golf Classic to benefit the 1/1 Marines Foundation on Monday. The day began with 144 golfers taking on the course at the Newport Beach Country Club and ended with dinner and table games at a charitable Casino Night.
Newport Beach Police Department Chief of Police Jon Lewis, Mayor Kevin Muldoon, City Councilman Will O'Neill, and NB Chamber of Commerce President Steve Rosansky were all in attendance.
"The city of Newport Beach and our community proudly support our first responders, both at the local and national levels," O'Neill said. "Our police department and the Marine 1/1 Foundation are to be commended for their determination to take care of our Marines, who take care of all of us."
The 1/1 Foundation was founded to support the 1st Battalion, 1st Marines Combat Unit based in Camp Pendleton. Newport Beach "adopted" the Marine regiment over a decade ago and has been providing both community support and financial assistance to the Marines and their families ever since.
On Sept. 13 around 9:30 a.m., 15 marines at Camp Pendleton were injured when an amphibious vehicle caught fire during a readiness evaluation, which is considered the final evaluation for deployment.
Lieutenant Colonel Daniel Micklis of the 1st Marine Division said that 11 of the injured were members of the 1st Battalion, 1st Marines, and that the other four were crewman. He assured the county club audience that all 15 men were expected to survive. Some, he reported, were back with their families and others were already back in their barracks. A few, though, have been transferred to burn units around the country for further treatment.
"The 1/1 family is significant," Micklis said. He thanked the audience and said it was vital "for these young Marines, these sailors to know there's people that love them, that care about them, and that they connect with as a community."
Micklis also said that the Marines are ready to get back into action.
"They love you, just like you love them," Micklis said, "They love their country, they love what you stand for, they love the people of this nation, and I gotta tell you, they're ready to go back out there for you."
Muldoon announced at the event that he was making a donation on behalf of the city to help the Marines. The amount of the donation was not disclosed.
"It's very important that we are here to support these men and women," Muldoon said.
For more information, visit oneonemarines.com and nbpcfoundation.org.