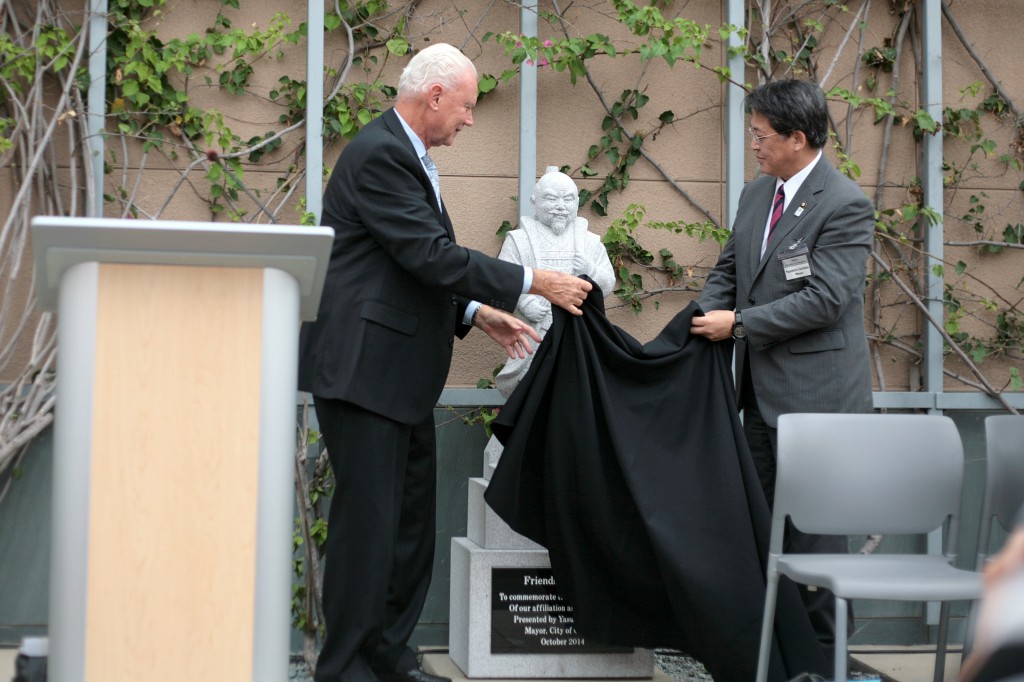 About 75 people celebrated a 30-year relationship in a culturally blended ceremony Tuesday.
The honorees: Sister cities Newport Beach and Okazaki, Japan.
"This is a very important day for all of us," Mayor Rush Hill said, as a translator repeated his words for the approximately 30 Japanese dignitaries in the audience at the bamboo courtyard at the central NB library.
In 1984, the rotary organization felt it was important to begin a relationship with Okazaki, Hill explained, and thanks to working "people to people," that relationship has blossomed.
"Our organizations have come closer together and continue to grow even today," he said. "We know and we trust that our relationship will continue to grow."
"I hope that we can …. continue to cultivate this wonderful friendship," said Okazaki Mayor Yasuhiro Uchida.
Alongside mayors Uchida and Hill, several other officials from both cities were in attendance, including Okazaki city council chairman Masaharu Shinkai, Okazaki International Association President Shinzo Ota, Okazaki Chamber of Commerce and Industry President Takeo Furusawa, NB city manager Dave Kiff, library director of services Tim Hetherton, arts commissioner Caroline Logan and several other council members, staff and officials from both cities.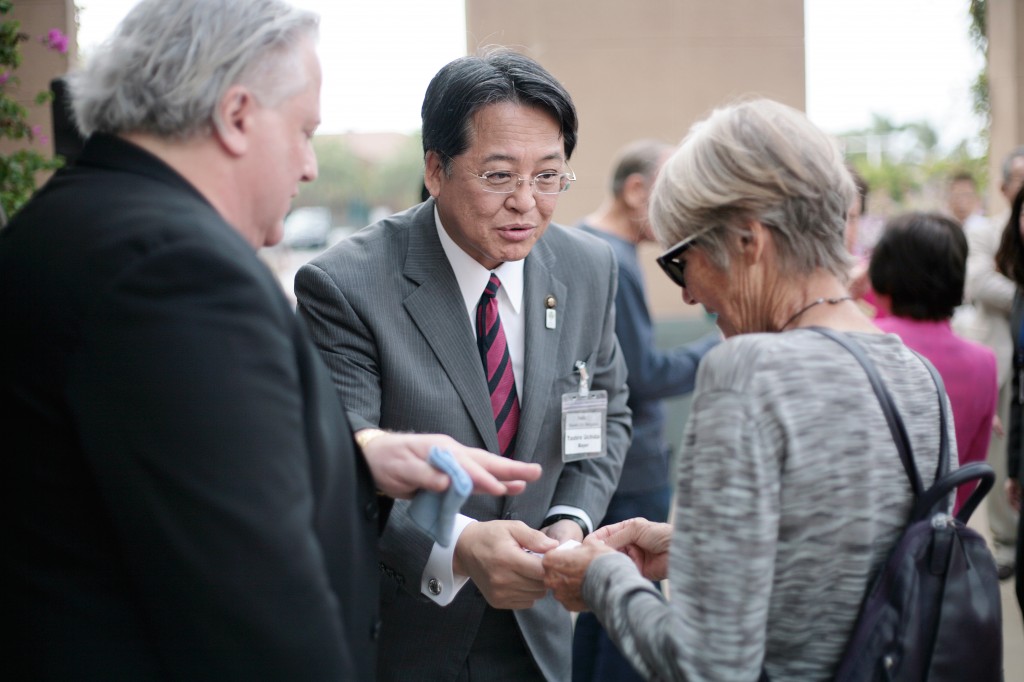 "We're very grateful that you're here with us," Hill said to the guests. "We hope that your visit to Newport is something that is beneficial to you and that you remember forever."
The ceremony was also the official unveiling of a statue of Shogun Ieyasu Tokugawa, a Japanese leader who was born in Okazaki.
Shinkai also spoke, comparing the solid friendship of the two cities to the solid statue. They hope to nurture the relationship for years to come, he said.
Uchida presented the statue to Newport Beach in honor of the three decade long relationship with Okazaki.
He also gave some background on Shogun Tokugawa. They take great pride in his story, he said. He is a national hero, Uchida explained.
Tokugawa (1542-1616) "was the founder and first shogun of the Tokugawa shogunate, which maintained effective rule over Japan from 1600 until 1867," the Parks, Beaches and Recreation Sept. 2 staff report explains.
"Historians agree that Ieyasu was a gifted military leader and governmental administrator. He is considered the founder of the Edo Period, which was characterized by an unprecedented and extraordinary period of peace," the report reads. "He now enjoys a historical popularity commensurate with his distinguished role in the evolution of Japan."
PB&R unanimously voted to place the statue in Irvine Terrace Park.
Hill also presented gifts to Uchida and Shinkai, Newport Beach writing pens and lapel pins. They represent the bunnies in the park, Hill said.
Former Newport mayor Evelyn Hart, and husband and wife Yasuko and Seth Siegel, who live in both Newport Beach and Kyoto, Japan, gave a blessing of the statue and a prayer.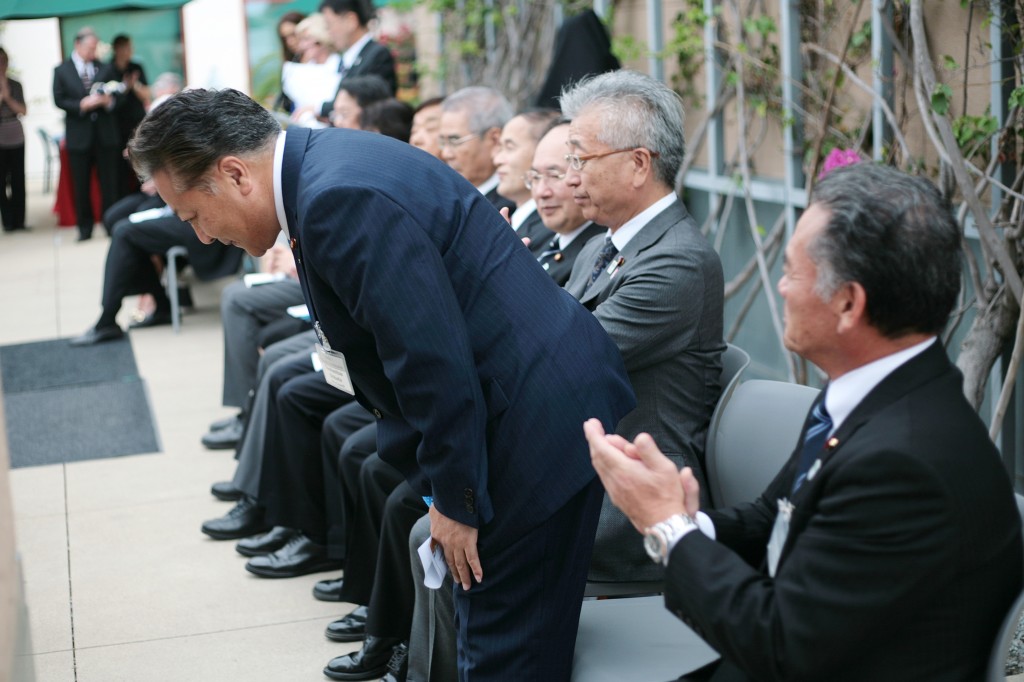 "The 30-year anniversary celebrates the very beginning of this very special relationship between our two cities," Seth Siegel said.
The ceremony concluded with a traditional Japanese dance "Crane and Turtle" performed by Kyoko Kamio. The dance signifies a wish for peace and prosperity.
Seth Siegel and Uchida's niece also sang a duet, "Amazing Grace."
At the city council meeting Tuesday evening, there were more gifts exchanged and a presentation.
To commemorate the 30-year relationship, Hill read and presented a proclamation recognizing the sister city relationship and declaring to continue to promote the program.
This has resulted in "the forming new friendships, the furthering of cultural understanding and the promotion of goodwill," Hill said at the meeting.
Hill also presented a key to the city and a plaque to Uchida, and flowers to his wife, Kiyomi.
Uchida spoke during the council meeting, explaining the history of the sister city relationship. It was an endeavor by the rotary clubs, he said.
"We have such enthusiasm and hospitality for those involved," Uchida said, thanking everyone. It has led to "being here, 30 years later, to greet Mayor Hill and everyone else in Newport Beach."
Uchida also presented Hill with an ornamental arrow, traditionally given as a gift during happy occasions. It represents everlasting friendship that will move straight as an arrow, Siegel explained to the council.
The Okazaki council members also presented Newport Beach city council members with "a range of gifts that represent both the crafts, the culture and the history of Okazaki," Siegel explained.
Traditional Japanese dancer, Kamio, also gave Hill a special fan as a thank you gift.
The Newport Beach Sister City Association hosted the anniversary celebration.
"The people of Newport Beach have benefited greatly from the various types of cultural exchanges that we've had," Hill said during the ceremony. He emphasized the student exchange program.
"(That is a) tremendous, valuable exchange that we cherish and look forward to continuing," he said.