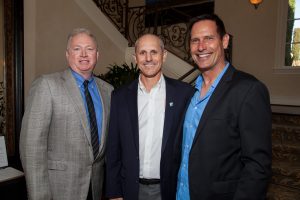 Steve Craig's Newport Coast hillside estate was the site for an evening honoring the late Barry Hoeven and his vision for Kure It Cancer Research.
Launched by Hoeven 10 years ago, the nonprofit's effort has raised nearly $7 million for cancer research for underfunded cancers.
Barry's son Drew Hoeven, who is an officer on Kure It's board, lauded his father's efforts in partnering with cancer research centers such as UCLA's Johnsson, USC's Norris, UCI's Chao, City of Hope, and many others, in giving research dollars directly to researchers.
"Dad's vision was to eventually raise $1 million a year for cancer research," Drew shared.
Barry founded US Storage Centers and Westport Properties, and used both businesses to raise funds for Kure It. Drew, now Chairman of the Board for both entities, is continuing his father's vision to raise monies for cancer research through Kure It.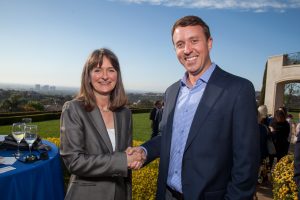 Charles Byerly, President/CEO of Westport Properties and US Storage Centers and Kure It board member, announced that US Storage Centers is celebrating Barry's legacy and providing a 1:2 matching challenge grant. In other words, US Storage will donate $1 for every $2 donated to Kure It this year.
"We want to reach Barry's goal of donating $1 million a year to cancer research," Byerly said.
Kure It Board Chair Todd Perry thanked the 130 guests gathered at the soiree, many of them Barry's personal friends, where tasty hors d'oeuvres were served (courtesy of Colette's Catering), and a talented guitarist/singer entertained.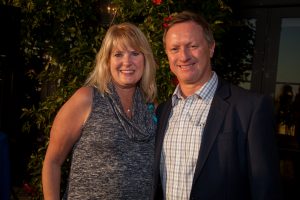 Kure It's Rivals United for a Kure campaign, which unites the USC Trojan and UCLA Bruin communities, has raised more than $2.5 million to support more than 20 research projects at UCLA Norris and USC Bruin Comprehensive Cancer Centers.
Intent on raising even more research dollars, an inaugural Rivals Cup Golf Tournament will be held June 8 on the North Course of Pelican Hill Golf Course in Newport Coast. Chairing it, representing USC, are Linda and Burton Young and for UCLA, Dana and Tom Chou.
For more information, visit KureIt.org.