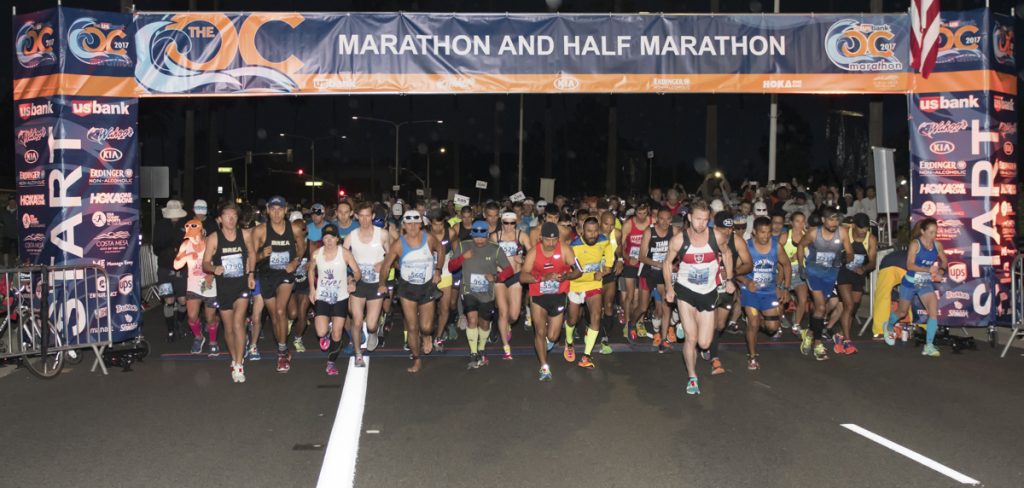 In preparation of the Orange County Marathon on Sunday, the Newport Beach Police Department sent out an advisory on Wednesday about road closures and delays in the area.
Starting as early as 5 a.m. and lasting through noon in some areas, police listed streets and areas to avoid during the marathon.
The areas around Corona Del Mar will be heavily impacted from 5  to 8 a.m. Anyone needing to leave the area during these times is advised to leave early. If leaving after 5 a.m., residents are advised to park east of Orchid Avenue and take East Coast Highway west to MacArthur Boulevard and then north to the 73 Freeway.
Eastbound traffic on PCH will be closed between Avocado and Orchid avenues from during those three hours.
Residents who live near China Cove are advised to park north of Bayside Drive, between Carnation and Fernleaf avenues. To exit the area, police advise driving west on Second Street to Avocado, north to PCH, then west to Jamboree Road.
Balboa Island, Promontory Point, Linda Island, and Harbor Island will be heavily impacted on Sunday between 5 and 8:45 a.m.
Bayside Drive from Marguerite Avenue to PCH will be closed during that time period.
The bridge leading onto Balboa Island Bridge will be closed from 5 to 7:45 a.m. Residents on Balboa Island returning or leaving the island during these hours will have access through the Balboa Island Ferry.
Dover Shores and Irvine Avenue will also be impacted from 5 to 10:30 a.m.
Starting at 5 a.m., northbound Dover Drive from PCH and 16th Street/Castaways Lane will be closed until 9 a.m.
Westcliff Drive, between Dover and Santiago drives, as well as Santiago Drive, between Westcliff to Galaxy drives, will be closed until 9:30 a.m.
Galaxy Drive, from Santiago Drive (south) to Santiago Drive (north), will be closed until 9:45 a.m.
Santiago Drive, from Galaxy Drive to Irvine Avenue, will also be closed until 9:45 a.m.
Northbound Irvine Avenue, from Santiago Drive to University Drive, will be closed until 10:30 a.m.
Police advised all residents that live east of Santiago Drive and need to leave between 5 a.m. and 9:45 a.m. to park west of Santiago.
For more information regarding road closures, call (949) 228-9532, email [email protected], or visit ocmarathon.com/race-weekend/directions/road-closure-info.aspx