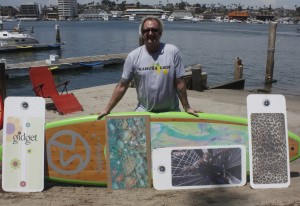 Countless entrepreneurs have thrown their competition to the proverbial mat after reading such popular business books as "The Business Black Belt," "Lead Like a Black Belt," "Think Like a Black Belt," "Negotiate Like a Black Belt," and "Black Belt Marketing."
Unlike the vast majority of business people, however, Newport Beach born-and-bred Jason Neu, 51, does have a Black Belt. In fact, he has earned a couple of them in Japanese/Chinese martial arts forms, and has complimented those with studies in Muy Thai.
Neu claims that without his many years of disciplined training, he would have been unable to absorb and redirect the unforeseen "punches" thrown at him during the formation and operation of his unique enterprise, VersaTraction, Inc., the manufacturer of nonslip sports and safety products specifically for "wet or moist environments."
In fact, Neu recently received the ultimate belt – a US patent for the proprietary non-slip coating that took nearly a decade of product refinement and government review, along with just about every bit of cash Neu could accumulate to fund the process.
For as long as he has studied the martial arts, Neu has been a serious surfer who over the decades could find just one flaw in the sport: the frustrating waste of time waxing and/or scraping off old wax when one could be out riding waves.
In 2005, he and fellow surfing friend Eric Deitch experimented with a mix of nontoxic and inert chemicals that ultimately became the hydrophobic, wax-less, nonskid application that he now markets globally in different formats, most recently under the "Kahuna Grip" label.
When his advertising agency suggested a rebranding to Kahuna Grip instead of VersaTraction, and Neu nodded his go-ahead, sales became Tsunami-esqe.
Other than surf traditionalists who consider wax to be as intrinsic to the sport as good balance, Beach Boys classics and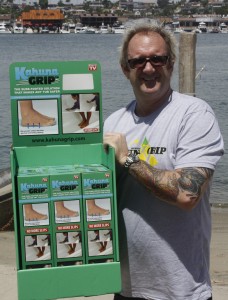 Hawaiian-print board shorts, the water sports industry found their wax alternative in Kahuna Grip, and is keeping Neu's factory in full-production mode, especially for Stand Up Paddle boards and flow boards for the artificial wave industry.
The cruise ships of Royal Caribbean all feature Kahuna Grip on their flow boards, as well as around their pool and spa decks. Jacuzzi now applies VersaTraction to the seats and floors of their senior walk-in tubs.
"After I started testing and using Kahuna Grip/VersaTraction myself on my surfboard in 2005, I figured if it works on my board, surely it can help people from slipping and falling in the tub and shower. That's when the real R & D began," Neu said.
Originally, VersaTraction had to be hand brushed on to each board, a time consuming and expensive undertaking with limited production potential. Neu solved that problem by creating a proprietary process in which the nonslip chemical could be applied automatically to a non-abrasive "peel –n- stick" film, which markedly increased the product's applications – such as on ladder rungs, on the always-wet floors of commercial kitchens, hospital hallways, in showers, tubs, and on pool decks and boat decks, to name a few.
Additionally, Neu realized that his nonskid mats could also become a part of one's interior décor, since artwork and/or photographs could either be laminated between the film and application, and or printed directly onto the film.
The commercial world glommed onto this medium, so now VersaTraction/Kahuna Grip mats are stuck down in front of numerous food stalls in sports stadia around the country, and on custom-produced surf and paddleboards.
Neu has received numerous e-mails from happy parents who report that Kahuna Grip's kid friendly graphics have actually made bathing fun for their soap-averse children.
"We're the only nonslip traction in the world that can put any graphic or design on it," Neu claimed. "It's the perfect branding and self-expression go-to traction product."
According to insurance industry stats, slipping is the number one cause of accidental death and/or injury to those 60 and above, Neu said. This coincides with the sales demographics reports Neu has received from Permission Interactive and Kahunagrip.com, as well as and Wayfair.com, one of the largest portals for home and decorative products, and a major source for Kahuna Grip mats.
Throughout development, Neu has subjected his mats to a variety of independent lab tests, all of which aver to the efficacy of Kahuna Grip's "grip."
But he cherishes more the unsolicited feedback from users who leave five-star comments on the Wayfair and Wal-Mart websites, such as "If you don't want to fall, this is hands down worth the price," and "If you are a person with balance issues, this is the mat for you."
Impatient with the speed (or lack thereof) of his traditional education, Neu segued from classroom to his own boardroom, assembly room, mailroom, production floor, product showroom, marketing communications desk and coffee room.
"I've earned my MBA in Hard Knocks," he joked.
That should all pay off handsomely when VersaTraction starts its over-the-counter sales later this year.
Then, and only then, will Neu feel as if he can step out of the ring with a new Black Belt fought for and earned in the tradition of the American success story.
For more information, visit KahunaGrip.com.