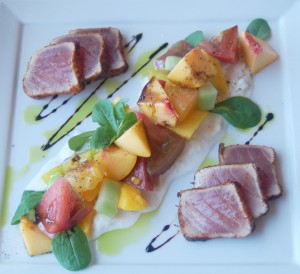 "Breakfast at DivBar and Foie Gras at Pascal's, Bluewater's Lobster and Great Maple's Lamb Burger. Pelican Hill restaurants have a Mediterranean feel, these were a few of my favorite meals."
Yes, I'm singing about food, but with so many fantastic restaurants in Newport Beach, it's difficult to select just a few highlights from the many memorable meals I enjoyed in 2012. Naturally, a few stand out. My editorial assistant, Catherine, accompanied me on many of my culinary escapades, so we compared notes on our favorite epicurean experience of 2012.
"We had some amazing meals in 2012, didn't we?" I said to Catherine as we reviewed the countless food photos on my computer.
"We did, and it's not going to be easy choosing my favorites, although I can tell you my favorite pizza was at Alessa," she said emphatically. "Everything I tried there was as good as anything I ate on my trip to Italy."
"You're right, it's hard to beat them for Italian food, although the Canaletto wine dinner we attended was pretty authentic," I countered.
 "What about Pelican Hill's Italian Festa–you can't get much more authentic than that," Catherine stated. "And their Coliseum Pool and Grill was one of my favorite experiences, especially during the summer and fall–dining outdoors, overlooking the pool, and the golf course, enjoying the beautiful weather.
"What about the menu sampling we did at Pelican Hill's Andrea last month? You finally got to experience their famous risotto made in the parmesan wheel."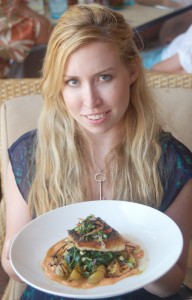 "You're right, that was fabulous, and fun," agreed Catherine.
"One of my favorite meals was one that you missed–the last day at Tradition by Pascal, which closed in February. His menu that month was the Best of Tradition, and that final French dinner might have been the best thing I had all year."
"I'm glad he added some of the Tradition menu items to his Brasserie Pascal menu," said Catherine. "Remember when we dined there and he brought us bone marrow, foie gras, escargot and rabbit–all in one night?"
"Ah yes, the 'farewell to foie gras' menu," I recalled, closing my eyes. "I can picture it now. What a decadent evening of dining that was."
"His chocolate soufflé was my favorite dessert of the year," she added.
"And what about Great Maple, just around the corner from Brasserie Pascal?" I asked her. "Their lamb burger with goat cheese may be the best burger of the year."
"True, that and their truffle fries made the perfect burger combo. I like that place–it's all-American food with a twist."
"Speaking of all-American, what about Eat Chow? Can't get more American than that," I stated.
"Oh my gosh, their truffle parmesan fries were fantastic. I still remember them–thin and crisp with just the right amount of seasoning."
"Fries and truffles seemed to make their way onto a lot of menus this year," I mused.
"We also had a few basil martinis, although the best one was at Tommy Bahama–their Thai basil martini was incredible," she said, smiling.
"I agree, the perfect cocktail to accompany a very fun menu."
"I also loved the Balboa Bay Club's Wine Festival, and that wine and cheese pairing class. I learned a lot that day–"
"And we sipped some sensational wines," I interrupted.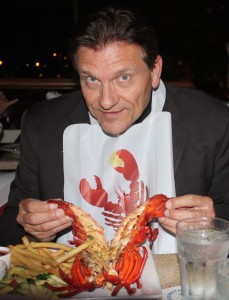 "I also liked the Fairmont Hotel dinner, with their homemade honey. And the Golden Foodie Awards held at Fairmont was a lot of fun–I got to make my own muddled cocktail," grinned Catherine. "
"And what about Bluewater Grill–the clambake with lobster was pretty decadent."
"So was the breakfast at DivBar. I really love that place."
"You missed the dinner–terrific barbecue, and the duck fries are insanely good."
"Landmark Restaurant really stands out for me."
"I was so surprised and pleased with the new Landmark–the food was so beautiful, I didn't know whether to eat it or frame it," I laughed.
"We certainly had some wonderful meals, didn't we?"
"And if you had to pick your three favorite dining experiences of 2012?"
"Hmmm." Catherine thought for a moment, then said, "Landmark, Pelican Hill, and DivBar."
"Sounds good, but I'd add Brasserie Pascal, and then a tie between Bluewater and Great Maple. Although Eat Chow was–"
"Chris, we're going from three, to five, to a lot of favorites."
"You're right. I guess we're lucky to have so many wonderful restaurants in Newport Beach! Here's to the fabulous chefs, restaurateurs, and wait staff that make dining out in Newport Beach such a fun, and delicious, experience."