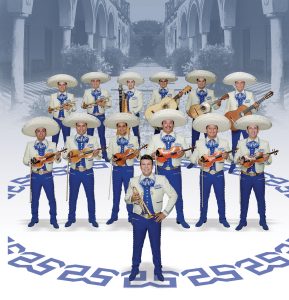 Looking for an auténtico Mexican cultural experience this Cinco de Mayo? José Hernández and his Mariachi Sol de Mexico have just the thing. In celebration of the festive day, as well as Sol de Mexico's 35th anniversary, the Grammy-nominated bandleader and Newport Beach resident is pulling out all the stops at his Segerstrom Center concert on May 5.
"We're doing a huge tribute, to five great mariachi singers, some music from our new CD, and some music in celebration of Cinco De Mayo," Hernández said. "Plus, we're going to have a 'Mexican Charro.' When people see him on stage doing his rope tricks, they're going to love it. The guy always brings the house down."
Hernández, who came to Southern California with his family as a child, has been bringing the house down for decades. Since coming onto the mariachi scene in the 1980's, Hernández has played for five U.S. presidents, worked with huge acts like the Beach Boys, and played with symphony orchestras in some of the most hallowed concert halls around the world.
One gig in particular has stuck with Hernández, who regards it as an example of mariachi music's inherent magic.
"We did one in Pyongyang, North Korea, in 2005. Let me tell you, to be there in that communist country, and yet celebrate the gift of music with 42 other countries. It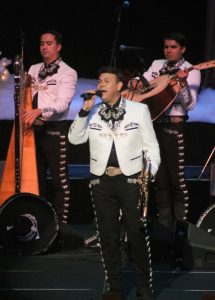 was just amazing to see how the music touched these people that couldn't even understand Spanish. They would ask 'What is it about your music that gives us these goosebumps?' Stuff like that is always very special for us."
Back home in the states, Hernández makes sure that everyone can experience the magnetism of mariachi, with music education programs like his Mariachi Nationals and Summer Institute, Mariachi Heritage Society, and a Mariachi Academy program in nine middle schools in the Santa Ana school district.
"Going to public school and taking band when I was a 4th grader, it gave me a sense of belonging, a sense of pride," he said. "I always knew how important that was and I wanted to give something back when I became a little bit more successful."
With similar programs in middle schools and high schools in 37 states across the country, there is one thing that definitely remains consistent: results.
"It changes lives, it really betters the grades of the kids, and it involves the parents. The administrators, they can't believe how much the parents come out to the kids' shows, and how involved they are. They tell me, 'Jose, we've never seen so many parents at any shows, or even PTA meetings, it doesn't even compare.' It makes me feel very proud, and it just goes to prove that the arts are very important in the lives of children."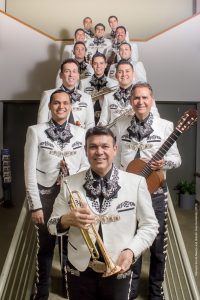 A fifth-generation mariachi musician, Hernández never wanted to do anything else.
"I thought everybody was a mariachi, to be honest with you. At 10 I asked my dad if he could rent me a trumpet. He didn't tell me, 'Oh, you're going to play trumpet," I wanted to play trumpet. I wanted to be a musician and I had an ear for it. It happens with my children now [laughs], most of them are musicians."
Among other advisements about the family business, Hernández's father repeatedly told him that the day mariachi music becomes work, is the day you die. Hernández lives by this creed, surrounding himself with young, enthusiastic players, and making sure he always keeps busy.
"When I go with my family on vacation, it's really difficult for me sometimes [laughs]. I need to get my computer out and write music, so I go, 'Ok you guys, go swim, go down to the beach, and I'll be here in the room.' That's vacation for me, staying in the hotel room writing music. It's never been work for me. No wonder my dad was always smiling, even when he was a lot older. As soon as he would bring out his violin and start singing and playing, it was just joy for him."
The show on May 5 at the Segerstorm Center promises to be a joyful, educational, and unifying experience for everyone.
"We hope that all the families come out. If you have kids that are studying Spanish in school, this is the perfect opportunity to get some extra credits, but also to really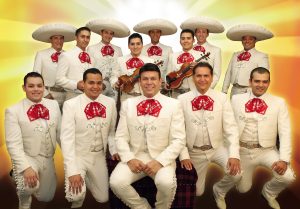 enjoy the music of Mexico. It's really magical. It's not all in Spanish, we do speak English [laughs], and we'll speak about the history of a certain song, or a certain type of rhythm. It's really fun and we get everyone involved. To play at the Segerstrom is such an honor for us. We just hope that people from all races, all walks of life, just come and enjoy this music. Music is universal."
For tickets to the Mariachi Sol de Mexico concert, visit SCFTA.org.
In addition to the concert at 8 p.m., Segerstrom Center for the Arts will celebrate Cinco de Mayo with free performances and activities on its Arts Plaza.
The Arts Plaza fun includes:
• José Hernandez Mariachi Academy at 6:45 p.m. – The talented mariachi students from the José Hernandez Mariachi Academy in Santa Ana will be performing select songs on the Arts Plaza.
• Conjunto Tenocelomeh at 7 p.m. – A group of professional musicians and dancers dedicated to preserving and performing the beautiful folk music and dance traditions of the Son Jarocho and Son Mexicano.
• Food trucks at 6 – 7:45 p.m. – Serving their specialties will be Taqueria de Anda and Scooters Italian Ice.