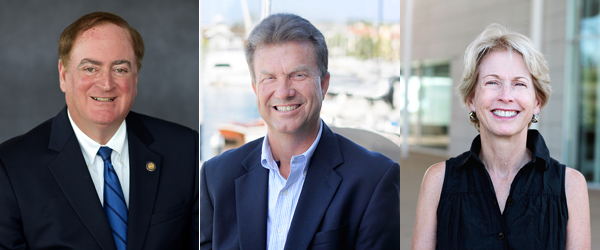 Accusations were flying, tempers were flaring, and the gavel was pounding Tuesday night in Newport Beach City Council Chambers.
After 45 minutes of discussion and argument, Newport Beach City Council voted 4-2 to remove Councilman Keith Curry as chairman of the Finance Committee and replace him with Councilman Tony Petros. Councilmen Curry and Ed Selich dissented, and Petros abstained. Curry will remain as a member of the committee.
Things heated up on the dais, as Mayor Diane Dixon repeatedly told Curry he was out of order, out of line, or off topic. Curry repeatedly tried to respond by saying his comments were relevant to what Dixon was accusing him of doing.
She said Curry had treated citizen committee members poorly and had belittled, bullied, and insulted them, Dixon claimed.
Recently, two finance committee members told her they were thinking of resigning, Dixon said. The reasons were similar and specific, she continued: They were not interested in serving on a committee where chairman Curry refused to consider their input or suggestions or value their extensive expertise in financial and business matters.
They both told Dixon that they were treated in a condescending manner and that their ideas were mocked, stonewalled and summarily dismissed.
Although Dixon convinced them to stay on the committee, Curry's temperament and behavior has not improved, Dixon said.
"This type of behavior is unacceptable," Dixon said.
Selich noted that he was also contacted by two members of the committee, one had similar concerns while the other didn't notice anything of the sort.
"I think it's absolutely wrong to remove him as chairman," Selich said. "It really isn't the right thing to do."
It's an insult to his decade of service and commitment to the city, he added.
Dixon retorted that it was an insult to the community that Curry has belittled a citizen committee member.
During Tuesday's meeting Curry tried to discuss the members who have left or have mentioned that they wanted to leave the Finance Committee, as well as their reasoning, but was shut down by Dixon.
Dixon cut him off and asked him to stay on topic, saying "we're not talking about other people who were appointed, we're just talking about your leadership and temperament" and civility, or lack thereof, she reiterated.
"It's on topic because these are the allegations you (Dixon) made against me," Curry retorted.
The final straw for Dixon was when Curry publicly insulted a citizen committee member in a local newspaper, she said.
"This council is not a consequence free zone," Dixon said.
Dixon personally apologized to Finance Committee member Patti Gorczyca for the "public humiliation" that Curry caused with his comments.
Curry's response was, in his opinion, "fairly measured" in terms of Gorczyca's proposal. As Curry tried to explain the proposal in question, Dixon again stopped him, saying the debate about this particular financial proposal was not going to happen during the council meeting.
Curry was finally able to briefly describe the proposed plan as putting taxpayer money in the stock market, which he thought was "financially illiterate."
"Hopefully we can put a fork in this," financially reckless idea, Curry said.
The proposal puts the city at risk for millions of dollars, Curry said.
"We're one vote away from a trip to crazy town in this city," Curry said.
The issue was scheduled to be discussed at Thursday's Finance Committee meeting, Curry noted. The outcome of that discussion was not available at the time of print.
Councilman Scott Peotter made the request that Curry be removed.
The purpose of the committee is to provide input for the city council, involve citizens in the process, and hold regular meetings to provide accessibility and transparency for the public, Peotter explained. Instead, the meetings have been irregular and the chairman, Curry, controlled the agenda, was not allowing others to add items and "stifling" the discussion of alternatives, Peotter alleged.
"This was supposed to be a working committee and it's not working," Peotter said. "I believe that the problem is that Councilman Curry is not allowing that free discussion, not allowing those free ideas to come out."
Peotter also claimed that there are only a couple meetings scheduled in the near future and the budget has yet to be discussed thoroughly.
"I think it's important to get our act together and discuss the budget as we need to," Peotter said. "And I think Mr. Curry is going to be a roadblock to that."
The budget isn't written yet, Curry pointed out, so there is nothing to discuss yet.
A working group of the citizen members are meeting at their convenience to discuss the budget, Curry added. They are working on coming up with ideas and recommendations for the budget, he added.
There was a lot of back and forth with Dixon and Curry as they tried to talk over each other.
"You are not going to stifle me up here because of your political retribution, Mayor," he said to Dixon. He later claimed it was retribution because she didn't like how her campaign fundraising described in a newspaper article.
"Let's not editorialize the comments," Dixon said.
"That's exactly what you're doing. You made a whole speech of editorializing," Curry shot back.
Public comments included being disappointed at the "disgraceful" behavior of the council members during the Tuesday night discussion, wanting more information about the specific proposal Curry was accused of stifling, not condoning bad behavior by council members, and making the recordings of meetings (like the Finance Committee) more readily available to the public.
In the end, Curry was removed as chairman and Petros was voted in as the new chair. Petros said he did not take the responsibility lightly.
"I expect civil behavior when we meet," Petros said. "We have a lot to do, this is budget season."