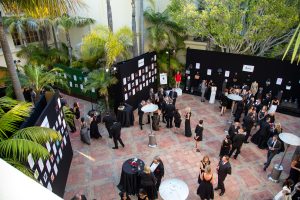 It was a dazzling, heartfelt and occasionally tear-inducing evening when Court Appointed Special Advocates (CASA) held its annual Celebration of Children: Black & White Ball on Saturday, April 16, at The Ritz-Carlton, Laguna Niguel.
Over 400 guests attended to support CASA's mission of serving abused, abandoned, and neglected children in Orange County with a trained and supported volunteer advocate.
Between sponsorships, silent and live auctions, and a fund-a-need segment, the event netted $1,050,000, making it CASA's most successful fundraiser of all time.
The stunningly beautiful evening was Co-Chaired by Newport Beach residents Lourdes Nark, Kay Patel,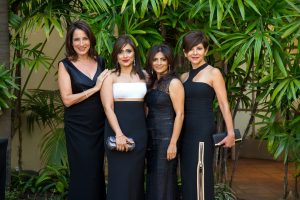 Urvashi Patel and Wendy Tenebaum.
Evening festivities began with a cocktail reception and silent auction featuring 115 items, all displayed on large walls in the patio area, making it easier to mingle. Auction items were bid on via cell phone.
When the ballroom doors opened, guests were dazzled by the décor: tables filled with glowing candles and dozens of roses, with an overall redish-hued theme.
Former USC Quarterback and NFL Quarterback to the Cleveland Browns and Dallas Cowboys, Paul McDonald, served as Master of Ceremonies for the second year in a row, and former foster youth and current State Coordinator for Colorado CASA, Lauren Leeman, served as the Keynote Speaker.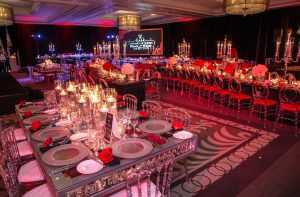 Kylie Schuyler and Douglas M. Hodge received CASA's highest given award, "Children's Champion," for their many years of support and personal dedication to children's well-being while in the foster care system.
Applied Medical was honored as "Outstanding Corporation," while Janice Jefferson was honored as "Advocate of the Year" for successfully advocating for the deaf child she is matched with.
Keynote speaker Lauren Leeman delivered an emotional talk about her days growing up in an abusive family and time spent in the foster care system.
"I could tell you about being locked in a basement on a bare mattress as punishment, the sound of unseen rats in the corner," she told a hushed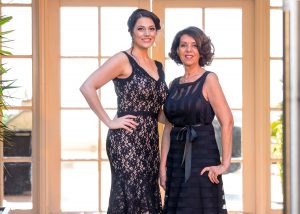 audience. "I could tell you about the man my biological mother married when I was seven, the man who beat us and taught her to beat us too. I could go into detail about drunken daily beatings and my attempts to protect my little sister by being the family punching bag. We could talk about the many times I was molested, but I'd rather talk about the connection that saved my life. It was 1998, I was in foster care, after running away. I was only nine. A women started showing up to take me places. Her name was Stephanie. She was my CASA volunteer. To me, she was the one connection that seemed real. Before Stephanie, the adults I trusted let me down. I was afraid. Her job was to be my advocate, but she became so much more."
After a standing ovation for Leeman's powerful speech, CASA conducted a wildly successful live auction, with items going for more than their value.
Former American Idol winners Ruben Studdard and surprise guest Candace Glover closed out the evening's program.
For more information, visit casaoc.org.