Farm-to-Table Dinner Benefits Nonprofit
An upcoming event pairs a charitable cause with fresh, organic food for an experience diners aren't likely to soon forget.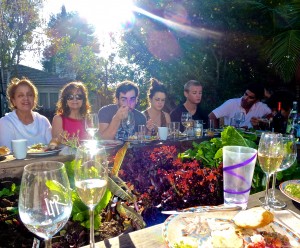 ZucchiniXpress, a local organic fruit and vegetable delivery service, will host an interactive Farm-to-Table Dinner at 6 p.m. March 8, with a portion of the proceeds going to Cradle to Career: Kenya, a locally based nonprofit that supports Kenyan orphans and vulnerable children from toddler age to young adults.
"The chefs at ZucchiniXpress will prepare and serve delicious, new and fun to make dishes utilizing the finest seasonal, local and organic vegetables, fruit, selected grass-fed meats (or vegetarian option) in a beautiful Turtle Rock (Irvine) home," said ZucchiniXpress co-owner, Jutta Whitaker-Gamboa, in an announcement.
For $75 guests will enjoy a five-course meal with carefully paired wine in a backyard dining setting. Other beverages will also be served
According to C2C: Kenya, $25 of the ticket price will go to the organization's college fund.
The organization currently has 14 young women who have passed their competitive KCSE exams and are waiting to attend a university.
The event is the first in a series of fundraising dinners to support Cradle to Career: Kenya, according to the C2C message.
Guests will get to take home the recipes for all the dishes served at the five-course dinner.
"Watch, learn, interact while we all prepare to get inspired to create your own at home," Whitaker-Gamboa said.
Tickets can be purchased at farmigo.com/store/zucchinixpress or through C2C Kenya's website.
For more information, visit C2CKenya.org and zucchinixpress.org.
.
Charity Fashion Show for Young Girls
Bold Girlz, the "Fashionista Fun Place," will host a Fashion FUNdraiser for the charity Just A Little Cloth on Feb. 28 from 6 to 8 p.m. at it's Costa Mesa store.
The entry donation to be a model for the charitable fashion show is $100 and $75 for additional siblings. All proceeds will go toward Just A Little Cloth. Admission to the event is free.
Participating models will be young girls, ages 6-12 and will experience true "model treatment," according to the press release.
Fashion show models will receive hair and make-up services and will model two outfits. They will also receive gift tote bags filled with beauty products and gift certificates donated from OPI, Inglot, The Nail Lounge, SAS and House of Yogurt. The girls will also be fed with food donated by Sabatino's pizzeria and Nothing Bundt Cakes.
Local musicians Sidney Bowen and Angelyn Iturbite will also perform
Just A Little Cloth is a Newport Beach-based nonprofit dreamed up by two local little girls and founded by their mothers. The charity provides new, formal dresses to underprivileged girls, young girls fighting cancer or other serious illnesses, and other girls in need.
For more information and to sign up a young model for the charitable event, contact Bold Girlz at (949) 764-0098 or email [email protected].
For more information about Just A Little Cloth, visit justalittlecloth.com
.
Night Construction Scheduled
A contractor working for the Orange County Sanitation District began night work on eastbound Newport Blvd. between 29th and Via Lido this week.
The nighttime work is expected to continue through March 5. It will take place Monday through Friday, from 7 p.m. to 7 a.m.
No street parking will be allowed along the curb of eastbound Newport Boulevard during work hours. Access to driveways may be blocked during those hours as well.
"OCSD understands the inconvenience the construction may cause to businesses and to the public and is committed to minimizing the impact to the community," according to a city announcement.
The construction is part of the Balboa Trunk Sewer Rehabilitation Project, which is repairing the old sewer pipe system in the city.
lane reductions and temporary parking restrictions are currently required as a sewer bypass line is being installed along the median on Newport Blvd.
The night work involves replacing the lining of the existing sewer pipeline that runs along the curb and sidewalk.
To view construction updates, visit ocsewers.com/NBProgram. To ask questions or share concerns, call the Newport Beach Program Construction Hotline at (714) 679-2088 or send an email to [email protected].