It was a perfectly fine morning last Saturday as I slowly opened my eyes to a new day.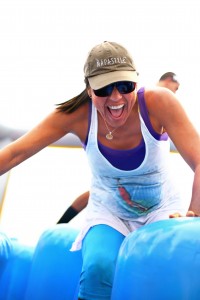 I lazily rolled over under the covers and was about to go for another quick snooze when I suddenly realized, yikes, it was 5k run day. More specifically, the Hit and Run 5K at the Great Park in Irvine, a workout destination filled with profound consequences.
Up and running out of the bed, I went to meet Indy staff writer Sara Hall to participate in this event that pits mind, coordination, fitness and fun all together.
So there I stood, waiting while swarms of participates dotted the landscape where huge military jets once stood. I saw several versions of Wonder Woman leaping about, capes flying behind them, laughing and stretching their super strength amongst us normal people.
More curious were the gaggle of men wearing tutus over their running pants or around their forehead, jogging up and down in place unlike a swan lake performance. It was then I knew this was going to be an interesting race.
So with Sara, along with Mr. Pirate and Mrs. Sailor (Jackie and Ted Dixon of Newport Beach), I made my way to the starting gate.
The unanticipated additional 4,000 participants clogged the starting gates, but soon we were on our way jogging down the former runway wondering what was ahead. I was told it was something like the TV series "Wipeout" where contestants were battered and challenged through various obstacle courses.
My muscles were primed and my mind solid for any presented difficulty. I thought, no sweat, I got this covered. Running across the first obstacle staircase onto the narrow blow-up platform (something kin to walking on a deflated water bed) I found myself careening over the side down the slope after getting doused with a fire hose gusher of water.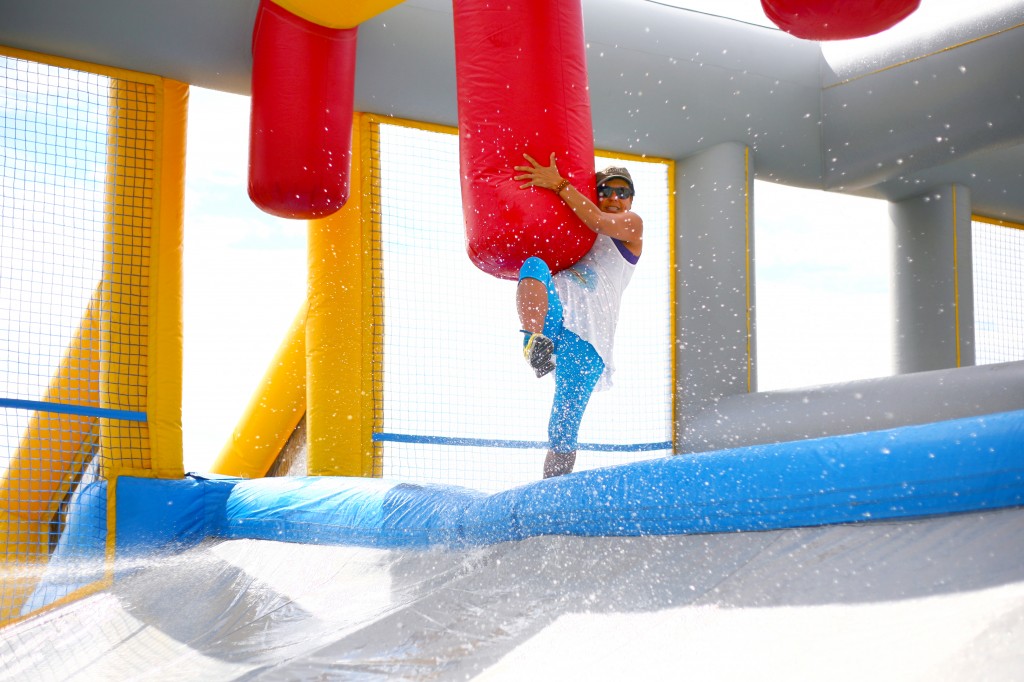 Other than my ego getting wet, I figured oh boy, this was going to be harder than it looked.
Wet and wild, we jogged to the next destination. But with soggy shoes and all, we slowed down to a walk until the next stop.
Three rather large blue bouncy balls were lined up inside a big blow-up ring and ready for any who decided to take on this venture.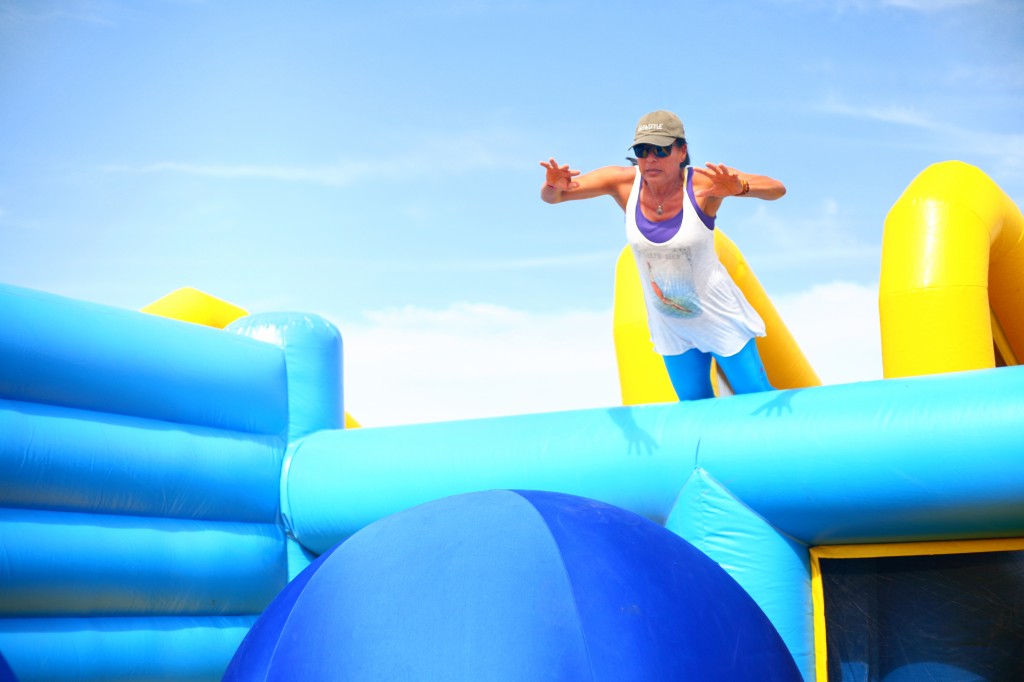 Mr. Pirate, Mrs. Sailor and I worked out several strategies onto getting across the balls. But when it came my turn, standing on a wobbly platform 20 feet high (ok, 8 feet, but it felt so much higher), I knew it was my courage on the line, not my fitness.
So I took a zen moment then leaped off. I belly flopped onto the first ball, bounced straight off into the air and down to the bouncy floor. The two other balls mocked me with their untouched veneer but as I picked myself up I laughed my way around them having great fun anyway.
And so it continued through several other obstacle courses where we crashed into blue obstacles, had face plants onto rubber mats and garnered plastic arm burns (similar to rug burns) as we slid down the sides in failed attempts across colorful air-filled kingdoms of wipeouts.
At the end, our bodies slightly bruised and a tiny bit sore, we walked our way to the red arch that proclaimed, "You made it!" across it's inflated body and realized being the last wave in the rush of participants we were left with no cheers from crowds giving us kudos.
But despite the lonely finish, the four of us remarked how we got to use every inch of our bodies to perform workouts that challenged our muscles, coordination, core strength and the elasticity of our ribs as we rocked in laughter from our foiled efforts at Olympic stardom.
But the benefit I derived from this event, other than the obvious fun, was the inspiration it gave me to start up my jogging.
And the next day, I put on my running shoes and made it to the Back Bay, enjoying the beautiful surroundings as my feet ran the bottom then the top trails.
The wind and sun were both my friends while my body kicked up happy steps in its moment of health.
For news coverage of the event and to see more photos, click here.