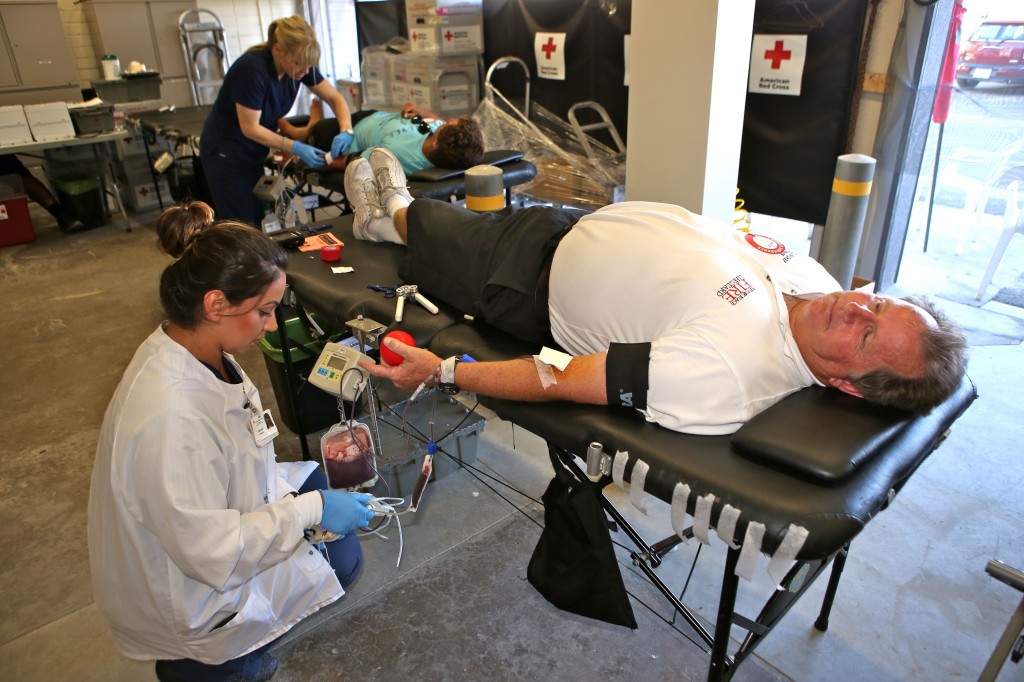 Lifeguards Give Blood, Save Lives
Newport Beach lifeguards helped save more lives than usual this week.
The guards and numerous others participated in the 28th Annual Red Cross Blood Drive Wednesday.
The NB headquarters on Newport Pier received 74 donations and 11 deferrals from 85 people Wednesday, said Lifeguard Battalion Chief Jim Turner.
"It's a really good, solid number for us," he said.
It's not a record for the NB group, but still a strong number, he added.
The blood, with each donation split into three units, will potentially help more than 200 people, Turner explained.
Summer is a typically low donation time for the Red Cross, Turner said, and they are more than happy to help.
It's a big community event, Turner said, lifeguards and their friends and family, as well as beach goers and local residents participate.
"I'm really happy with the turnout," he said.
Newport Beach competes in the event against other lifeguard agencies along the Orange County coastline in the Southern California Lifeguard Challenge. They've won the last five years, Turner said. The results of this year's drive won't be known until spring, he added.
Started in 1986, the NBOLA has raised over 2,500 units for the OC community.
Homes Burglarized While Fumigating
Newport Beach Police Department officials sent out a Nixle alert to residents Tuesday warning them of several recent home burglaries.
Each of the houses were while they were tented for fumigation, according to the NBPD message.
"Typically in these types of burglaries (which are currently occurring throughout the region), a suspect enters a vacant, tented structure (single family home, apartment complex, or condo) and removes valuables, such as electronics and jewelry," the message states.
Police recommend removing valuables prior to the fumigation. They also suggest asking neighbors to be alert and report suspicious activity and requesting extra patrol at the location while the home is tented.
For more information, call the Newport Beach Police Department non-emergency number at (949) 644-3717.
Car Overturns in Newport Coast Crash
A car overturned and three people were injured in a two-vehicle traffic collision on Newport Coast Drive Wednesday, according to reports.
The first call about the accident came in around 10:22 a.m., according to the Newport Beach Police Department blotter.
Police sent out a Nixle alert warning drivers to avoid the area near Newport Coast Drive and Pelican Hill Road South due to a traffic incident around 10:55 a.m.
Corona del Mar Today reported that two people suffered major injuries and one person had minor injuries.
Soutbound Newport Coast Drive at Pelican Hill Dr South was closed while two lanes of northbound traffic on Newport Coast Drive remained open.