News from around Newport Beach
Fatal Traffic Collision
On Sunday at approximately 8:31 p.m. the Newport Beach Police Department was notified of a major injury traffic collision involving a vehicle and a pedestrian on West Coast Highway, east of Superior Avenue.
At the time of the collision, the pedestrian was walking north across West Coast Highway, outside of a crosswalk along a dark stretch of the roadway. The involved vehicle was a black Mercedes sedan, which was travelling westbound on West Coast Highway.
The pedestrian, identified as 41-year-old Eric Williams, sustained critical injuries as a result of the collision. The first police officers on scene immediately began rendering aid to Williams. Nine Newport Beach Fire personnel also responded to the scene; they assumed first aid duties and transported the pedestrian to a local trauma center for medical treatment.
Williams died as a result of injuries sustained during the collision and passed away at approximately 9:15 pm the same evening.
The circumstances of the collision are still under investigation.
Anyone with information regarding this collision is asked to contact Investigator Scott Grecco at (949) 644-3747 or [email protected]
.
Multiple Water Rescues on Memorial Day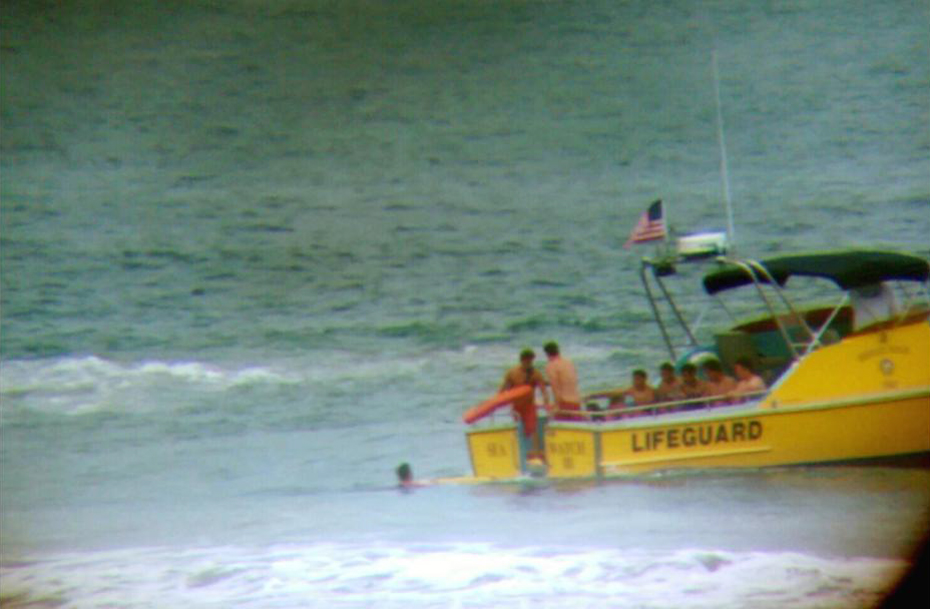 Newport Beach Fire and Lifeguard personnel performed multiple water rescues on Monday.
At approximately 12:20 p.m., lifeguards responded to the waters near Tower 18 to assist a group of  10 youths.
Several members had started to panic as strong currents, fueled by three- to four-foot waves from the south, had pulled the group into deeper waters. Four tower lifeguards, a patrol truck, a rescue boat, and a supervisor participated in the rescue. Each youth was pulled onto the rescue boat, assessed by lifeguard personnel, and then returned to the shore.
One person received additional evaluation from Newport Beach Paramedics.
A second rescue began at approximately 3:25 p.m., when Fire and Lifeguard personnel responded to Ladder Rock, at the rear of Brighton Road in Cameo Shores.
Two teenagers had become trapped on the rock as the tide came in; friends on the shore called 911 to ask for assistance.
A total of 13 firefighters and five lifeguards responded to the call. Both victims were rescued from the rock, brought safely on board a rescue boat, and returned to the shore. Neither teenager suffered any injuries.
The Newport Beach Fire Department's Marine Operations Division shared the following tips on beach safety:
Swim near a lifeguard.
Never swim alone.
Don't fight the current.
Never swim while intoxicated.
Leash your surfboard or bodyboard.
Don't float where you can't swim.
Always wear lifejackets when boating.
Protect your neck from spinal injuries.
.
Newport Man to Face Charges in $13M Ponzi Scheme
A Newport Beach man was extradited from Texas to Orange County this week to face charges of defrauding more than $10.5 million from victims and nearly $3 million from banks through a Ponzi scheme, according to a press release from the Orange County District Attorney's Office.
Brandon Walton Stewart, 30, is charged with three felony counts of residential burglary, 24 felony counts of using untrue statements in purchase or sale of a security, two felony counts of financial elder abuse, 126 felony counts of money laundering, 38 felony counts of writing non-sufficient funds, and four felony counts of failing to file a California state tax return.
He also faces sentencing enhancements for aggravated white collar crime in excess of $500,000, property damage over $3.2 million, and money laundering in excess of $2.5 million. If convicted, he faces a maximum sentence of 159 years and eight months in state prison and fines in excess of $27 million.
He is expected to be arraigned on June 1.
The Newport Beach Police Department investigated this case with assistance from the State of California Franchise Tax Board and the Orange County District Attorney's Office.
Between April 7, 2009, and Jan. 22, 2013, Stewart is accused of operating a Ponzi scheme, resulting in victims to lose in excess of $10.6 million.
Stewart is accused of misleading four victims, including a 92-year-old relative, by falsely representing that their funds would be entered in a large investment pool with over $100 million that would be invested in stocks, which included Facebook and various foreign investments.
.
Special Needs Children Have a Whale of a Time at Newport Dunes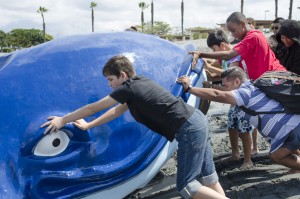 Moe B. Dunes, the famous 20-foot floating blue whale mascot who has been beached for the winter at Newport Dunes Waterfront Resort and Marina, was pushed into the resort's lagoon over Memorial Day weekend by 20 developmentally disabled youngsters from the Speech and Language Development Center in Buena Park.
This annual tradition, which has been celebrated by the resort for 56 years, officially marks the start of tourist season at Newport Dunes.
"We were delighted to welcome these students from the Speech and Language Development Center to help us kick off another summer at the Dunes," said the resort's Vice President and General Manager Andrew Theodorou.
After the whale was floating in the water, the children (who suffer from autism, deafness, ADHD, language disorders, serious brain trauma or motor deficits) embarked on an eco-kayak tour as an experiential exercise that experts say help them with their adaptive skills.
Newport Dunes Waterfront Resort is a 100-acre non-membership recreational area featuring a 386-site state-of-the-art RV park, 450-slip marina and a private wave-less beach and playground that has been enjoyed by families since 1958.
Newport Dunes is also home to 24 mobile cottages that the public may rent. Visitors may rent kayaks, windsurfers, pedal boats, bicycles, and electric boats. The Dunes is located at 1131 Back Bay Dr.
For more information, visit newportdunes.com.