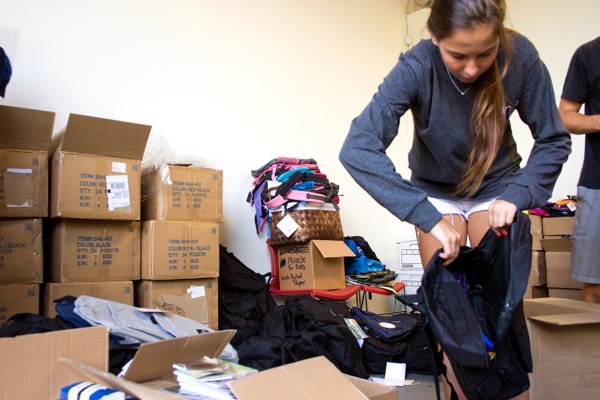 Several Newport Harbor High School students are helping a local organization fill backpacks full of school supplies for CHOC and CHLA critically ill children.
The students, along with other community volunteers, are helping Miracles for Kids organize, assemble and deliver the backpacks to families in need from Children's Hospital of Orange County and Children's Hospital of Los Angeles .
"Going back to school can be a big financial stressor for any family that needs to buy school supplies for all their children, we all know how costly that can be," Alma Di Giorgio, the Newport Harbor High School Miracle for Kids Club faculty advisor, wrote in an email. "With a little help from our community we can give a child a cool backpack with all the essentials. Every child deserves to start the new school year with the right foot forward"
On Thursday volunteers were opening boxes and organizing all the donations. They have a checklist of items and arrange everything so it's all ready to assemble the following days, said Michael Eder, a senior at Newport Harbor High School who was helping out Thursday, Friday and Saturday.
Volunteers will hand assemble 400 backpacks over the weekend and will start delivering them to about 180 families on Monday. They will deliver most of the backpacks, but some families will come and pick them up, Pegah Shakeri, program manager for Miracles for Kids, explained.
Chadd Patton, a NHHS sophomore, who helped on Thursday and Friday and will also be delivering next week, is expecting to see a lot of happy faces.
Newport Harbor is promoting the drive through school email and during class registration this week, Di Giorgio said.
All of the Newport Harbor students at the set-up heard about the opportunity through the school email. More students will be helping out when they assemble the backpacks and when they deliver them.
Inside the backpacks will be school supplies, like notebooks and pencils, healthy snacks, and essential home goods. They will be delivered to low-income patients and their families from the Children's Hospital of Orange County and Children's Hospital of Los Angeles with critically-ill children throughout Southern California.
The backpacks will not only go to the CHOC and CHLA kids, but their siblings as well, Shakeri said. Any school-aged kids in the family, she added, ages 3 to 21.
"It's nice to help out," Eder said. "Everybody needs to have the opportunity to have all the supplies that they need for school."
"And no one should be the awkward kid who has the wrong supplies or no supplies whatsoever," Patton added.
The NHHS club is very active, Shakeri said, one of the most active groups involved with Miracles for Kids, she added.
"Any volunteer opportunity arises for the community, they are on the list to help," she said.
They often do their own drives and fundraisers to make donations to the charity.
Miracles for Kids hold their baskets for miracles program four times a year, this week is the back to school drive.
"The Back to School drive is the first opportunity where students can earn community service hours before school even starts!" Di Giorgio wrote.
General donations for Miracles for Kids are always being accepted. For more information on volunteering or donating, please contact Sarah Mancinelli,Community Relations Coordinator, at [email protected]