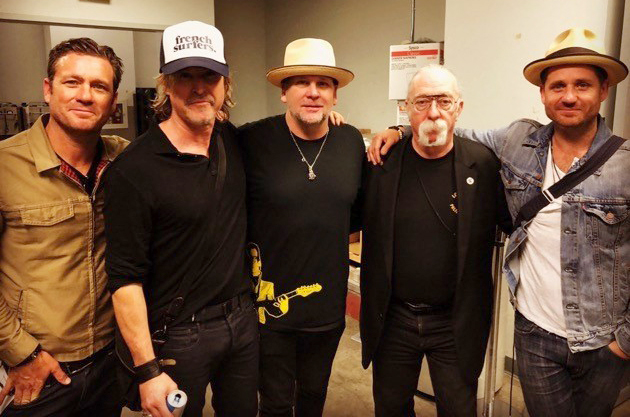 What do the drummer/songwriter for Sugar Ray, guitarist for Train, and members of PawnShop kings have in common?
They all grew up in Newport Beach, went on to noted music careers, and have teamed up in a new band called Side Deal.
Stan Frazier (Sugar Ray), Charlie Colin (Train), and Joel & Scott Owen (PawnShop kings) have known each other for more than 20 years, but never played music together until one night in 2016 when Charlie called Stan to come down and jam with him at the Lido Theater when his new band, Painbirds, was performing with Skunk Baxter (The Doobie Brothers, Steely Dan).
Stan invited Scott and Joel to the gig, and the next thing you know, a new band was formed.
As their website notes, Side Deal exists not only to reshape and play the hits from the former projects alongside all new originals, but to maintain an ever-revolving door of friends from bands loved around the world to join in on the fun.
Locals were treated to the sounds of Side Deal at the 2017 Newport Beach Film Festival, when they were the featured band at the opening night gala party.
Since that gig, more have been coming their way, including shows at the Sundance Film Festival and The Coach House in San Juan Capistrano, where they opened for classic rock band America.
Side Deal returns to the Coach House on Feb. 11, this time as the headlining band, performing with guest Skunk Baxter.
"It's been fun," said Frazier during an interview at Sgt. Pepperoni's Pizza, the Newport neighborhood restaurant he co-owns. "We rehearse at my house, we have no manager, no agent, we do it all ourselves. I created our website sizzle reel at the airport waiting for a flight. At what point do we want someone to come in and take 20 percent of our earnings? We're kind of handling it. Until it's an avalanche, we're handling it."
The avalanche is coming.
The band will be making a return appearance at the Newport Beach Film Festival in April (performing with members of the Pacific Symphony) and is involved with the Centennial Celebration at the Laguna Art Museum this fall.
Side Deal is also writing new songs in anticipation of laying down tracks for an album this spring.
"We're four very capable guys leaning on each other. It's a very interesting collection of guys," noted Scott Owen. "We have an appreciation for different things. We're doing our own covers, and the way we play each other's songs are almost a blended version of the songs everyone knows, but the songs take on a different life, not like just recreating the sound from a record."
Frazier reflected on the days when Sugar Ray had a hefty recording budget. The band would write songs in the recording studio (a costly endeavor) and order fancy catered meals. Those days are gone, said Frazier, although he and Owen remembered what it was like being on the Warped tour in the summer of 1997, when the Sugar Ray song "Fly" (Frazier was the song's main writer) was released.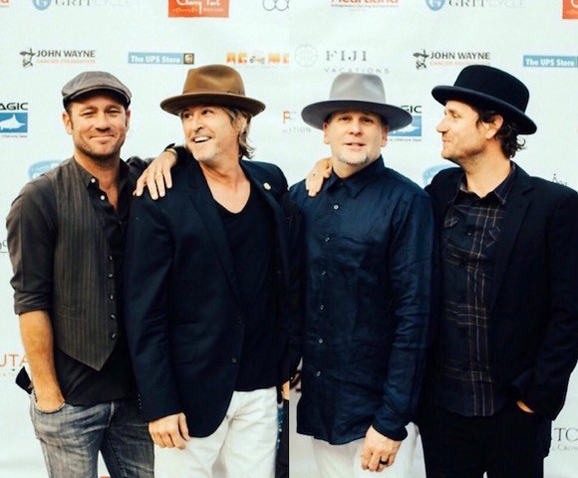 "We were out for eight weeks, and every week 'Fly' was moving up the charts," recalled Owen.
"It was a life changer," said Frazier. "We were tracking the music magazines every week, including Billboard. I remember the day we hit number one."
"Fly" stayed atop the Hot 100 charts for four weeks, and spent eight weeks at the No. 1 spot on the Hot Modern Rock Tracks chart.
"Nothing will replace going to number one at age 25, but the things we're doing now as a band—it a pretty cool thing," said Frazier. "It's strange to feel revitalized and play music together, it's what we do for a living, what we've done for our whole lives. The new stuff we're writing is magical. I can't wait to get in the studio. We're really stoked. It's like being in a garage band again."
A garage band with a platinum pedigree.
For more information on Side Deal, visit SideDealMusic.com.
Side Note on Side Deal
On December 30, 2017, Stan Frazier emceed the launch party for 17th Street Recording Studios' live Twitch TV stream. The party was a gathering of musicians from across the country as well as local talent, DJs, friends and family.
"We are incredibly lucky to have this amazing opportunity with Twitch TV and combined with all of the amazing performers, we had a day that was absolutely incredible" said Frazier.
In addition to Side Deal, the following artists performed: Saving Forever (Epic Records), Claire Wright (Epic Records), Micah Brown ( Iration), Mic Dangerously, Jelly of the Month Club, Louis Colaiannia, Joey Glassman, The 17th Street Band, Ben and Chris Fagen, and many more.
The DJs for the event were Mr. Chin and Eclectic1uan.
The event sponsors included Karma Tequila, Sergeant Pepperoni's Pizza Store and The Spearmint Rhino.
For anyone who didn't catch the live event, it is available to stream for free on Twitch.tv/17thstreetstudios. There, you can also follow and subscribe to the channel and get future notifications of broadcasts.
By showing the behind the scenes of life in a recording studio, the group hopes to gain exposure through Twitch TV by live-streaming "a day in the life" each day of the resident producers, bands, musicians, friends, family, dogs and characters who frequent 17th Street Recording Studios.
For more information, visit 17thstreetrecordingstudio.com or check out goodlifeca.com.