By Amy Senk | Corona del Mar Today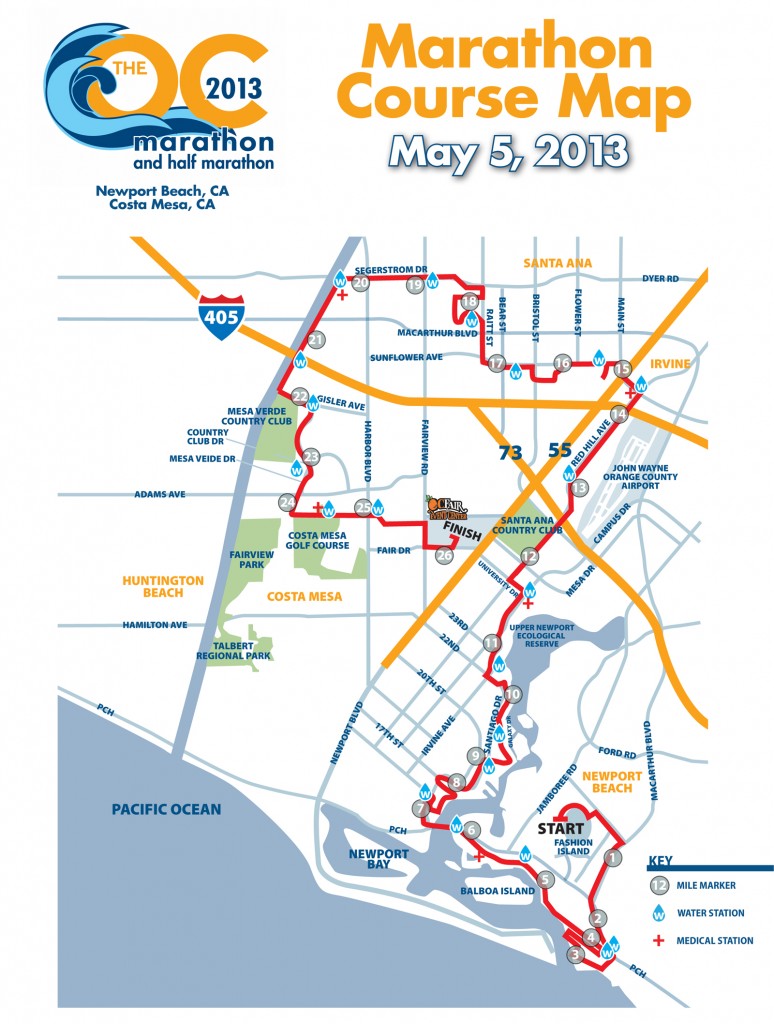 Newport Beach and Corona del Mar residents face street closures and parking restrictions this weekend with tens of thousands of racers expected to run through town as part of the 2013 OC Marathon.
Eastbound traffic on East Coast Highway will be closed from Jamboree Road to Orchid Avenue from 5 to 7:10 a.m Sunday., and westbound traffic on East Coast Highway will be closed from MacArthur Boulevard to Avocado Avenue from 5 to 7 a.m. Both directions of Bayside Drive from Marguerite Avenue to Jamboree Road will be closed from 5 to 7:45 a.m. The Balboa Island Bridge also will be closed from 5 to 7:45 a.m.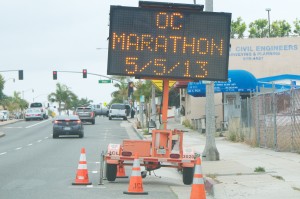 Marathon organizers advise anyone who has to leave the area on Sunday morning to do so before 5 a.m., or else park east of Orchid Avenue.
Street parking on East Coast Highway and in some neighborhoods also will be limited. Residents who need to move their cars will be able to park after 5 p.m. Saturday in the Big Corona State Beach parking lot, but they will need to move cars by 10 a.m. Sunday. Five Crowns lot will be available after 10 p.m. Saturday, and the Sherman Library & Garden main lot will be available from 9 p.m. to 9 a.m. on Sunday.
The race will begin at 5:30 a.m. Sunday near Fashion Island at Newport Center and Santa Barbara drives, with runners headed down MacArthur Boulevard to East Coast Highway. The race course turns on Orchid Avenue to Ocean Boulevard, continues onto Carnation Avenue, loops back on Seaview Avenue to Marguerite and then Bayside Drive through Newport Beach. Runners will turn on Dover Drive, and the race course ends at the OC Fair and Event Center.
Streets will be reopened after the last runner passes and organizers are able to remove barricades and cones.
For more information, visit OCMarathon.com.