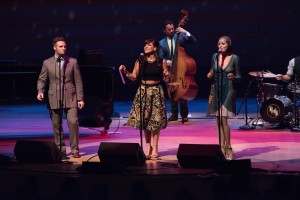 By Christopher Trela & Catherine Del Casale | NB Indy
The Segerstrom Center's fourth annual Off Center Festival ends this weekend, and what a festival it's been.
The Segerstrom Center booked 10 diverse artists and companies to perform at the Center for the first time, including Nick Waterhouse, Jungle Fire, Orgone, the West Coast premieres of Mehr Theatre Group's "Timeloss" and Spain's Agrupación Señor Serrano's "Brickman Brando Bubble Boom," the So Cal debuts of Marga Gomez performing "Lovebirds" and Amy O'Neal in her "Opposing Forces," plus Scott Bradlee & Postmodern Jukebox, Roger Guenveur Smith in "Rodney King" and Kristina Wong in a preview of her newest show, "The Wong Street Journal."
The Center also brought back its Off Center Lounge in Leatherby's Café Rouge, which stayed open late and offered a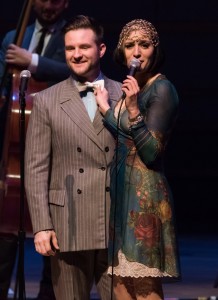 fun menu of $6 appetizers and drinks.
We made it to three of the Off Center events: Scott Bradlee & Postmodern Jukebox, a free party on the plaza featuring Nick Waterhouse, and Amy O'Neal's "Opposing Forces."
We watched the popular Postmodern Jukebox videos on Youtube prior to attending the concert, but were not prepared for the exhilarating, energetic, over-the-top show that Bradlee and crew brought to the Segerstrom Concert Hall.
This dynamic ensemble takes current hits and transforms them into retro-cool versions using musical styles from the 1920s, 30s, 40s and 50s.
With four vocalists and first-rate musicians, Postmodern Jukebox performed a two hour show that delivered non-stop music fun.
"I reimagine a song in another style because I want to hear it that way," said Bradlee in the show's press material. "Coming to a PMJ show is like time-traveling back to Old Hollywood – it's an experience."
"I want to follow them on tour—they're so much fun, and I want to dress up in another era," said Catherine.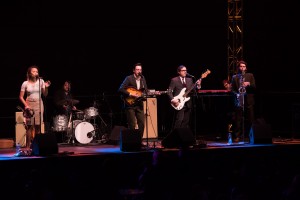 We loved the Leatherby's Lounge after the show. We sat at tables covered in white paper, with crayons for creating our own works of art.
On Saturday, Orange County rocker Nick Waterhouse performed a free concert on the plaza in front of hundreds of fans who also lined up at the food trucks parked near The Center.
Waterhouse and his band delivered an energetic set of originals culled from his albums.
We did not have time to write a full review of "Opposing Forces" before press time, but found the evening both exciting and dramatic. It was an unusual blend of breakdancing, live beats and hip hop, with touches of modern dance and even mime thrown into the mix, with a quintet of dancers each with his own distinct dance persona.
One important thing we noted: Most of the audience members we saw at the events looked like they were not regular attendees of Segerstrom Center offerings, which of course was part of the point of the Off Center Festival.
"We wanted to produce new kinds of work for Orange County, and have it be one of the prominent components of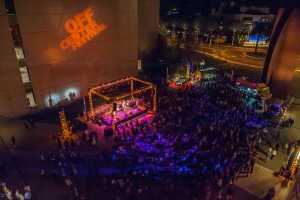 our programming, and send a message to the community that the Center is evolving, changing, opening up to more kinds of work and more ways for the community to engage with us," Segerstrom Center President Terry Dwyer told us prior to the start of the Off Center Festival. "We're trying to remove barriers to participate. It's an important way to communicate to the community that things are evolving here."
Based on our observations, and the packed performances we attended, The Center has indeed demonstrated that it continues to evolve and engage more of the community. And if this is working as well as The Center hopes it is, we'd love to see even more programming similar to the Off Center Festival.
For more information, visit SCFTA.org.