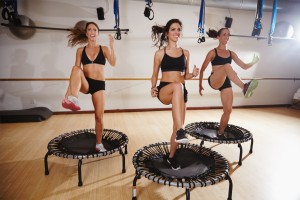 Bari, a New York fitness class favored by models, celebrities, professional athletes and socialites to stay in shape, has now opened its first California location right here in Newport Beach.
The class offers a high intensity workout that burns calories and tones your entire body. Founder Alexandra Bonetti Perez got the idea for Bari when she was traveling for work. "Everywhere I went I would try out a fitness class. Through the years I learned what aspects of the workouts I liked and what I didn't. I created a formula that encompasses bits and pieces of everything to create a one-stop shop workout that will give you a toned body without the bulk."
Everyone that goes to Bari (including your Coastal Fashion columnist) takes an introductory class called Barione. It gives you an overview of what the different classes offer including dance sensory cardio, strength training, trampolines, ceiling bungees, floor work and movements taken from dance, Pilates, yoga, sports and agility training, and martial arts.
They provide you with a Suunto heart rate monitor so you can keep track of your heart rate, recovery time, endurance and calorie burn throughout the class. I loved this aspect because I was able to see if I was working hard enough throughout the class and when to push myself harder or take a step back. It was also satisfying to see the results of the workout at the end.
After taking the Barione class I decided I really liked the trampoline aspect, it was really challenging and something different from your normal day-to-day workout. I took the BariBounce class, which combines the trampoline workout with strength resistance bands. I have never had a harder workout then Bari. The feeling of accomplishment after each class and the full body results will keep you coming back for more.
One of the most valuable things about Bari is its consideration for society's fast-paced and health conscious lifestyle. Alexandra saw this need and created something that makes it easy to get results without spending hours in the gym.
"I wanted to create a workout that burns calories, tones and sculpts without needing to run for an hour to burn calories, take a Pilates class to tone and then do yoga for stretching," says Alexandra.
Don't be fooled by the fun aspect of jumping on a trampoline and dance cardio, this is one challenging workout that will motivate and inspire you.
Check out their website at thebaristudio.com or call (949) 287-6067 for more information on the workout and class offerings. Bari Newport Beach is located at 2125 San Joaquin Hills Road.
Soul Cycle
SoulCycle opened its first Orange County location at Fashion Island this past fall. Each class provides the rider with inspirational coaching, upbeat music and a full-body workout including weights to tone your arms.
Before you schedule your class, you can look up each of the instructors and get a feel for the type of music they like and their personalities so you can pick the best fit for you. You and your fellow bikers will feel a sense of community and synchronization as you all ride to the same beat and sweat towards your goals.
After you're done, you can pop over next door to the newly opened Pressed Juicery for a juice to go.
For more information and the class schedule visit soul-cycle.com. SoulCycle Newport Beach is located at 1177 Newport Center Dr. in Fashion Island.