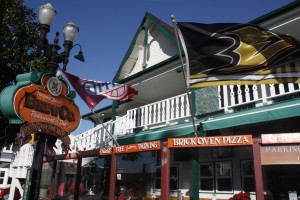 By Christopher Trela & Catherine Del Casale
Super Bowl Sunday means super business for local restaurants and bars, especially those with multiple big screen TVs. Most places are offering discounts on game day, such as all-day happy hour or other food and beverage specials.
We've compiled a short list of restaurants around town where football and food rule, and the only things deflated are the prices.
Newport Beach Brewing Company
On Super Bowl Sunday, Chef Gabriel is launching a new menu with more NB Brewing ,Company beer in the sauces, Asian wings, beer grain pizzas, more gluten free items, Harris Ranch natural fed beef, wild caught salmon, and a Southwest salad creation. They've got more than a dozen big screen TVs, and are offering food and drink specials during the game, including $25 craft beer towers with chips and salsa. Plenty of free parking.
(949) 675-8449 / newportbeachbrewingcompany.com.
Blue Beet
Built in 1912 and known as the oldest saloon in Newport Beach, The Blue Beet has 10 plasma TVs, great draft beers, a martini bar, and – on Super Bowl Sunday – food and drink specials including 50 cent wings and $5 build your own bloody Mary bar.
(949) 675-2338 / TheBlueBeet.com.
Oak Grill
Oak Grill at The Island Hotel has big flavors, and one of the largest screens in town, plus for Super Bowl Sunday there will be several TVs set up. They're holding a game-day barbecue for $30 per person from 2 to 7 p.m. that includes burgers, swordfish, sandwiches, brats and salads, plus $5 draft beers and $7 cocktails,
(949) 760-4920 / oakgrillnb.com.
 Port Restaurant
Port holds its 9th Annual Super Bowl Party this Sunday with a large screen projection system and numerous large HD screens. Come early and enjoy the Port's Sunday Champagne Brunch until 3 p.m. with $10 bottomless champagne and $6 bloody Marys, followed by Super Bowl specials that include $7 flatbreads, sliders and grilled kabobs, $7 cocktails, selected beers two for $7, plus Happy Hour throughout the game.
(949) 723-9685 / PortCDM.com.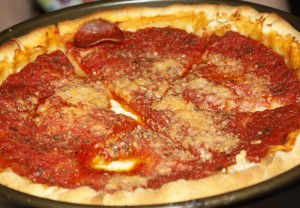 Cruisers
We love Cruisers' Chicago-style pizza, so we're bound to love their Super Bowl Party, especially considering they have two dozen large screen TVs and a 170 inch jumbo screen. You can buy an all-inclusive package with all-you-can-drink premium bar, all-you-can-eat buffet, plus get a free square in the $2,000 Super Bowl Square giveaway, a raffle ticket to win one of two snowboards, a BBQ set, T-shirts, headphones, and more. Plus get premium reserved seating for the game. They also have their happy hour menu and regular menu available during the game.
(949) 220-9414 / CruisersNB.com
Red O         
Our go-to place for upscale Mexican food, Red O in Fashion Island has large screen TVs in the bar and lounge area and are offering an all-day Happy Hour menu that includes $5 draft beer, $7 wines by the glass, $7 cocktails, and food specials.
(949) 718-0300 / RedORestaurant.com.
 Village Inn
Where else would you go on Balboa Island to watch the Super Bowl? Village Inn has large screen TVs, terrific cocktails, and a great menu.
(949) 675-8300 / vibalboaisland.com.
 Rudy's Pub
Rudy's Pub & Grill has more than two dozen flat screen TVs, making it impossible not to have a great view of the game. This indoor-outdoor bar will probably be packed, as it often is on Sundays. For the Super Bowl, you can reserve a table of four for $200 that includes a goodie basket, giveaways, official super bowl program, and more. They also will be featuring beer and shot specials.
(949) 723-0293 / rudyspubandgrill.com.
 Fleming's
You normally don't think of Fleming's and football in the same sentence, but the bar at Fleming's in Fashion Island has big screen TVs and offers its "5 for $6 'til 7" special: five premium cocktails, five distinctive wines by the glass, five tempting appetizers (housemade burrata, roasted mushroom ravioli, tenderloin carpaccio, cedar roasted mushroom and artichoke flatbread, and sweet calamari chili), and Fleming's famous prime burger, all for $6 each.
(949) 720-9633 / flemingssteakhouse.com.