By Christopher Trela & Catherine Del Casale
Dining out at Christmas means someone else does the cooking, which gives you more time to spend with loved ones (and less mess to clean up).
Here's a list of what some notable Newport Beach restaurants are offering this Christmas eve and Christmas day. We've been to all of these restaurants and love their cuisines, so we have no doubt these holiday menus will make for a memorable Christmas dining experience.
21 OCEANFRONT
This ocean-view restaurant near the Newport pier has another of their unforgettable three-course holiday menus available Christmas Eve from 4:30 to 9 p.m. For $70 per person, you can chose starters such as calamari fritti, lobster bisque or escargot, and entrées that include filet mignon, sea bass, and rack of lamb. For dessert, you've got a choice of Christmas yule log, warm apple tart, chocolate fantasy cake or gelato. There's also a children's menu available for $25. Visit 21Oceanfront.com or call (949) 673-2100.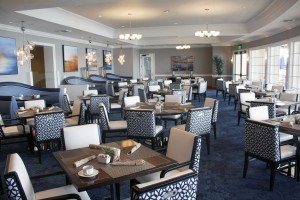 BALBOA BAY RESORT
The Balboa Bay Resort's Waterline restaurant is serving Christmas Eve dinner from 5 to 9 p.m., and Christmas Day dinner from 1 to 8 p.m. The Christmas Eve dinner features a four course prix-fixe meal ($80 adults and $40 children 4-12) that includes a first course of crab and artichoke dip, and second course is a tuna trio. The entree choices are: Sea bass en papillotte, seared duck breast, or grilled prime rib eye. The dessert is a choice of either chocolate yule log, or sticky toffee pudding. The Christmas Day menu mirrors the Christmas Eve menu and adds an extra course ($92 adults and $46 children 4-12). Seating is available between 2 – 7 p.m. For reservations, call (855) 923.8301 or visit BalboaBayResort.com.
BAYSIDE
Bayside restaurant has a full menu available Christmas eve, plus some special Christmas dishes including roasted goose breast ($39), venison ($36.75), roasted duck ($39) and ragu of wild boar bolognese ($22). Call (949) 721-1222 or visit BaysideRestaurant.com.
THE CANNERY
The Cannery Restaurant offers a festive Christmas Eve dinner featuring a special a la carte holiday menu of standout seasonal dishes, including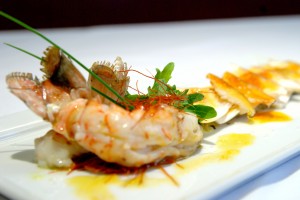 Ahi tuna crudo, caramelized sweet onion soup, roasted filet and braised beef, king salmon, main lobster, and egg nog crème brulee with candy cane biscotti, and chocolate molten cake with pistachio crème anglaise. Appetizers are $12 to $19; entrees are $32 to $44. Call (949) 566-0060 or visit CanneryNewport.com.
FIG & OLIVE
Fig and Olive is spreading the holiday cheer on Christmas Eve with a limited menu of French Riviera-inspired dishes from 11 a.m. to 11 p.m.. Highlights include roasted butternut squash cappuccino for $13, grilled Maine lobster for $21, and roasted turkey breast for $32. Call (949) 877-3005, or visit figandolive.com.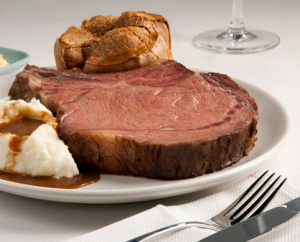 FIVE CROWNS
This year's Christmas Eve dinner at Five Crowns may already be sold out as you read this, but there may be last minute cancellations so it's worth checking. If you can get in, the Christmas Eve menu has the signature prime ribs of beef dinner prepared traditionally with au jus, Yorkshire pudding, organic whipped cream horseradish and choice of sides. Additional main course options include the classic filet mignon with a truffled Bordelaise, Scottish salmon, Australian lamb sirloin, and pan roasted Christmas goose with sweet potato gratin, bread stuffing and goose demi. Entrees are $31 to $57.
Another option: Five Crowns' Executive Chef, Steve Kling, will create your holiday dinner to-go with just 48 hours notice. Guests can pick up a complete roasted prime rib dinner plus all of the classic accompaniments with simple cooking and reheating instructions.
For details call (949) 760-0331 or visit lawrysonline.com/five-crowns.
ISLAND HOTEL
At Island Hotel's Oak Grill, Chef Marc Johnson will prepare a festive prix fixe meal including a first course of mushroom bisque or roasted beet and grapefruit salad, a second course of sweet corn ravioli with Dungeness crab, a main course of slow roasted prime rib, pan seared salmon or Maine lobster linguini. Dessert options include warm pumpkin butter cake with cinnamon ice cream and cranberry confit, fried apple pie with egg nog ice cream or dark chocolate fudge cake with English toffee ice cream. Prix Fix meal is $95 per adult with a choice of wine parings for an additional $25; $25 for children's menu options; under 5 free. Menu is available both Christmas Eve from 5 – 9 p.m. and Christmas Day from 4 – 9 p.m. For reservations, call (949) 760-4920 or visit oakgrillnb.com.
Another option is the champagne buffet meal at of classical favorites and seasonal items at Island Hotel's Ballroom Brunch on Christmas Day from 11 a.m. to 3 p.m. Offerings include selections of fresh seafood, a carving station with filet mignon and honey baked ham, as well as traditional holiday sides and an assortment of delectable desserts. Live entertainment and a children's activity coordinator with crafts and movies complete the event. Price is $95 per adult; $19 for children's menu options; under 5 free. For reservations, call (888) 554-4620 or visit IslandHotel.com
PELICAN HILL RESORT
We love dining at Pelican Hill, especially with the array of Christmas Eve and Christmas Day dining options starting with Andrea Restaurant's Italian holiday festa from noon to 10 p.m., and a special holiday menu on Christmas Day from noon until 10 p.m. At Coliseum Pool & Grill, enjoy a three-course, California-inspired Christmas Eve dinner or a Christmas Day breakfast buffet. Pelican Grill also has a Christmas Eve menu, plus live entertainment, from 5 to 10 p.m. The Christmas Day menu is available 11:30 am to 10 pm. And finally, a Christmas Day Ballroom Brunch buffet with traditional offerings, served 10 a.m. to 4 p.m. Prices vary. Call (888) 507-6427 or visit pelicanhill.com.
THE WINERY
The Winery will have a full dinner menu on Christmas Eve from 4 – 9 p.m. Holiday specials will be feature including roasted free-range goose. Reservations are highly encouraged. Call (949) 999-6622 or visit TheWineryrestaurant.net.